Multi currency plugin  is a featured currency exchange add-on for WooCommerce. This add-on allows visitors to your website or online store to switch to their preferred currency or currency of their country. WC Multicurrency has the option to select the currencies you want to enable in your online store. Exchange rates can be set automatically or manually.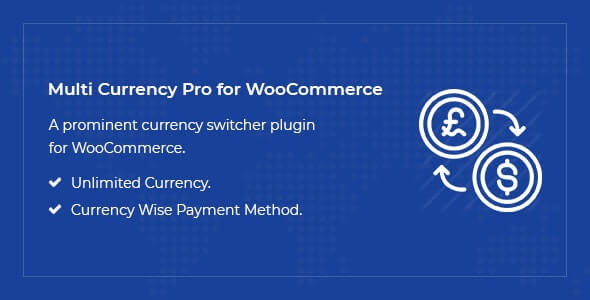 Who should use this Multi Currency Plugin?
If you want to maximize international sales, it's in your interest as an online vendor of digital products or recurring subscription services to provide a shopper-friendly, localized user experience on all your checkout pages. Customers are more likely to complete a sale if they are presented with their preferred currency, payment method, and language. So in order to close more sales, it's important to partner with an ecommerce solution that can offer this complete package.
Pricing is available in the below button. For purchasing and more information please click on the purchase button below. 
Watch the video about Currencywise report
Frequently Asked Questions
You can show this into your WooCommerce site.

How hard it's installation ?
Very simple, just install and you will get a very user friendly control panel and also you can configure it by wp customizer.
It will display widget left or right side of screen or you can use shortcode to display dropdown or any other widget
It has more then 3 widgets.
How currency wise payment gateway benefited us?
No of the other multi currency plugin doesn't have this feature. It is unique feature of this this plugin,
It benefited you a lot.
You can take local currency payment using local payment gateway and foreign currency payment using foreign currency gate way.

Example: Bkash is most popular  payment gateway in Bangladesh, if want to take payment by only bkash if currency is BDT(Bangladeshi Taka). Then you can just simple use this multi currency plugin and configure when BDT as currency then only show only Bkash. That's it.