Best Help Desk Software: The 10 Best Support Ticket Help Desk Software 2022
Best Help Desk Software: 2022
Choosing the best help desk software system can be tricky.
Choosing the best system for your needs is a daunting task. With so many options and features to consider, it's easy to get sidetracked and overwhelmed. A step-by-step approach to choosing the ideal system helps everyone stay on track and eventually benefit from their choices. This article explains how to make the right decision for you and your business by considering a few key factors.

Below, we'll walk you through the best questions to ask and outline some extra tips that will help you find the best customer support ticket system for your business.
What is a help desk ticketing system?
A help desk ticketing system is a software that allows organizations to track and manage customer support requests.
The system provides a single point of contact for customers who need assistance with their products or services. It also helps the organization to be more efficient in providing support, which can lead to improved customer satisfaction.
Benefits of investing in a help desk
A help desk ticketing system helps you turn potential challenges or complaints into positive customer experiences.
If your team members have the training and support they need to offer empathetic, effective, and efficient customer support, they can leverage a help desk to transform retention rates and collectively take ownership over a specific aspect of the revenue stream.
With customer support satisfaction ratings below 50% and an average of 70% of customers threatening to switch brands after a bad experience, customer satisfaction is a huge problem for companies. Studies show that when customers receive appropriate attention and effective solutions, they are more likely to stay with the company.
Without a help desk, a small team can still provide great support, but it's difficult to go above and beyond for customers at scale and even more challenging to measure the success of the team's efforts.
A help desk isn't just a tool for support professionals; it's also the way that managers and business leaders can assess and optimize the customer experience.
Think about the kind of information support professionals receive every day. Not only can a help desk centralize indispensable metrics about individual and team performance, but it's also a treasure trove of data that can empower every aspect of a company, from product through sales.
Imagine that you roll out a change to one of your most beloved products. If your help desk experiences a flood of negative customer feedback, that's business intelligence that would otherwise be difficult to analyze and present in a digestible form.
It's important to establish an effective help desk to help with customer service and negative feedback. Having a customer service team is the best way to address any questions your customers may have about your company's products, policies, and more. With a help desk, you can make it easier for your customers to contact you with their concerns.
In this scenario, support leaders can share clear, up-to-date data that leaders can use to realign or fortify their decisions moving forward. In other words, a help desk also becomes the catalyst for cross-department collaboration and ensures a company's alignment with the needs of its customers.
Why I will invest in a help desk support software?
If your day-to-day efforts on a support team are not translating to a positive customer and employee experience, it's time to consider moving to a help desk.
Everyone in this industry works hard. But when there's a genuine gap between the aspirations of a company and the ability of a support team to serve people well, it can cause high employee turnover and low customer satisfaction.
Most small support teams start with a simple, cheap solution like an email distribution list. It seems to work well until your business starts to scale. All it takes is one help request falling through the cracks for you to lose the trust of an important customer.
That's where a help desk comes in. If you can empower your team with a support stack that gives them transparency, insights, accountability, and the space to collaborate, they actually have a shot at making people's lives better.
Here are some indicators that your team is ready for a new way of doing things:
Support tickets keep slipping through the cracks.

Team members send duplicate responses to the same ticket.

You don't know who has been working on a complicated support issue.

You have no support-driven insights into how happy your customers are.

Morale is low; your best support pros are frustrated with the current system.

Team feedback is completely subjective and is not connected to metrics.

It's impossible to collaborate in real time with transparency into tickets.

Your boss wants you to improve or bring consistency to the customer experience.
The selection process shouldn't just be an audit of the technology your support team uses and what they need moving forward. It should include a larger assessment of what's working and what's not working with the overall support strategy.
Great tools are only helpful if they're implemented with a customer-first approach that values the work of support teams.
Use this process as a time to include your team members and to dig into their experiences on the job. They know better than anyone else what makes customers happy and how you can create a stand-out customer experience.
Ask these support pros to be as granular as possible about what's not working so that you can choose a system and build processes that transform those tangible pain points. The best part? A good help desk will give you the data to track these quantifiable improvements, so you can pivot and realign as you go.
The 10 best help desk support ticketing systems
If you've decided that it's time for your team to upgrade to a help desk, here are the 10 best help desk ticketing systems to add to your shortlist.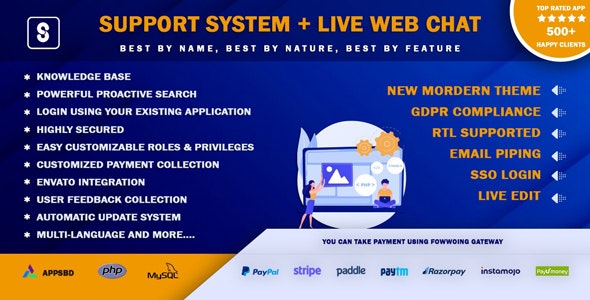 Best Support System, Best by name, Best by nature, Best by feature, it is a self-hosted customer support desk software. It handles support tickets, manages email tickets, collects any payment by PayPal. It has a simple installer so you don't need any programming skills. We will keep updating regularly and it has an auto-update feature.
Also, it provides lots of features. Scroll down to see some of those features.
Some Key Features of BSS:
Knowledge Base: Automatically suggest knowledge articles while trying to create a new ticket and reduce ticket volume
Proactive Search: Easy to use search – smart search engine can find relevant articles even with spelling mistakes
Highly Secured: Get user uploaded file security, CSRF protection, boot force security, admin user login failure auto backoff, auto suspicious IP block
Easy Customizable Roles & Privileges: Create user groups with roles and privileges of your choice and add the intended users to the group
Customized Payment: It's a very useful feature.You can set a payment of any amount for any service (i.e., hosting fee, maintenance fees) from on any ticket when required.
LIVE WEB CHAT: Live web chat feature has been added. Your client can contact with your agent using live chat. You can set everything effortlessly.
Easy Envato Integration: Allows purchase key validation, view support period, and view product and purchase information
Collect User Feedback: Feedbacks are collected through special emails sent out to users after a ticket is closed with a satisfied and dissatisfied buttons.
Automatic Update System: Hassle-free automatic update for your software so you do not have to manually install new updates or worry about new security threats
RTL Supported: Best support system supports RTL
What's unique about Best Support System is that its can be integrated with your CMS and If you have a WordPress or Woo-Commerce site and you have many users those user can log into this panel automatically. It has a WordPress plugin. By that you can easily set that up While on chat, a rep can pull up a customer's contact information and see not only their account information but also their past engagements with the company. This helps to personalize the customer service experience because reps will have a stronger understanding of the customer's historical relationship with your brand.
Pricing: Starting at $59 for 1-site lifetime.
Zoho Desk is a part of the Zoho suite of business tools (think Zoho CRM, Books, etc.). It's ticket management software that allows your customer service team to communicate with customers across various channels.
Features:
Receive and respond to messages from multiple channels in one inbox.
Connect to a multitude of integrations with tools your company is already using to create a seamless customer experience.
Create a self-service portal with tutorials and FAQs for users to search through on their own.
Pricing: Free for up to 3 agents.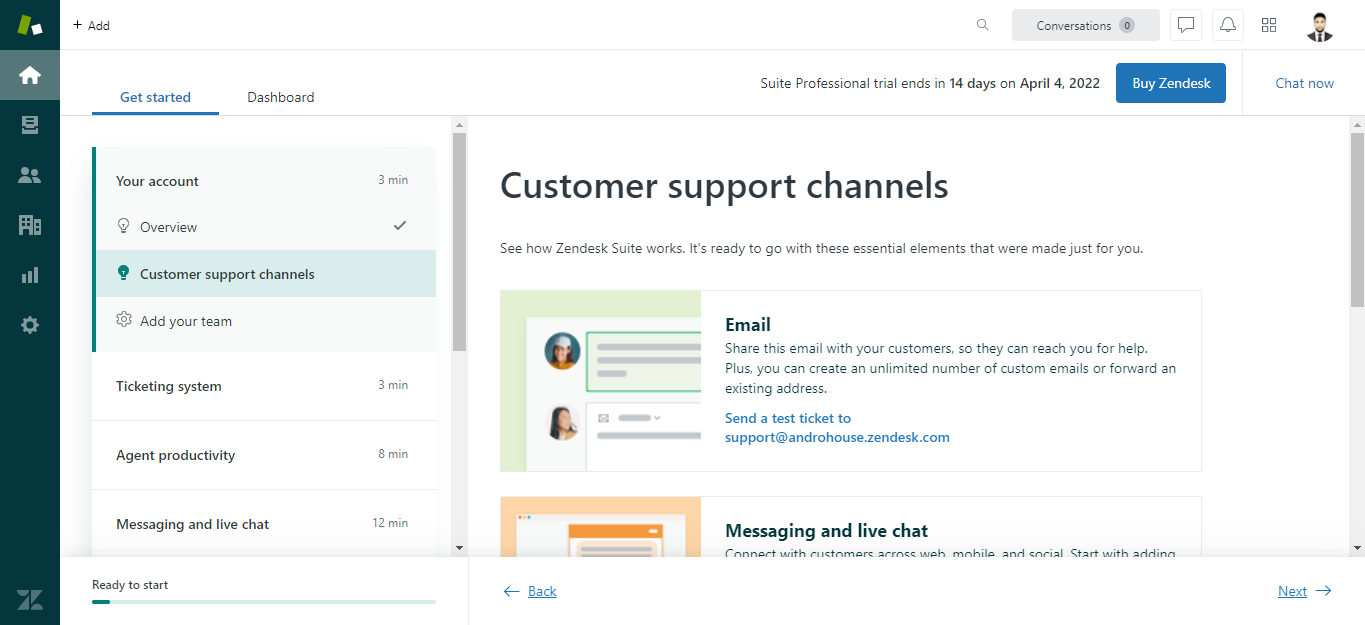 Zendesk allows customer support teams to manage conversations across various platforms. Support agents can tag issues, choose the channel they respond with, set priorities, track interactions, and more.
Features:
Use cross-channel communication to reach your customers where they are, whether that's email, Facebook, Twitter, live chat, etc.
Use AI-powered chatbots to help personalize auto-responders until an agent is available to help.
Set up a help center or knowledge base for customers who want a more DIY approach.
Pricing: Starting at $19/agent per month.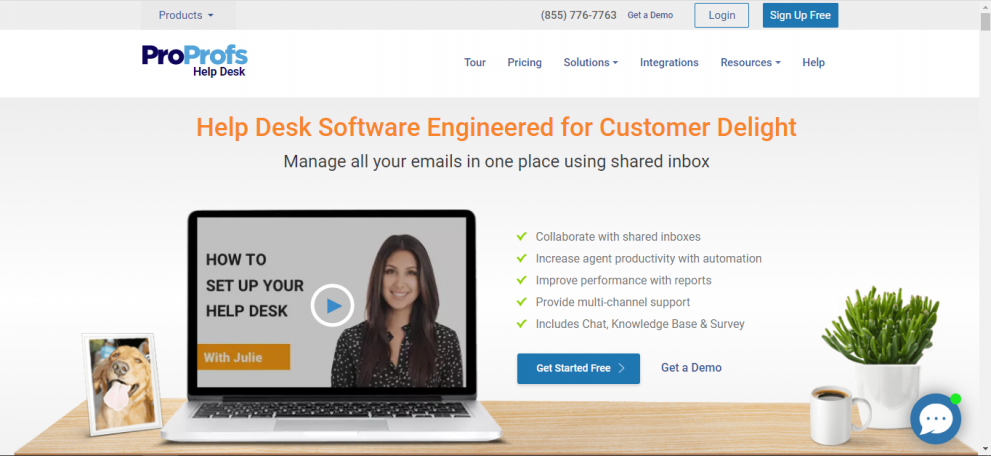 Best for teams that need a central place for customer and IT support requests.
ProProfs has a number of different software, one of which is an IT help desk tool that teams can use to easily submit issues and requests to the IT department and track when they've been completed. This is a great option for tech companies with really hands-on IT departments.
Features:
Use round-robin ticket assignment to evenly distribute support tickets to agents.
Create pre-written responses that allow for faster response times.
Find key customer support metrics in your help desk reports.
Pricing: Starting at $10/user per month.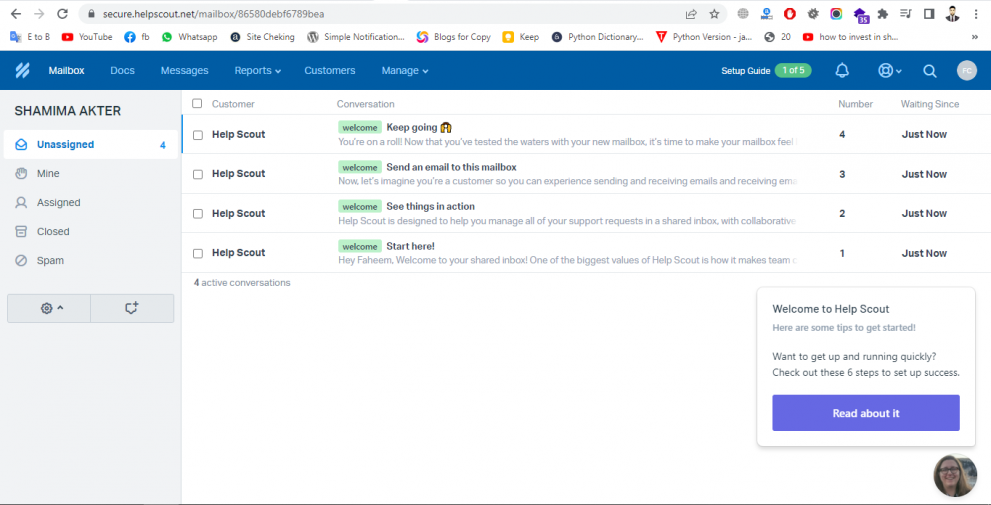 Help Scout is the ultimate tool for customer support. From shared inboxes and customer management tools to workflows, reporting, and live chat, Help Scout has it all.
More than that, it's incredibly easy to sign up and immediately get the customer support ball rolling, so teams of all sizes can benefit.
Features:
Use the shared inbox to collaborate with your team members and ensure everyone is aware of important conversations and customer issues.
Manage customer conversations in one seamless inbox, whether they get in touch with you via email or in real time via live chat.
Set up workflows and automatic responses to lower response times and start helping customers faster.
Build a knowledge base with quick how-tos and tutorials showcasing how customers can use your product.
Access reporting and analytics to keep up with support team performance.
Pricing: Starting at $20/user per month.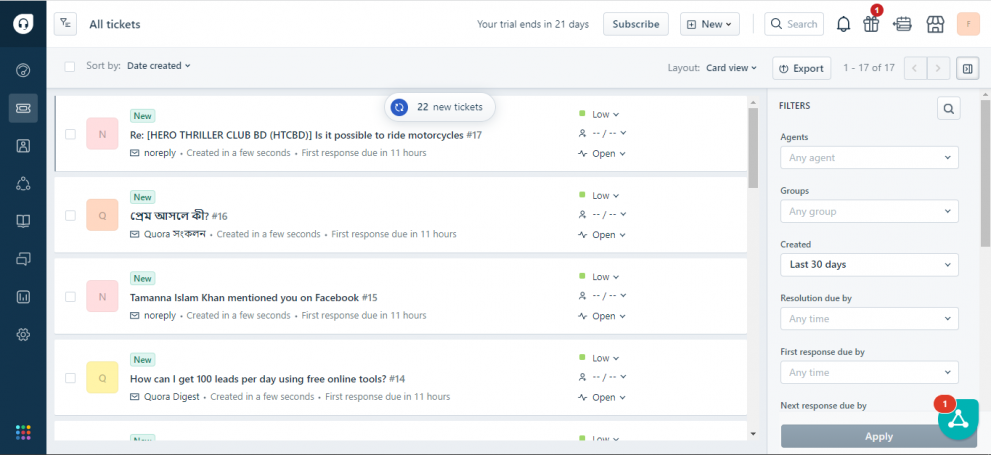 Freshdesk is help desk software that lets teams really unleash the power of AI to help automate and streamline their customer support. With the ability to recommend related knowledge base articles to agents and close completed tickets, its AI (named "Freddy") can be an asset to your team.
Features:
Use collaborative ticketing to allow agents to work together to complete a service request.
Auto-assign tickets to the best agent for the job using their AI feature.
Customize dashboards to showcase team performance metrics and analytics.
Pricing: Free plan available.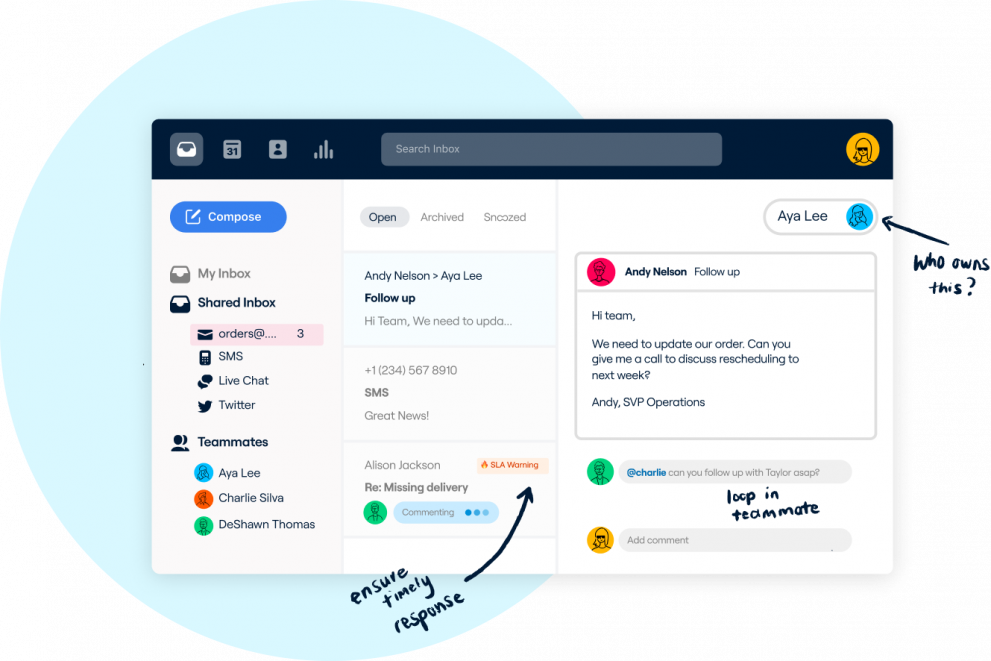 Front is a hub combining your customer service and communication all in one online space. This app is a great way to improve team collaboration on customer issues.
For example, even if one agent has started working on a ticket, other agents are still able to see that ticket's progress, hopping in to help if they're able.
Features:
Share email drafts with teammates to gather feedback before sending to customers — perfect for training.
Use workflows that allow your team to respond to customer messages faster.
Examine analytics that provide deeper insights into the amount of requests your team receives, your overall customer experience, and more.
Prioritize VIPs so top customers are immediately escalated.
Pricing: Starting at $19/user per month.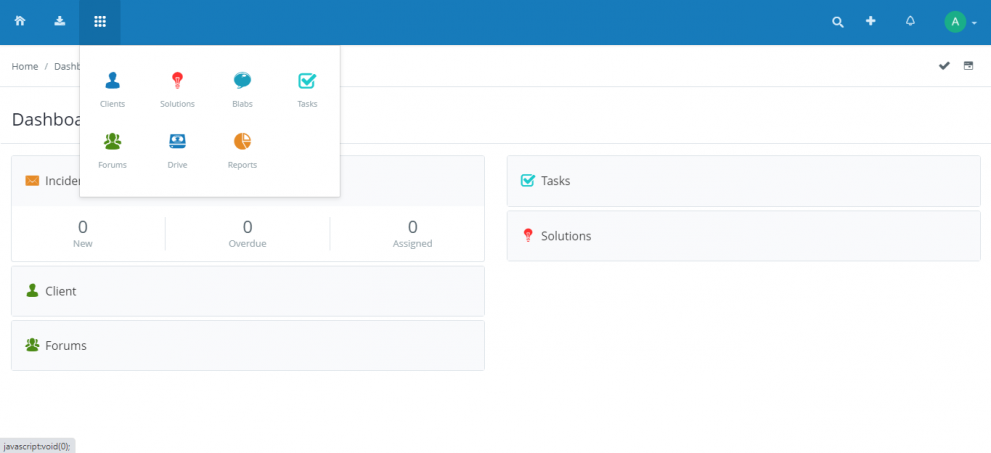 Vision Helpdesk offers a number of customer service products perfect for customer service and IT teams. From its satellite help desk to its ITIL/ITSM (IT infrastructure library and IT service management) compliant desk, this tool is ideal for teams that need an emphasis on security for their customer data.
Features:
Utilize the mobile app for customer communication on the go.
Take advantage of live chat software for both sales and customer service teams.
Manage customer conversations from live chat, social media, email, phone, and more.
Pricing: Starting at $12/agent per month.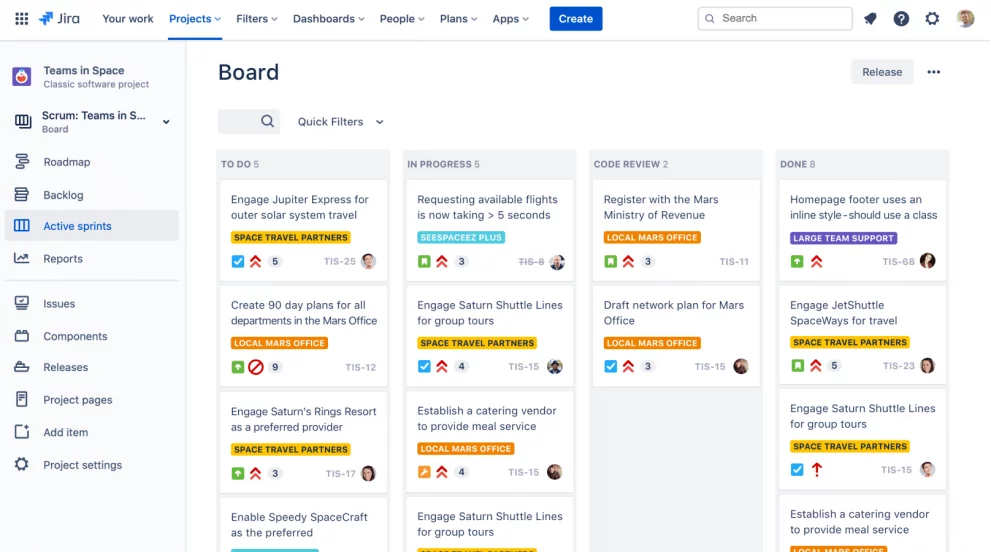 Jira is a tool from Atlassian that offers it all for IT and development teams: asset management, change management, incident management, project management, and more. Jira Service Management is the aspect of the tool that focuses more on request management.
Features:
Build custom add-ons using the Jira API.
Access a library of different automation rules to make the most out of your tool.
Connect with your project management tool to decrease the learning curve of your IT team's software.
Pricing: Free for up to three agents.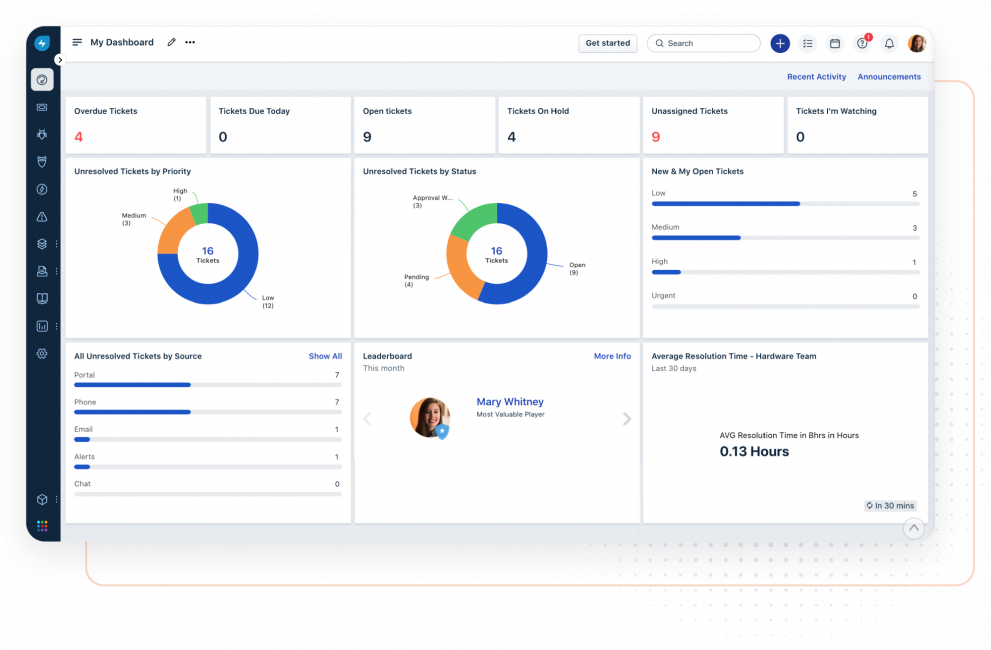 Freshservice is owned by the parent company of Freshdesk, but this tool is catered more to IT service than to customer service. An IT service desk, IT project management, and even IT asset management services come with this tool.
Features:
Set policies based on business hours, ticket categorization, and more using service level agreements (SLAs).
Send ticket assignments right to your integrated project management dashboard.
Use reporting tools to measure your help desk's overall performance.
Pricing: Starting at $19/agent per month.
What to look for before choosing a help desk ticketing system
First, you need to consider how your customers interact with your company.  Do they prefer to call or email? How fast response do they expect from your team? Are they comfortable using self-service tools?
These questions are a jumping-off point that can help you assess each feature your team wants to prioritize:
What value does this feature add to our customers and to our team?
Do we need to connect this feature to other products or services? If so, is that possible?
Do we need to adhere to any technical requirements, like data formatting?
Are there legal requirements we have to meet as a team (e.g., data storage)?
We recommend that support teams look for three key attributes across these different features and a support stack:
Transparency: A good support ticket system makes it clear when a support professional is already working on a ticket so customers don't receive multiple messages.
Accountability: The ability to assign tickets means that nothing gets lost in the shuffle, especially when a team member takes time off or exits the company.
Insights: Insights into your team's performance and customers' happiness can transform the way you do things. Look for easy-to-use reporting features that include the busiest days and times for support requests, the most popular topics people contact you about, and opportunities to automate processes.
Incorporate these three overarching priorities into your list of features. From there, you can begin filtering through available help desks and integrations on the market. Look for solutions that align with your own priorities before getting into the nitty-gritty details of the product.
When the team arrives at a shortlist, then you get to have some fun: Take each help desk ticketing system for a test drive.
Ask everyone to work with each help desk from the perspective of both a customer and a team member. Collaborate on "fake" tickets and get a feel for how this system would affect your ability to work together.
You'll also want to pay close attention to the reporting capabilities — both the level of detail and the usability of the metrics are important.
Here are some questions to consider:
How can this help desk scale with a growing team?
How does the customer experience align with your brand? (In Best Support System, for example, customers only receive personal emails.)
How comfortable is your team using it? (Look for details like quick load times and great search capability.)
How detailed and user-friendly is the reporting data?
What is the support experience like? Chances are, the best help desk ticketing system also offers teams great support.
How useful is it for managers?
Following these steps will bring you to a help desk ticketing system that will prevent internal challenges and elevate your team's ability to meet your customers' needs every day. So, lastly, I can say that now it's your choice to find the best help desk software.

---