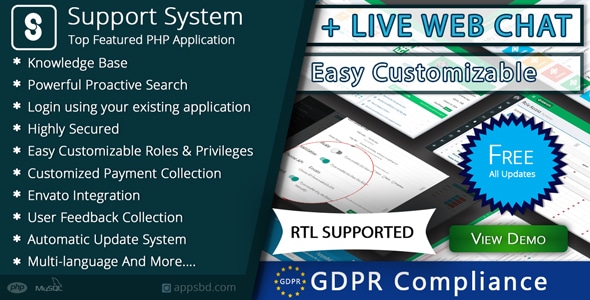 Must Read Before Buying Best Support System In CodeCanyon
In a company we all need support systems for self hosted customer support. But it is not easy to find the best support system quite often. Today this article will tell you about why you should use the Best Support System for your customer support.
Best Support System is a self hosted customer support application. Normally it handles support tickets, manages email tickets, collects payments from Paypal. 

Knowledge Base
It suggests knowledge articles automatically while trying to create a new ticket and reduce ticket volume
Powerful Proactive Search
This is a handy feature. Here with smart search engine can find relevant articles if one make spelling mistakes. This is simple to use and gives one an excellent experience.
Highly Secured
Best Support System also provides high security. Users will get enough protection for their uploaded files. None can download them. It also provides CSRF protection, boot force security. It blocks suspicious IP block automatically. Admins can set their settings in such a way that they can block users while logging in their terms. Example: An admin user can set if he fails to give correct password three times he may not log in for 30 mins.
Easy Customizable Roles & Privileges
Another essential feature for a support system from Best Support System. With this feature one can create users with roles and privileges of one's choice and intended users can also be added to the group.
Customized Payment: It's a very useful feature.You can set a payment of any amount for any service (i.e., hosting fee, maintenance fees) from on any ticket when required.
Live Web Chat
A new feature called Live Web Chat has been added which is an excellent experience for users. Now clients can contact with agents using live chat. It is user friendly and can be set effortlessly
Easy Envato Integration
This feature helps to purchase key validation, view support period and view product and purchase information.
Collect User Feedback
This support system values users' feedback and it helps companies to upgrade or change their policies. Feedback will be collected through special emails and sent out to users after a ticket is closed with satisfied and dissatisfied buttons.
Automatic Update System
One shouldn't bother about updating the system manually. Best Support System offers hassle-free automatic updates for your software. New security threats will also be taken care of here
RTL Supported
This support system also supports RTL
Multi Language Support
Multi Language is supported by the support system. It helps users to integrate more with this plugin. Supported languages are English, German, French, Italian, Spanish, Turkish, Danish, Portuguese, Russian, Indonesian, Japanese, Korean, Thai, Dutch, Bangla, Hindi and many more
Their are so many other features here. In order to check everything click here. So don't forget to choose your best support system. For experiencing the Best Support System you only need to  click here and the journey will be smooth.
Besides the reviews of the support system is top notch till now. It hasn't been failed people yet. This support system is cost effective and it will cost only $79 and it offers money back guarantee as well. 

---