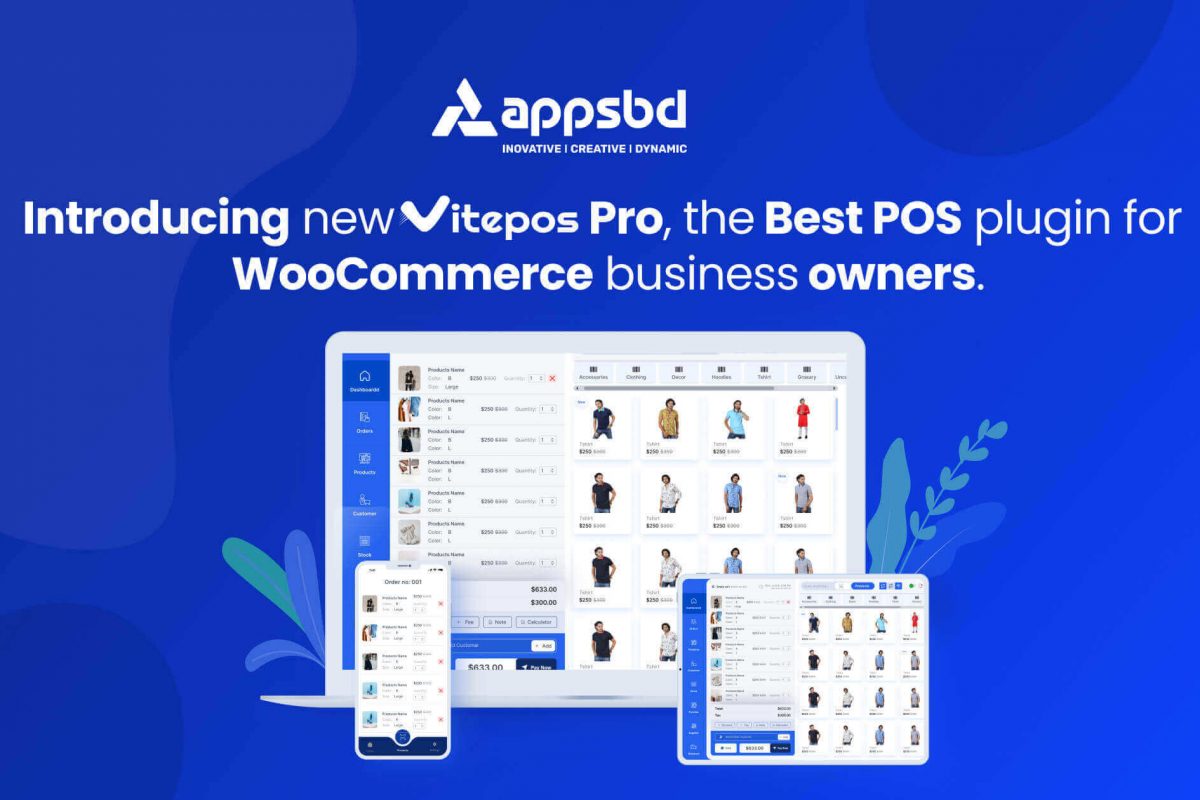 Introducing new Vitepos Pro, the best POS plugin for business owners.
Integrating Point of Sale systems with your computing devices can turn them into an efficient cash register, enabling you to manage your business from any part of the world. Additionally, WordPress makes it extremely easy to develop and maintain an eCommerce website with seamless transaction processes.
The fast responsive plugin provides merchants with an effective Point of Sale solution that is easy to use and intuitive
Get ready for the all-new Vitepos Pro! It's packed with a plethora of amazing features to enhance your eCommerce experience. Introducing Vitepos Pro: Your ideal companion for a smoother online business journey.
Vitepos is undoubtedly a great choice for WooCommerce store owners. It allows you to take orders and track your inventory from the same place. In addition, it has a bar code scanning system that can count the actual product in no time and can be used to add directly to the customer's cart.
Vitepos is a web-based Point-of-Sales system specifically designed to help small, medium business retailers, and also big businesses. The Vitepos core offers a simple yet powerful interface that allows you to keep track of your inventory in real-time and manage orders efficiently.

This plugin has been tailored to work excellently with WooCommerce. You can easily integrate it with your store using the official WooCommerce and Vitepos.
Let's know about some wonderful features of Vitepos Pro
Multipurpose (Ex: Grocery, Restaurant).
Split Payment System
Barcode and QR Code Generator
Offline Mode
Customized Receipt/ Invoice
Super responsive with all kinds of devices
Multi-language Support(With Loco Translator).
Multi-Color Support
Product Management
Premium Support
Also, There are barcode scan & product searches, order notes, discount & fee customization, customer adds, tax calculation based on the outlet, hold cart, single payment, print receipts, easy UI/UX, keyboard shortcuts, stock management, vendor manage, cash drawer management,   user manages, monthly data checking, outlet and counter, secure ACL, rest API, customer display, Favorite product, Default customer select, cash drawer log, online order list and many more.
Streamlining your sales management processes with this tool can help boost revenues for your business.
What Makes Vitepos Pro a Good Fit for Your WooCommerce Store?
Vitepos offers some amazing features such as Based on Rest API, Attractive User Interface, TAX Calculation, Cash log, and more without any charge. On the other hand, you can also upgrade to their Single yearly package starting from just $79. It's a win chance to grab this. Because other POS does not offer this price.
However, premium packages have broad access to many advanced modules. Such as Split payment, Online order, Offline order, Multi-color, Customized discount settings, Customer view display, Product management, Make favorite products, Premium support, and so on.
Split Payment/Single Payment
On checkout, you can use single or split payment using multiple methods. At a time you can take payment in cash, card, and other payment methods as customers want to pay. There are more payment metond coming soon.
This is a new feature of Vitepos that has recently been added. From this feature, you can select a Grocery or restaurant. If you select Grocery then your POS works like a Grocery shop. But if you select restaurant then the shop will change to restaurant mode. In restaurant mode, you will get the all necessary module that should have on restaurant POS.

Optimized and faster, capable of storing data locally and running without an internet connection. When the Internet returns, it can store data in the cloud again without any hassle or backup.
If someone buys products online, that order will come into the Vitepos order panel. You will see all details about every online order also you can complete the order status from the order panel.
It has multiple sets of color screens you can choose your own favorite color from them.
A most secure feature is a role-wise discount. For this feature, the admin can set a discount as a percentage for every role without the admin.
In customer display, customers can see all products in the cart, discounts, fees, and the total amount of cost for all products. After completing the order, it would be set empty to make a new order.
Easy product manage is an unique feature of vitepos. You can easily add/edit simple and variable product with its amazing user friendly UI.
Tax calculation based on outlet
In Vitepos, you can add tax based on your outlet location. For these features, you don't have to add tax every time when you order.
A more interesting feature is you can make favorite your product from our product module. Glad to mention that if you make a product favorite it will show first on the POS module.
Vitepos Pro Pricing: Best POS plugin for woocommerce for Your Business
You will get the lite version on the Vitepos website or WordPress and it's completely free. Besides, There are 2 premium packages available to subscribe for.
It's important to choose a reliable and speedy POS system for your eCommerce store that won't break the bank. The best way to start is by determining what features your business requires, then use that information to select the most suitable option for you.
What are you waiting for? Download Vitepos Pro immediately.
Do you need a versatile POS system for your business?
If you need a POS system that is tailored to your WooCommerce store, Vitepos Pro is the best choice. It is extremely flexible and allows for easy integration with both your online and offline retail stores.
Vitepos is an incredibly helpful tool that lets you accommodate both your physical and online stores. It's very easy to use, thanks to its shortcut keys which facilitate the sales process. In addition, it can help you increase your business growth and customer satisfaction quickly. Also, You can manage Vitepos via the internet from anywhere in the world.
---