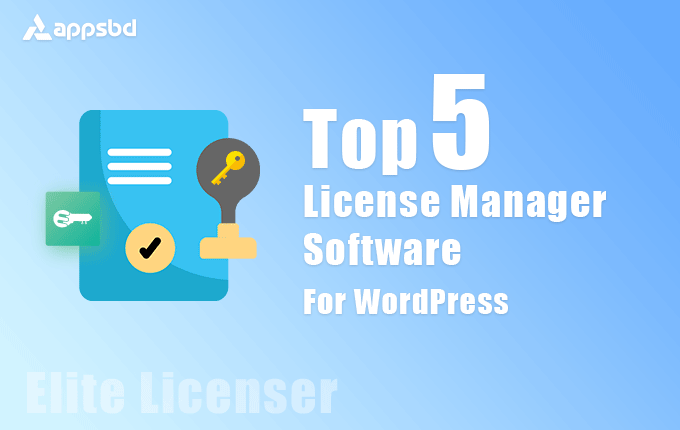 5 Best Software License Manager for WordPress, Best Comparison
Why You Need A Best Software License Manager?
Managing software licenses is essential for developers and all those who create and sell their own WordPress products, such as plugins, themes, and similar. For your customers, licenses are important because after their license expires, they can no longer enjoy all the premium features that come with your product, in some cases can no longer rely on your support, or can't even use the product at all. WordPress software license managers help you keep track of when which license expires and ensure you provide timely product updates to your users.
Today we will reveal the top 5 Best Software License Manager tools for WordPress. So don't rush yourself. Hope this article will help you to license your valuable software easily. 
Top 5 Software License Manager
The below list of the WordPress license manager software tools that are reliable, and streamlined and which will help you manage your licenses, share plugins and themes as well as perform updates for them. We made sure to select only the best options for you.
Let's get started.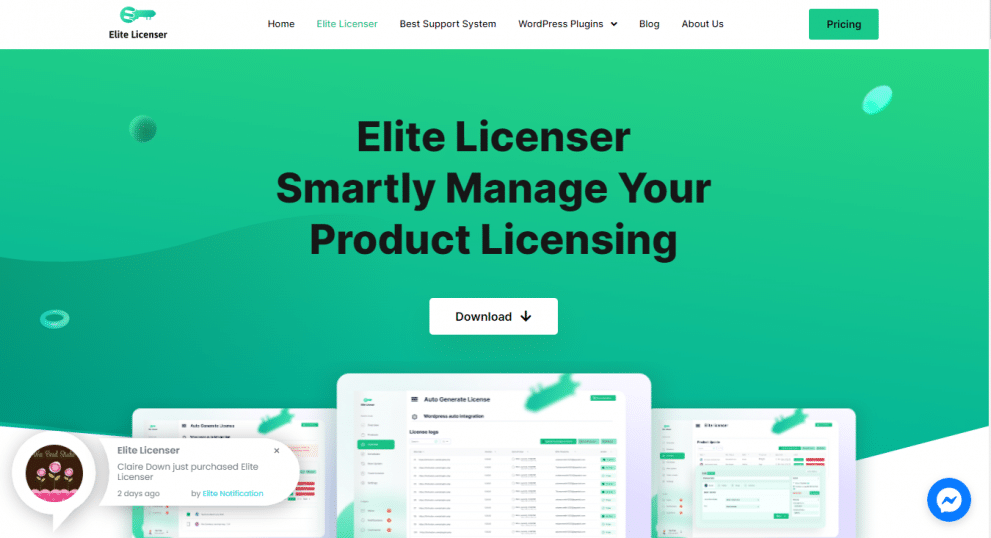 Elite Licenser is a powerful all-in-one solution that supports all types of product licensing. If your scope of work implies a lot of collaboration with Envato, this tool may be a particularly good choice for you as it comes with a built-in Envato licensing verification system and Paddle integration. Product updates management and automatic license code generator are also included. Thanks to the complete set of APIs, managing licenses by other applications is possible too.

An email template also comes with Elite Licenser, and you can modify it and see all the changes you make in the live preview so that you can send customized license notifications emails to your users.
This tool offers excellent protection against illegal use – in case someone tries to activate your product repeatedly with an invalid license, thanks to the auto host ban functionality this tool will block that host automatically and it will not be possible for that host (domain) to employ any of your products ever.
The plugin comes in two three-tiered pricing plans with prices ranging from $49 per year to $249 for lifetime usage. The plans are categorized based on whether you are a developer or an agency and vary depending on the number of products. It has more features for your satisfaction.
1. No more Nulled Versions Applications: The Elite License allows you to protect any software. That's all you need to do is generate the license script for your product and include it.
2. Just One License App for Any Product: The license server can be used for any type of application. It is possible to create different WordPress plugins and WordPress themes, PHP applications including Joomla and other content management systems, any .NET applications, and Java or Android applications. This basically means one app to cover all types of applications.
3. Automated Product Updates: It also provides automatic product updates. Using an easy web panel, you just need to add new version details. Then your application will receive an update notification. As an example, if your product is a WordPress plugin or theme, the update will appear as a WordPress core update.
4. 3rd Party App Hook (Instant Notification): This application has a hook system that allows 3rd party apps to receive instant notifications. In other words, when a new client or license is added to this system, this system will notify a third-party app (such as a membership app) with all client and license information.
5. Email Template: Send emails to customers by modifying pre-existing templates. If you see it once in the live preview, you will see how easy it is. We don't want to say too much about it, we just want you to see it.
6. Envato Integration: The software comes with a built-in Envato license verification system. With these tools, you can easily manage your Envato license as well as those of other marketplaces. Furthermore, you can easily add your own integration for any other marketplace using an easy-to-use plugin.
7. Instant Code Generation: We show you how to generate a complete sample WordPress plugin and theme code, which you can install directly on WordPress. You can also generate sample code for other languages.
8. Auto-Host Ban: When the product is repeatedly activated with an incorrect license, the host (domain) will be blocked automatically. In the host's panel, you will receive a list of all the hosts that can't use any of your products.
9. Full API Support: API support for third-party apps is included, and API permission can also be controlled.
10. Small Footstep Server Load with Continuously Licensed Code Protection: The other licenser applications normally check licenses every time they load. This licenser allows you to do that as well. Depending on your needs, you can either set multiple settings or choose to call for the license at each time.
It can be set to check 3 times an hour for the first three times, then 1 time a day for five days, then once a week, etc. However, you can also deactivate that license key at any time. Whenever you change the status of the license key, the license key holder application will check immediately.
11. Removing a License is Easy: It is possible to forcefully remove the license from the client's product. It could be a case of a client stealing your license or still using your product after a refund.
12. Your All-in-one App Handles Everything: The app only needs to be installed once and can be used in your entire app collection. Using another service or application is not necessary. It also supports Envato's licensing system. It is completely hassle-free for both authors and developers.
13. Custom License Type: Various license types can be created, including single licenses, multi-licenses, 1-year licenses, etc. You can set the maximum domain per license type.
It is possible to detect forum sharing as well. Since a verification counter is available.
For example, if you have set up a multi-license with 50 domains and verification is required for the first ten, then you will need to manually verify each domain after the 10th.
14. Limitations based on URL: When someone downloads your app from example.com/app and also installs example.com/app2 or app2.example.com then for each application an individual license key is required if a single license key is purchased. Thus, you can only use one license at a time.
15. Detailed License Information: It also provides details about licensing, as well as where and when the program has been installed.
16. Add-ons: In the future, there will be many features added to add-ons. Also, you can use that add-on.

WooCommerce License Manager
---
A WooCommerce license manager is available in Elite Licenser to manage licenses for WooCommerce products. Now it's easier than ever to grant licenses for WooCommerce products.
As soon as an order is completed, Elite Licenser automatically generates a license and shows it on the customer's account page.
Are you managing multiple WooCommerce sites? Fed up with managing website licenses across several domains?
Using the Elite Licenser will take care of it for you! Through the WooCommerce License manager function, Elite Licenser can manage all its licenses in one place.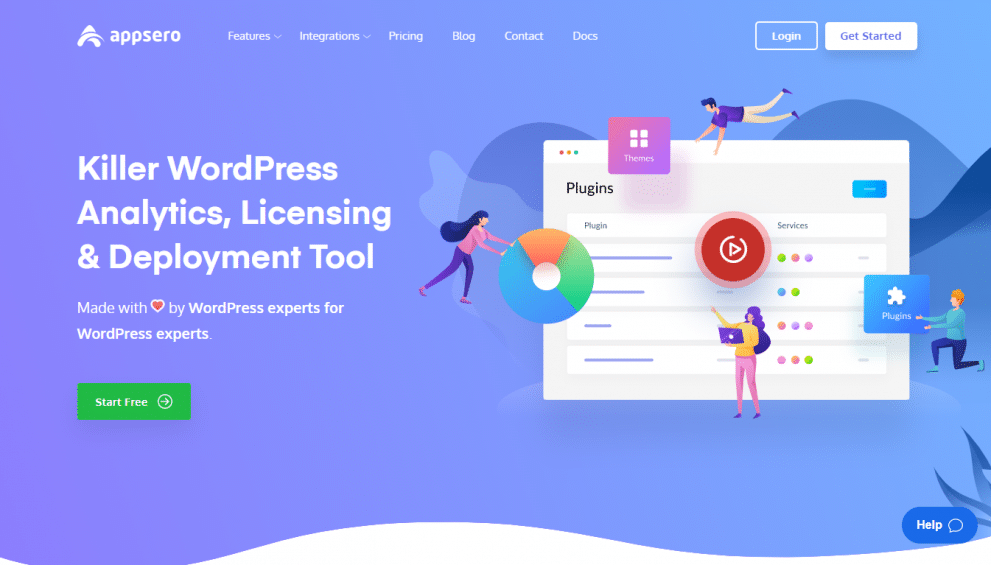 The first thing that you will notice with Appsero is how simple it is to use. It comes with an intuitive and streamlined control panel that makes it easy to understand and use all the options that come with this platform. In case you are already using another license manager, adjusting Appsero with it will not be a challenge.
This tool alsointegrates well with a variety of third-party features providing you this way with the ability to improve plugin-theme management.
Appsero can also help you with your plugins analysis, themes statistics, collecting plugins, and themes deactivation data. Updates are deployed directly from your local server to WordPress.org with Appsero.
As for the pricing, you can choose between a free plan and multi-pricing plans with prices starting from $20 per month. Premium plans include the immediate licensing checking functionality and new license generation option and support a number of third-party integrations.
License Manager for WooCommerce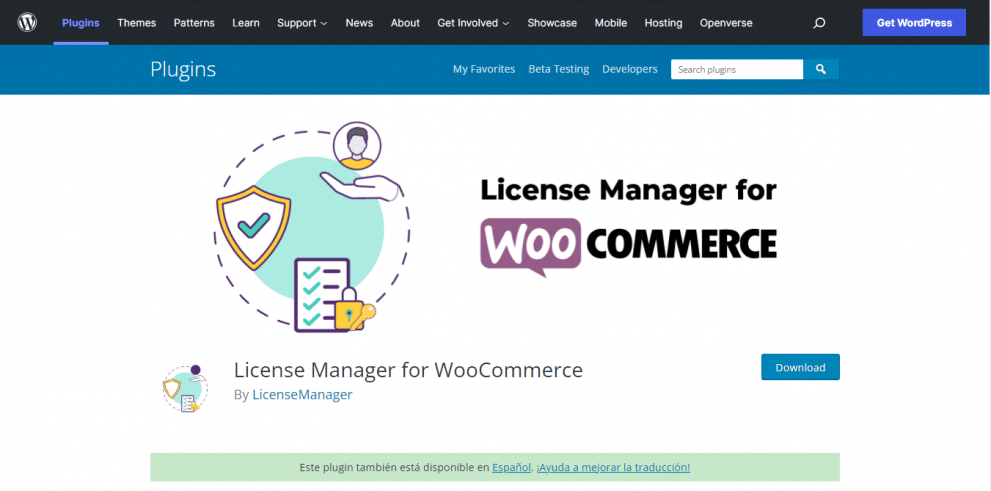 The License Manager for WooCommerce is a free plugin that makes selling and handling your digital license keys smooth and simple. The features like automatic stock management, automatic delivery of license keys, and bulk importer will make managing your licenses and keys easier and more effective.
Other handy features you can count on with this tool include the option to import license keys by file upload, export license keys as PDF or CSV, create license key generators with custom parameters, and many more useful options.
It is also possible to assign a generator to one or more WooCommerce products which means that these products will automatically create a license key with each sale. Additional functionalities for managing licenses as well as generator resources are enabled through API keys.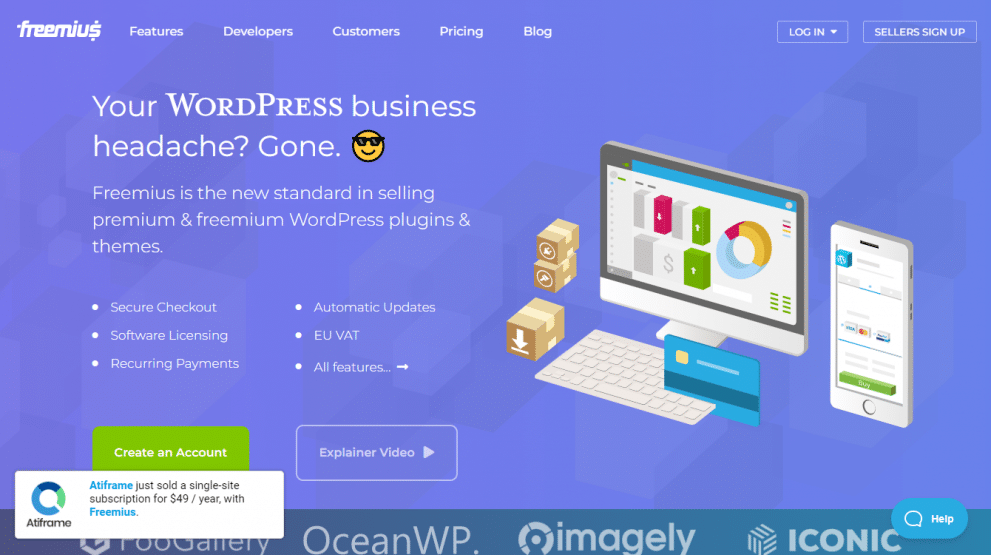 Freemius is a standalone platform that helps you handle your WordPress products' licensing. It enjoys great popularity as it is very user-friendly. It allows you to generate and verify license updates instantly, set automatic updates and obtain feedback on deactivation which may help you improve your product features.
If you are doing business with EU customers, Freemius offers the option for automatized collection and reports about the required VAT for your sales which may make your life a lot easier. Thanks to the analytics features that are included, you can also create profiles of your consumers and get insights on how to increase your revenue. Plus, a full-fledged cart abandonment system is also included.
The Freemius pricing system is based on your revenue, in such a way that it follows your growth. For example, you will pay 7% after $5k and 27% on your first $1k based on lifetime gross sale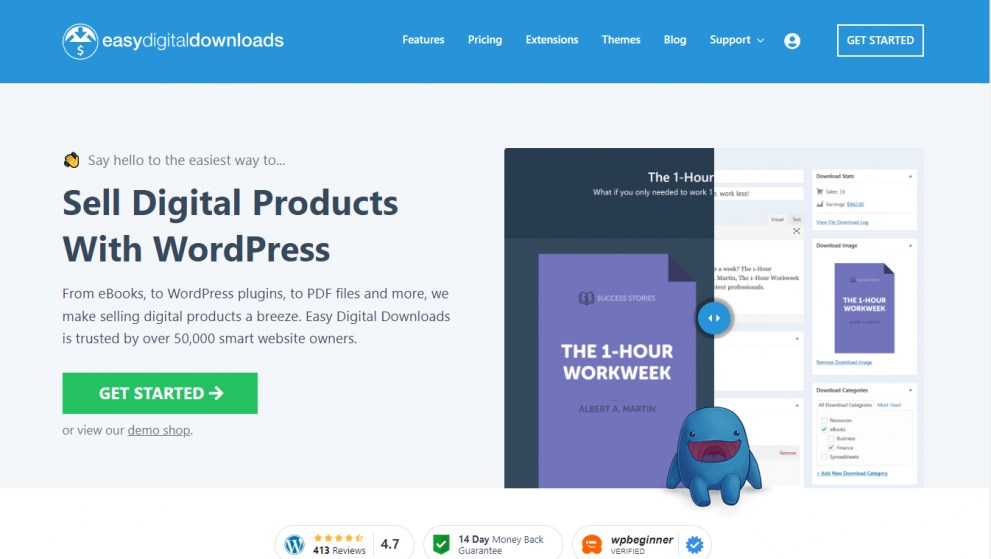 Easy Digital Downloads is also a popular licensing management solution for WordPress users. Basically, EDD helps users to create an online store using their WordPress website. And using that platform, you can sell your digital products.
But, EDD has not any features to manage software licenses. So you cannot manage your digital products license from different platforms with it. However, it offers some features to the users. Here are they-
Create a digital shop & sell software
Intuitive WordPress dashboard for users
Plugin & theme analytics feature
Provides a complete data reporting option
Individual discount page to create a discount whenever users need it
Separate record-keeping option for each customer
Easy Digital Downloads includes four different pricing packages. And to use the EDD platform to sell plugins/themes, you will have to spend $99.00 per month.
From the above features, functionalities, and pricing comparison of the WordPress plugin/theme license managers, it is quite clear that Elite Licenser is the solution that offers all the necessary features at an affordable cost. But it doesn't necessarily mean other platforms are any less.
Quite clearly, as an experienced platform, Elite Licenser definitely has an edge at the moment but it still has a long way to go if it wants to stand out in the crowd of all these popular software license management platforms.
Software license manager like Appsero, Freemius also holds a solid position in the heart of developers, though due to their higher profit-sharing scheme, it brings a negative impression along with it too. But many people still find them more reliable than others. So if you are okay with your software license manager taking up a chunk of your profit percentage then you can go for Appsero or Freemius.
But if you think you need a cost-effective yet complete software license management solution that doesn't break your bank yet provides all the right features for your software licensing and deployment then Elite Licenser is probably the tool that you are looking for.
Now for your convenience, let's check out the following features of Elite Licenser to support my argument. Hopefully, this will help you to decide better whether Elite Licenser is truly the software licensing manager that you need. Check all features.
In my opinion, Elite Licenser is a perfect all-rounder.
---