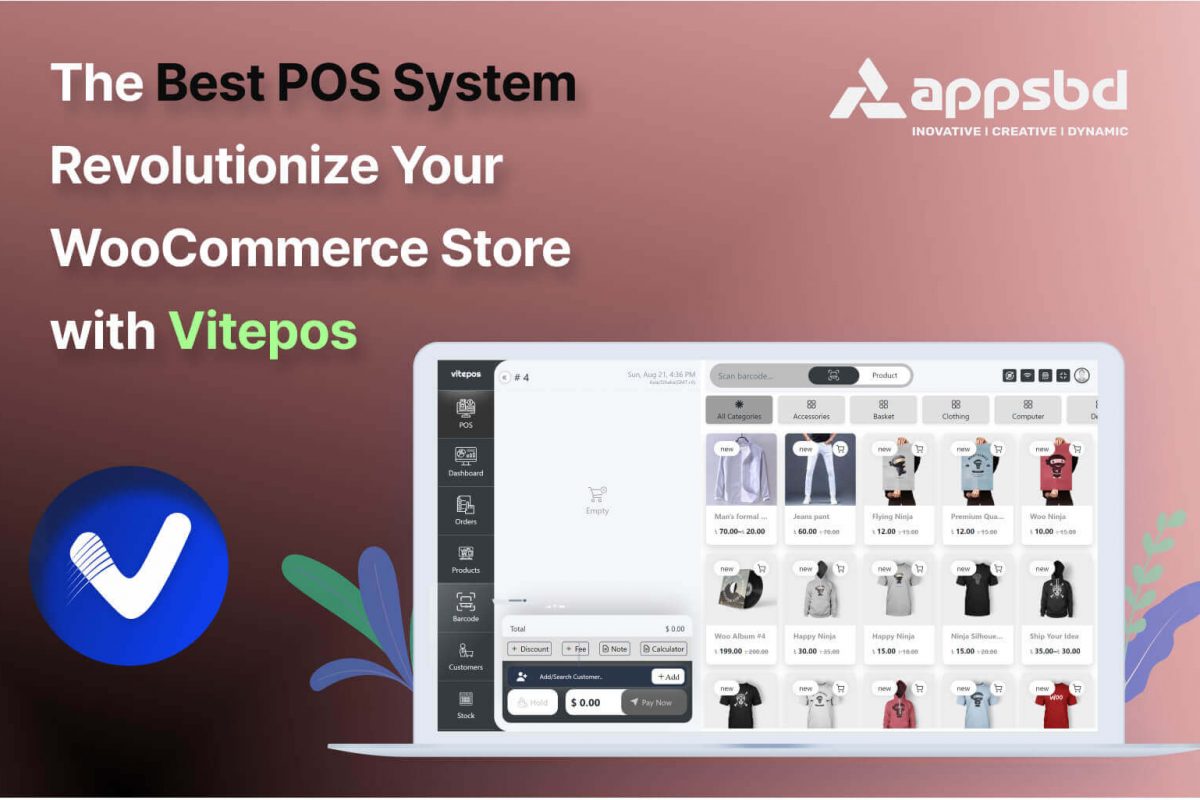 The Best POS System-Revolutionize Your WooCommerce Store with VitePos
Upgrade your WooCommerce store with VitePos – the best POS system that can revolutionize your business. With seamless integration with WordPress and WooCommerce, VitePos offers efficient inventory management, real-time data analytics, and enhanced customer experience.
As an entrepreneur, you have to keep up with the latest trends. If you want to do that, you need to understand where your industry is going and what is going to affect your business. So, say goodbye to traditional point of sale systems, switch to VitePos, and take your business to the next level.
In this blog, we will look at what VitePos is and how it will impact your business in 2023.
What is Point-of-sale (POS)?
A point of sale (POS) system is a tool that businesses utilize to manage sales, inventory, and payment processing. POS systems typically consist of hardware such as a cash register, credit card reader, and barcode scanner, as well as software that manages inventory and sales data.
POS systems automate many tasks, including processing sales transactions, managing inventory levels, and generating reports on sales and profitability. They also facilitate accepting various payment types, including credit cards and mobile payments.

This system is used in various industries, including retail stores, restaurants, and hotels, and they can be tailored to meet the specific needs of a business, such as integrating with e-commerce platforms or loyalty programs.
Importance of a Best POS System for WooCommerce Store Owners
If you are running an online store using WooCommerce, having a reliable point of sale (POS) system is super important. It will help you to manage your store's operation. Imagine you're running a physical store, and you need a cash register to manage sales and payments. That's what a POS system does for an online store.
With a POS system, you can easily keep track of your inventory and sales data. A POS system will make it easier for you to manage your store. You can use it to accept payments from customers, including credit cards and mobile payments like Apple Pay and Google Wallet.
You can also use it to create customer profiles, manage returns and exchanges, and generate reports on your sales and inventory. POS system can also help you provide a better shopping experience for your customers. They can easily find what they're looking for, check out quickly, and receive their order in a timely manner. This can lead to increased customer satisfaction and loyalty, which can help your business grow.
Why it's important to choose the best Point of Sale system for your WooCommerce store?
Choosing the best point of sale (POS) system for your WooCommerce store can be a crucial decision that impacts your business's overall success because it can have a significant impact on its efficiency, profitability, and customer experience.
A reliable POS system can help streamline operations, automate tasks, and provide valuable insights into sales and inventory data. This, in turn, can save time and reduce errors, leading to increased productivity and profits. Additionally, a user-friendly POS system can improve the customer experience by making transactions faster and more convenient.
On the other hand, a poorly chosen or outdated POS system can result in slower service, inaccurate data, and ultimately, loss of customers and revenue.
What is VitePos?
Vitepos is a modern point-of-sale (POS) system developed to provide fast and reliable service. It is a cloud based pos for WooCommerce. This plugin is designed to be fully responsive, enabling seamless integration with mobile, tablet, laptop, desktop, and large-screen devices. It follows the WooCommerce development code standard using the latest technology to ensure optimum performance and compatibility.
Why VitePos is Revolutionary in the POS marketplace?
VitePos is making waves in the POS marketplace because of its game-changing features that can help businesses improve their operations and enhance customer experience.
It offers a user-friendly and modern interface that can be customized according to the business's specific needs. VitePos also ensures quick and secure transactions, easy inventory management, and generating comprehensive reports on sales and profitability.
The system is highly scalable, which means it can grow with the business and adapt to changing needs over time. It seamlessly integrates with WooCommerce, one of the most popular e-commerce platforms, making it a perfect solution for businesses that want to streamline their online and offline sales channels. With VitePos, businesses can have a reliable, feature-rich, and scalable solution that can help them succeed in today's competitive market.
How VitePos will help your WooCommerce store in 2023?
With the changing times, it seems that the world has finally caught up on the new technologies that are making our lives better, easier, and more efficient. In the POS sector, one such technology is the VitePos.
VitePos is an innovative and advanced POS system for WordPress that can greatly benefit your WooCommerce store in 2023. Whether you have a small or large business, VitePos is a great option. Particularly for small businesses vitepos is the ideal choice.
Some VitePos Features:
Easy Setup
Hassle-Free Configuration
User-Friendly Interface
Modern and sleek design
Efficient inventory management capabilities
Real-time analytics
Quick add products
Barcode Scan & Search
Vendor Management
Cash Drawer Management
Tax calculation
Outlet & Counter Management
Customers in the Queue
Print Receipts & Invoices
Advanced payment processing features
Cloud-based platform that is available 24/7
Offline Order
Secured ACL – Access Control Level
Multi-Language support etc.
You can watch video documumentation on Here:
Conclusion
There are so many POS systems out there that it can be hard to find the right one. Choosing a POS system that works with WooCommerce means you're not only choosing a POS system that works but also one that will grow with your store over the years.
VitePos is the best choice for any WooCommercestore owner looking to save time, money and improve their customer satisfaction. It is a complete POS solution that is easy to set up and maintain while still being loaded with advanced features to help your store. So, give it a try and if you have any questions or queries, don't hesitate to contact us.
---