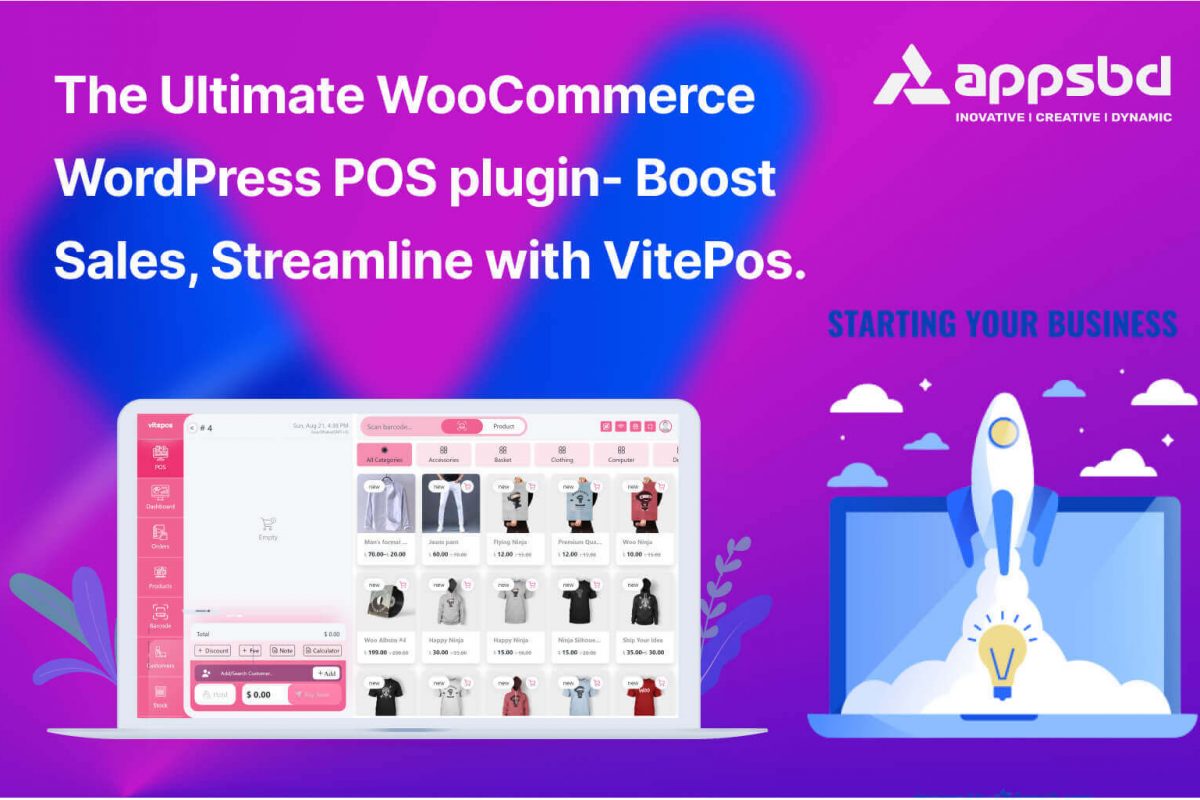 The Ultimate WooCommerce WordPress POS plugin- Boost Sales, Streamline with VitePos.
Are you running an online store using WordPress and WooCommerce? Are you looking for a reliable and efficient WordPress POS plugin to streamline your operations and maximize your sales? You need not search any further than VitePos, the ultimate WordPress POS plugin for WooCommerce.
With the rise of e-commerce, more and more businesses are turning to online sales channels to reach customers. If you run a store, you know how challenging it can be to manage your inventory, process transactions, and keep track of your sales data. That's where a WordPress POS plugin like VitePos comes in.
VitePos is a powerful WordPress POS plugin for WordPress that integrates seamlessly with WooCommerce, allowing you to streamline your operations and maximize your sales.
What is WordPress POS plugin?
A WordPress POS plugin is a software extension that integrates with a WordPress website or e-commerce platform, such as WooCommerce. It allows businesses to manage their in-person sales and transactions, just like a traditional point of sale system in a physical store. With a WordPress POS plugin, you can handle tasks like processing payments, tracking inventory, generating sales reports, and managing customer information directly from your WordPress website.
These plugins are particularly useful for businesses that operate both online and in-person, as they provide a unified platform for managing all sales channels. They can help streamline operations, improve efficiency, and provide a consistent experience for customers, whether they are shopping online or visiting a physical store.

What is Vitepos for WooCommerce?
VitePos is a powerful and user-friendly WordPress POS plugin for and WooCommerce. It allows you to manage your online and offline sales from a single platform, streamlining your operations and saving you time and money. You can process payments, track inventory, manage orders, and generate reports with ease. VitPos is built with the latest technology following WooCommerce development code standards.
Why Choose VitePos?
VitePos is an exceptional POS plugin that provides a vast array of features and functionalities that make it the ultimate choice for users of WordPress POS and WooCommerce. Here are some reasons why VitePos is an excellent choice for you:
Easy to use: VitePos is user-friendly, and its interface is intuitive, making it easy to set up and use. You do not need any technical expertise to begin using it. The software is designed with the end-user in mind, making it easy to navigate, set up, and customize.
Seamless integration: It integrates with WooCommerce, making it simple to manage your online and in-store sales from a single platform. This feature is advantageous because it saves you time and enables you to streamline your operations effectively. Furthermore, It is compatible with other popular plugins like QuickBooks, Xero, and Mailchimp, making it a versatile tool that you can tailor to meet your specific needs.
Customizable: It is highly customizable, allowing you to personalize it according to your specific needs. You can choose from a range of templates, fonts, and colors to create a POS system that matches your brand. This feature enables you to make your customers feel like they are still in your online store even when they are in your physical store.
Secure: Security is a top priority with VitePos. The software is built with security in mind, ensuring that your data is safe and protected. It supports the latest security standards and protocols, including SSL encryption and PCI compliance. Using this you can have peace of mind knowing that your sensitive information is safe and secure.
Key Features of VitePos
VitePos has several key features that make it an outstanding WordPress and WooCommerce users. Some of these features include:
You can keep an eye on your inventory in real-time. This feature ensures that you always have enough stock and never run out of inventory. Additionally, you can set up alerts to notify you when your stock runs low and set up reorder points to streamline your restocking process.
It streamlines the order management process, making it easy to process payments and generate shipping labels. You can monitor the status of your orders in real-time and ensure that your customers receive their orders on time.
It supports several payment options, including credit and debit cards, PayPal, and Apple Pay. You can also create customized payment options and offer discounts to your customers.
Provides comprehensive reports and analytics on your sales, inventory, and customer behavior. You can use this data to make informed business decisions and optimize your operations.
Outlet & Counter Management
With unlimited outlets and counter management, Vitepos lets you manage different cashiers/agents assigned to each outlet or manage them all together.
Whether you prefer using your mobile camera or a barcode scanner, Vitepos allows you to scan barcodes and search for products quickly and easily.
Tax calculation based on outlet location is another beneficial feature offered by Vitepos. This function automatically calculates taxes based on the specific location of your outlet. Consequently, you are not required to add taxes manually every time you place an order.
Save money by using your current devices – Vitepos can be loaded onto any computer browser or mobile device without the need for expensive hardware
Print Receipts & Invoices
You can print automatic or manual branded receipts in a format that's easy to understand for your customers. You can even set up multiple print stations for advanced options.
The Future of VitePos
The future of VitePos looks bright as it continues to evolve and adapt to meet the changing needs of eCommerce businesses. Here are some of the developments to look forward to:
Expanded integrations: VitePos is expected to integrate with more third-party plugins, including accounting software, email marketing tools, and shipping solutions. This will make it easier for businesses to manage their operations from a single platform.
Artificial intelligence: VitePos is exploring the use of artificial intelligence (AI) to improve its functionality. This may include features such as predictive inventory management and automated customer service.
Enhanced security: As eCommerce fraud becomes more prevalent, VitePos is committed to providing robust security measures to protect its users' data and prevent fraudulent activities.
User-driven improvements: VitePos values user feedback and continuously works to improve its platform based on user input. As a result, users can expect to see new features and enhancements based on their needs and requests.
VitePos is committed to providing a seamless and efficient experience for its users. As the eCommerce industry continues to evolve, It will continue to adapt and innovate to meet the changing needs of businesses.
Conclusion
To sum up, if you are a business owner looking for an effective way to manage your WooCommerce store, VitePos is the ultimate solution. By streamlining your operations and maximizing your sales, it helps you take your online business to the next level. Its powerful features and user-friendly interface make it the perfect choice for businesses of all sizes.
So, why wait? Get VitePos today and experience the benefits of a robust and efficient POS plugin for your WooCommerce store. With this, you can focus on growing your business while it takes care of the rest. Don't miss out on this opportunity to simplify your sales processes and increase your profits with VitePos.
---