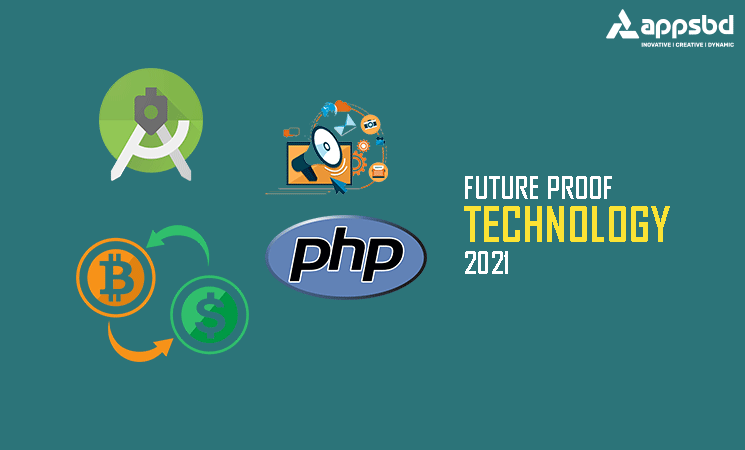 Future Proof Technologies To Learn In 2021, Best Top Technologies to Build Up Your Career.
Future Proof Technologies
It is 2020 and the world now is more tech-savvy than ever! If you are thinking to make your career in the field of technology and programming, then surely you have made the right decision. Well, here are a few future proof technologies that you can surely explore and make a career in!
Mobile Application Development and Web Development
Well, this is no brainer! With the technologies increasing day by day and businesses coming online, mobile apps and web apps play a vital role. A product, or an idea, is incomplete with a mobile app or a web app. It does not matter what kind of business the company is into, they will need either a mobile app or a web app to sell their products or to make their online presence.
Thus, it is one of the most trending and evergreen filed to make a career in. Not only it is a good career, but it is a field full of creativity, power, and a high pay scale. Whoa! What a perfect trio…
With the growth and increase of technologies, data has been growing drastically. If we try to put the amount of data we produce on a piece of paper, trust me you would need to chop the whole amazon forest! Well, even that would be less.
Thus, it is a need of the hour to process data, manage data, and to gain various insights from the data that can be beneficial. Thus, machine learning and data science are the new backbones of the modern world with machine learning, data growing, and automation at its peak. Machine learning and data science is a vast field to explore with tons of opportunities and high demand.
Digital Marketing
There are many pros of the digitalization wave, but can we have just pros with cons? Well, ofcourse not, unless its a fairytale. With this ever-growing digital world, the online threats, scams are increasing day by day. Personal and professional data are at stake. Recently, we saw how attempts were made to hack Google and Twitter.
Think of it, even such big tech giants are not safe! Thus, here the role of ethical hackers and cybersecurity plays an important role. Every organization needs a person to can protect their data and protect their organization from various attacks and scams. So, with the increase in technology, cyber crimes are increasing that in return increase the demand for cybersecurity personnel. It's now, or never!
Blockchain and cryptocurrency
Well, you might not agree with Blockchain being in this list, but Blockchain and cryptocurrency are one of the fastest-growing and most futuristic technologies. If you have been following banking, investing, or cryptocurrency over the last ten years, you may be familiar with "blockchain," the record-keeping technology behind the Bitcoin network.
When we say the words "block" and "chain" in this context, we are actually talking about digital information (the "block") stored in a public database (the "chain"). Thus, these play an important role and the demand for blockchain is growing day by day. Thus, it seems the most promising and the technology of the future.
Well, these are some top fields that seem to be future-proof with high demand and high pay scales.
Which of these are you planning to get your hands on?Want to get your support ticket app and software licensing plugin? You must try, Appsbd an authentic source of getting your best software.
---