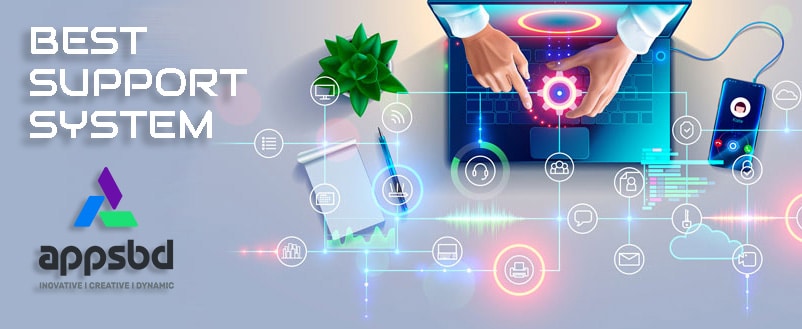 The Top 5 Best Support Desk Software and Ticketing Systems in 2021, Choose it by its best features
One of the hardest parts about working in customer service is the workflow. It's extremely unpredictable. When you're on the frontline, you have no idea what kind of case you'll be taking next or how long it will take to resolve it. During my time on the Best Support Team, I solved some cases in minutes while in other cases it took me hours just to identify the problem.
The point is, your customer support reps don't know what their daily workload is until they pick up the phone and answer a call. This puts pressure on the rep to not only be flexible when faced with surprises but also to be organized enough to handle an unpredictable workday.

Not every issue is resolved after the first call, so your reps need to have a system in place for handling both long and short-term support cases. This is where help desk software and ticketing systems play a major role in the success of customer service teams. These tools distribute incoming service requests among team members and help them manage follow-up on long-term cases.
Help Desk software can increase your customer service team's support bandwidth while improving the overall customer experience, but these systems can be pricey. When you're working within a tight budget and you need quality help desk software, there are several free options available. Of course, there's a trade off. Free help desk software may impose user and functionality limits, but they'll definitely get the job done in a pinch. When you're ready to upgrade, you can always purchase a paid version or switch to a more robust system with a fee. Let's take a look at some of the top help desk software and ticketing systems your team can start using for free.
The Top Five Help Desk Software
Best Support System

HubSpot's Service Hub

Agiloft

Jira Service Desk

Zoho Desk
If your company is looking to provide a better customer service experience for both the customer and your service representative, you should consider adopting a powerful help desk software. If you're not sure which one to choose, below are the top help desk software and ticketing systems. This list includes software with free trials and freemium options.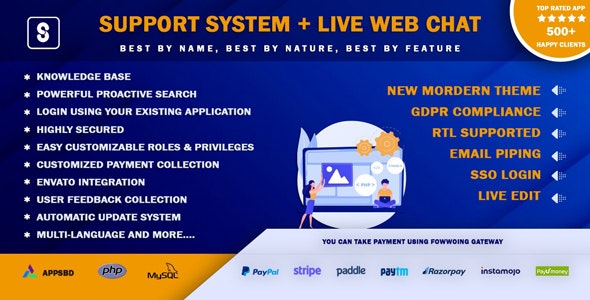 Best Support System, Best by name, Best by nature, Best by feature, it is a self-hosted customer support desk software. It handles support tickets, manages email tickets, collects any payment by PayPal. It has a simple installer so that you don't need any programming skill. We will keep updating regularly and it has an auto update feature. Also it provides lots of features. Scroll down to see some of those features.
Some Key Features of BSS:
Knowledge Base: Automatically suggest knowledge articles while trying to create a new ticket and reduce ticket volume
Proactive Search: Easy to use search – smart search engine can find relevant articles even with spelling mistakes
Highly Secured: Get user uploaded file security, CSRF protection, boot force security, admin user login failure auto backoff, auto suspicious IP block
Easy Customizable Roles & Privileges: Create user groups with roles and privileges of your choice and add the intended users to the group
Customized Payment: It's a very useful feature.You can set a payment of any amount for any service (i.e., hosting fee, maintenance fees) from on any ticket when required.
LIVE WEB CHAT: Live web chat feature has been added. Your client can contact with your agent using live chat. You can set everything effortlessly.
Easy Envato Integration: Allows purchase key validation, view support period, and view product and purchase information
Collect User Feedback: Feedbacks are collected through special emails sent out to users after a ticket is closed with a satisfied and dissatisfied buttons.
Automatic Update System: Hassle-free automatic update for your software so you do not have to manually install new updates or worry about new security threats
RTL Supported: Best support system supports RTL
What's unique about Best Support System is that its can be integrated with your CMS and If you have a WordPress or Woo-Commerce site and you have many users those user can log into this panel automatically. It has a WordPress plugin. By that you can easily set that up While on chat, a rep can pull up a customer's contact information and see not only their account information but also their past engagements with the company. This helps to personalize the customer service experience because reps will have a stronger understanding of the customer's historical relationship with your brand.
HubSpot's Service Hub offers a complete package of help desk and ticket management tools that can support nearly every function of your customer service team. These tools include features like knowledge bases, live chat, centralized messaging, and bots. HubSpot's service software makes it easier for companies to expand the bandwidth of their customer service team without having to hire new personnel.
What's unique about HubSpot's Service Hub is that its tools can be integrated with your CRM and content management software. While on chat, a rep can pull up a customer's contact information and see not only their account information but also their past engagements with the company. This helps to personalize the customer service experience because reps will have a stronger understanding of the customer's historical relationship with your brand.
Agiloft was first considered to be an internal help desk software but has quickly become a favorite for customer-facing support teams. This is because it provides a portal that users can submit requests through at any point in the day. If personnel are not available, the service will log the request and send a self-service solution as an immediate response before a rep follows up on the case.
Another great feature of Agiloft is that it provides long-term management solutions for cases that may be more complex. The software will launch proactive alerts if a case has been open for too long and needs to be escalated. This is significantly helpful for SaaS customer service teams that handle high volumes of technical support calls which often result in follow up.
Whether you're managing incidents, proactively announcing changes in your interface or offerings, or looking for the source of a bug or problem, Jira has service desk features to make the process simple and seamless. The great thing is that it comes with automation, queuing, knowledge base, and asset management built in. You'll also have the ability to shape your processes within the software to match your optimal operational workflow, and it offers a number of integrations to work with your other software solutions.
Zoho Desk is a multi-channel help desk that includes an advanced ticket management system. The ticketing system can handle incoming service cases via phone, web, email, chat, and social media. This coverage across multiple channels makes it easier for brands to provide an omni-channel experience.
One cool feature that Zoho Desk offers is a widget tool that you can embed on your website. When loaded in a browser, the widget turns into a support form that customers can fill out to request assistance. They can describe their problem in detail as well as request a preferred channel through which to communicate.
Not only does this form make it easier to access your support team, but reps can also analyze these incoming requests and come up with a solution prior to reaching out. This significantly improves first-call resolution rates as well as customer satisfaction.

---