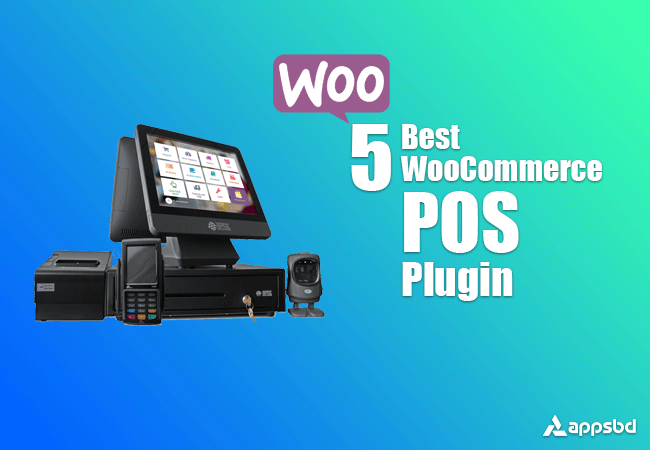 Top 5 WooCommerce Point of Sale(POS) Software in 2022, Best Way to Find
Running a successful eCommerce website involves a lot of work, but you can mitigate it by choosing the right tools. And one of the most important tools you need is a Point-of-Sale (POS) system for WooCommerce.
If you are running a WooCommerce site you can synchronize all the data regarding product billing and stock calculation with the best WooCommerce point of sale(POS) plugin.
It will automate your store management system by taking orders, processing transactions, updating inventory and maintaining analytics.
In the old days, a POS system would just be the cash register in your store. But like everything else, these systems are entirely digital in 2022. This is expected in an online environment, but it's equally true for stores with a physical location.
And with every type of software, there are always choices, but not all of them are equal.

A POS system is responsible for calculating the amount a customer must pay, displaying that amount to the customer, generating a receipt or invoice, and displaying all of the payment options that are available.
If this sounds familiar, it's because every store, online or physical, uses one.
For example: if you go to a grocery store and fill your cart with products, and after that when you need to checkout those with your payments, that time a cashier will charge you for those products, and it's an automated process you can see your invoices in the computer. And cashier opens the cash drawer for your change. It's all an automated process using good software. Where all the records and reports will be stored for your future performances. 
While picking the best POS system for your online store you should consider the following aspects carefully:
Set-up cost and compatibility with your eShop
Usability and unique features
Payment gateways
Supported platforms and devices
Integration with third-party plugin
It really depends on the tool you choose and the needs you have. But with the right POS plugins, you can increase sales for your WooCommerce store.
Top 5 WooCommerce Point of Sale(POS)
In this article, we have listed the top 5 WooCommerce point of sale(POS) Plugins for WordPress that you can choose the best fit for your e-commerce easily.
YITH
wePOS
WooCommerce POS
Oliver POS
FooSales
YITH Point of Sale for WooCommerce is another excellent tool that can transform your WooCommerce installation into a ready-to-use cash register. Thus making it a perfect addition to any business type.
And yes, you can even use YITH on your mobile device! Talk about a mobile business.
Due to how accessible your virtual cash register is, you can actually set up an unlimited amount of them. Thus for small businesses like food trucks, you can have multiple trucks with a separate but connected cash register.
You can also expect all of the staples of a POS system. Product management, receipt printing, access to most payment gateways, and much more. It's worth noting that you can use the free version of YITH, but are limited to cash payments.
Features:
An endless number of stores

Monitor orders and revenue of each store

Manage discounts, coupons, markups, shipping, and add notes on products and orders

Retrieve saved shopping carts to complete the order at a later stage

Enable multiple and split payment methods on the same order
Support & Price: You can acquire the pro version comes at $179.99 USD for a single site license including 1 year of upgrades and support. Also has 30-day money-back guarantee.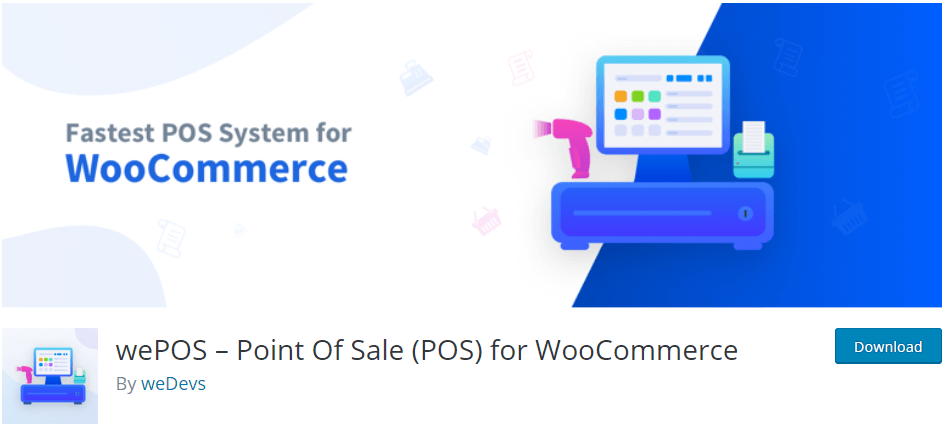 wePOS is a fast promising WooCommerce Point of Sales plugin. If you have a WooCommerce store it needs only a few clicks to integrate a smart solution with wePOS. It simplifies the process of tracking inventory and managing orders effectively.
With this smarter Point of Sale system, you can trigger all the POS functionality on your WooCommerce shop in an optimized way. It's a single-page application that can process all the orders and transactions super fast. Therefore, you will get a boost to your business growth and customer experience.
Furthermore, you will get a user-friendly and attractive interface that is easy to operate. With wePOS you can organize your eShop appropriately and find an efficient approach to counting inventory.
Surprisingly, you can manage your physical shop along with the online store in a disciplined way by using shortcut keys. It let your sales executive read the QR codes and process the orders with pace.

Features:
Specially designed for WooCommerce
Advanced UI design
Custom barcode support
Able to handle multiple orders at a time
Super responsive and compatible with all sized devices
Easily integrate with your online and offline retail store
Support & Price: Free version is available now. The Premium version is about to launch soon. However, you will get 24/7 support with the free version also.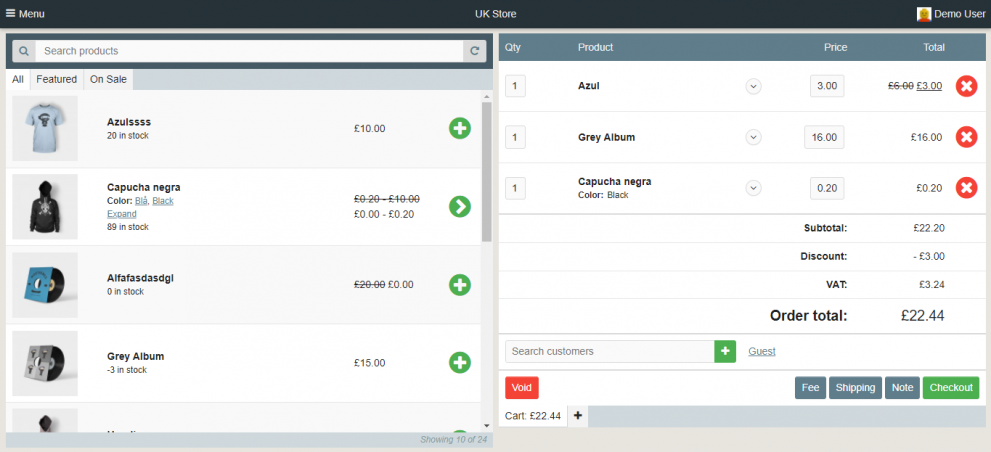 WooCommerce POS by kilbot provides a simple interface for taking orders using your WooCommerce store. It can be a great alternative to Vend or Shopify POS.
This self-hosted system uses the same database as your store. Therefore you can own your data without monthly subscription fees. Also, your inventory will always in sync with all transactions. You can configure and use this WordPress plugin following a few easy steps or you can do it manually as well.
In addition, with the premium version of WooCommerce POS, you can explore more advanced features like payment gateways, customer relationship management, multiple report generator, and many more.
Features:
Translatable into your native language
Compatible with all browsers
Fast searching and filtering products
Quickly adjustable product inventory, titles, and price
Add and choose a shipping method and set tax rate
Create multiple stores with multiple tax rates and custom receipts
Support & Price: Free version is available on wordpress.org. The pro version comes at $129 USD for a single site license including 1 year of upgrades and support.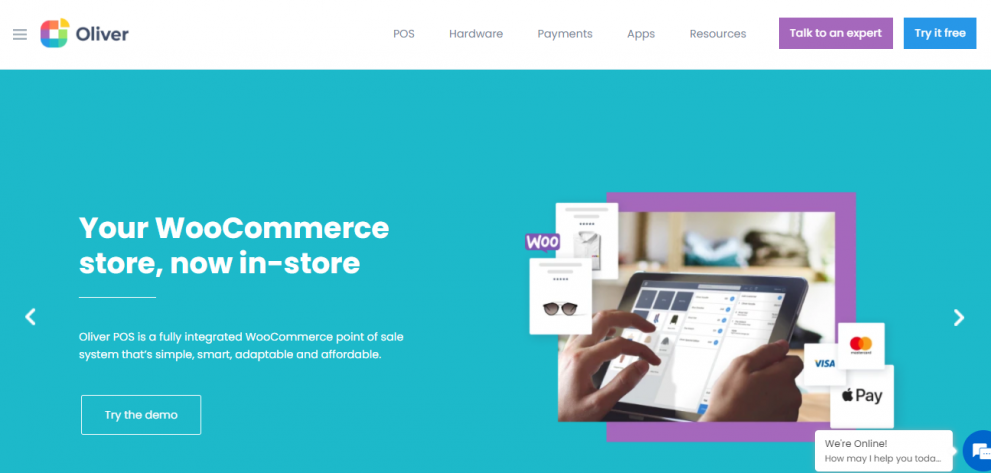 Oliver POS is a revolutionary Point of Sale system built on top of WooCommerce. Built especially for physical shops, Oliver POS allows for a consistent combination of e-commerce and physical brick and mortar stores. Oliver POS allows physical shops to easily sell products from their online inventory simply without the need for multiple systems. With the new Oliver POS Free Plan, users can sign up and get started Free with no Credit Card required.
With Oliver POS, everything's in one place; no need for multiple integrations, syncing with other systems, and manually updating inventory. 
Features:
Mobile POS devices
All-in-one solutions
Self-checkout machines
Scanner
Cloud printer
Sales insights and summaries
Custom payment, tax, and employee reports
Product reports, category reports, + more
Support & Price: Free version is available on wordpress.org. The pro version comes at $19 Basic pack & $39 pro pack for a single month.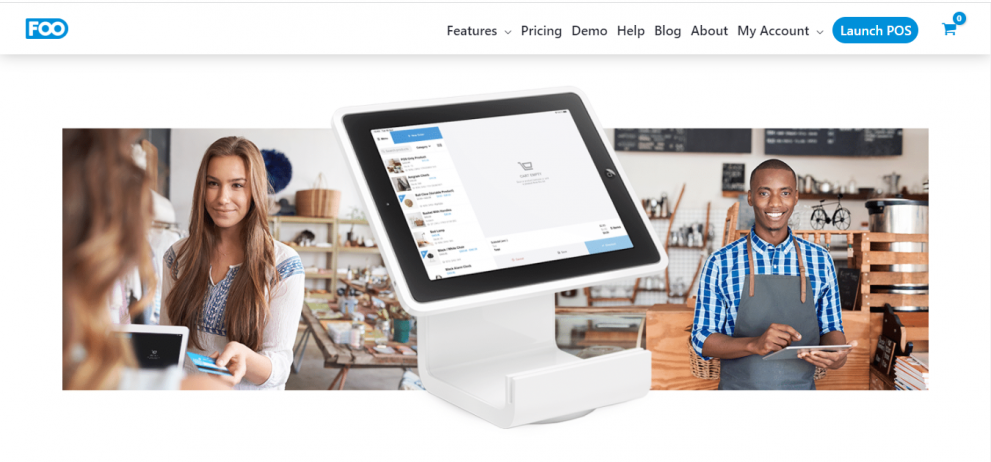 If you want to convert your WooCommerce store into an omnichannel platform, you will definitely need the FooSales Point of Sale (POS) plugin. It is an intuitive WooCommerce plugin that comes with both tablet apps and web versions to make it easier for you to sell products/services online and offline. This plugin connects directly to your online store through an API that will sync all the details related to your products, inventory, and orders.
Features:
Seamless compatibility with WooCommerce
Work in both online and offline modes
Auto syncing of WooCommerce tax rates and class settings
Support WooCommerce coupon codes and refunds (both partial and full)
Inventory sync through the same dashboard
Support barcode scanning
Order filtration system to check which orders came from the offline outlet or online
Supports online payments with Square and Stripe
Easy integration with printers and scanners
Support & Price: Try FooSales for free for 30-days, no credit card or billing details are required. Simply sign-up and install the FooSales WordPress plugin and connect FooSales to your WooCommerce store. Single Domain PlanUS$12/mo billed annually & Multiple Domain Plan US$36/mo billed annually. Using FooSales in a minute you can be selling from anywhere! Get the plugin.
Is WooCommerce Store need a POS?
While it is possible to run a store without a POS system, almost none actually do.
That's because most store owners understand the importance of a POS system. These tools help your business run smoothly by streamlining the checkout process. However, most will also help with things behind the scenes.
For example, POS systems also help you keep track of inventory. If we go back in time, this was actually something you had to manually count out (or hire someone to count).
Instead, with a POS system, every time that item is purchased, it is subtracted from the total amount you have in possession. Thus, you never sell an item you don't have.
Another important point of consideration is if you have staff. Most cashiers are part-time workers, and that means they come and go. Every time you have to hire a new worker, you need to teach them the system.
It's a lot of work and can cost you quite a bit of time, which then translates to a loss of annual profits.
A POS system mitigates this by streamlining the process while making it easy to operate. It also helps to ensure that the same system connects to your online store keeping all of the data in one location.
Lastly, APPSBD can say that an automated Point of Sale system extends the capability of your business synchronizing all the data regarding customer management and purchase details. If you own a WooCommerce shop then get the best WooCommerce POS for your e-Shop to keep all the transactions transparent and manage the stock concurrently.
In order to manage every part of your WooCommerce business effectively with inventory management and analytics, you should introduce a smart POS solution into your business immediately.
---