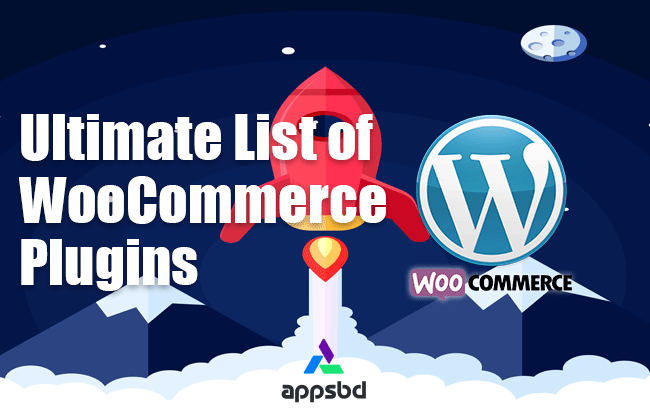 The Ultimate List of woocommerce Plugins to Make and Scale a Fully Functional WooCommerce Store, Best Way to Figure Out
Ultimate List of WooCommerce Plugin
Online stores are the best thriving business option in today's market. A fully functional WooCommerce store can take your business to great heights. Here is the list of all the must-have plugins for your WooCommerce store to flourish in the market and save your time from many tedious tasks.
1. Mailchimp for WooCommerce
Automate marketing by setting up reminders for customers. With this free plugin, you can remind the customers about the items they left in their cart or viewed on your site, follow up post-purchase, and win back lapsed customers.
Integrating with the official Mailchimp for WooCommerce lets you automatically sync all your customers and their purchase data with your Mailchimp account. The plugin makes it easier to send targeted campaigns. Other features include recommended products, automatic follow-ups with customers post-purchase, and much more.
Key Features of the free version
Setting up marketing automation
Syncing new subscribers to the audience
Converts your website visitors to subscribers
Track and segment customers
Showcasing product recommendations



2. Mini Cart Drawer for WooCoomerce
Woo Mini Cart Drawer is an interaction mini cart with many styles, color and effects for WooCommerce. You can change quantity of a product and also can remove from cart. It has nice control panel aslo has customizer panel. By this you can change the its configuration with live preview. It is fully ajax based mini cart.

For grab the pro features you can visit the product site and for more offers check all the products of appsbd.
Key Feature of The Premium Version
1. Mini cart drawer & configuration
2. WP Customizer Configuration
3. All Free Features
4. Mini cart drawer configuration
5. Mini cart drawer coupon input configuration
6. Sale Booster Module ( Dynamic Discount)
7. Premium Support
3. WooCommerce Elite Licenser addon-lite
WooCommerce Elite Licenser add-ons is WooCommerce digital product licensing software. It is very authentic and reliable add-ons for woocommerce for licensing any kind of digital goods from woocommerce. User can anytime active or cancel license of digital goods, track them and many features will get using elite licenser. User can see the license code in order details. License will auto disabled when a order refund, canceled or failed.
Key Features of the premium version
For using this add-ons you have to use Elite Licesner plugin, where you will get all the direction. Also you can choose Elite Lisenser Premium Version to grab more functionalities.
4. Smart Coupons for WooCommerce
Offers and coupons can take your store's sales campaigns to the next level. 
To facilitate all your WooCommerce coupon-related needs, we have the WooCommerce Smart Coupons plugin with all the advanced coupon features. From limiting coupon access per user to auto-applying coupons, the plugin has multiple features for its users.
The pro version of this WooCommerce Smart Coupons plugin provides you with more advanced features. Store credits, gift vouchers, sign-up coupons are all part of it. The plugin lets you create URL coupons and other WooCommerce advanced coupons, such as, abandoned cart coupons and sign-up coupons that are proven to improve sales.  
Key Features of the premium version
Gift cards and store credits

Sign up coupons

Product quantity based coupons

Bulk coupon generation

Auto-application of coupons

Give away offers

Abandoned cart coupons

URL coupons

Shipping/payment method based coupons

User role-based coupons
5. YITH WooCommerce Wishlist
The most powerful and popular tool, YITH WooCommerce Wishlist lets the users share the wishlist of their favorite products with their friends and family. This feature helps the user to find the products at a later time quickly and easily. Also, the users can share the wishlist on social networks and thus get indirect advertising for your store.
Key Features of the Premium Plugin
Multiple 'Add to Cart' buttons in the wishlist table
Arrange orders in the wishlist with the drag and drop option
Enable or disable the wishlist features for non-logged-in users
Show a notice to non-logged-in users
View the wish lists created by the logged-in customers

Adding an extra scoop of security to your store is essential for your e-shop business. Jetpack makes your online store a much safer place and offers the best experience to your customers.
 Jetpack lets you continuously monitor the site, regulate backups and provide protection against malware and threats. This security plugin is easy-to-use. Features include easy restores, backups, daily scanning, and other spam filtering options that ensure site security.

Key Features of the premium plugin
Automatic malware detection
Real-time backups
One-click restores and fixes
Powerful protection against spam
7. Print Invoice, Packing slips, Delivery notes, and Shipping Label Plugin for WooCommerce

Want to handle all your shipping-related documents and WooCommerce invoices in one place? 
You have landed on the correct page! This free WooCommerce invoice plugin, lets you create invoices, generate packing slips, WooCommerce delivery notes, dispatch labels, and shipping labels. 
The extensive customization provided in the WooCommerce PDF invoice plugin makes it the best invoice plugin available in the market. The free version of the WooCommerce pdf invoices & packing slips plugin supports advanced customization for invoice and shipping labels. 
Key Features of the Premium Plugin
WPML and multi-language compatible

Option to bulk print documents

Advanced customization of invoice and shipping label

Generate and email PDF invoices

Generate packing slips, delivery notes, dispatch notes, and shipping labels

Different invoice templates
Compatible with WooCommerce Currency Switcher, Multi-Currency for WooCommerce, and Extra product options by Theme complete plugins

8. PayPal Express Checkout Payment Gateway for WooCommerce

Enabling easy transactions with the most secured payment option is essential for a fully functional WooCommerce store.  WooCommerce PayPal helps you provide the fastest and easiest checkout experience for your customers. 
Since PayPal Standard is no longer available in WooCommerce version 5.5 and later by default, you can integrate your store with WooCommerce PayPal Express Checkout. This WooCommerce PayPal plugin accepts credit, debit cards, and PayPal money. It also provides a Buy Now & Pay Later option.
The WooCommerce PayPal pro plugin provides you with guest checkout options, adds an express checkout button to product pages, handles full and partial refunds, and accepts subscriptions.
Key Features of the Premium Plugin
Express Checkout from Product Page

Faster and secure checkout

Integrate PayPal Express Checkout payment gateway

Extensive Customisation

Accept credit/debit cards, PayPal balance, and PayPal credit

Checkout button on the cart page

Integrate PayPal standard

Want to rank your website higher in search engines?
All you need is a strong, better, and faster website compared to your competitors. 
Yoast SEO takes care of all your site's SEO needs and takes your website a step ahead of the competition. This WooCommerce plugin is a must-add plugin for your WooCommerce store as it makes the store products stand out in the search results. The plugin also adds extra SEO features to your WooCommerce store.
Key features of the premium plugin
Automatic internal linking suggestions

SEO analysis

for writing SEO-friendly content.

Readability analysis

which ensures readable and understandable content for humans and search engines

Automatic redirects

Better search results for store products




10. WordPress Backup & Migrator
Want to move your WooCommerce site from one domain to another?
With the free WordPress migration plugin by WebToffee, you can effortlessly migrate your site as a whole. The WordPress migration plugin lets you back up and migrates the WordPress site media files, plugins, and themes including the database with a single click.
Key Features of the free plugin
WordPress full backup
Schedule WordPress backup
Database backup
Easily pull a live site down into a local environment
Backup to an FTP/SFTP location, Google Drive, Amazon S3, or to the local storage.
Support both MySQL and MySQLi
Wrap Up
To make your WooCommerce store stand out in the market, it is important to provide the best at each step. Going through the above list of plugins will help you find the best needed for your WooCommerce store. So, do check these plugins and take your e-shop business to new heights.
---