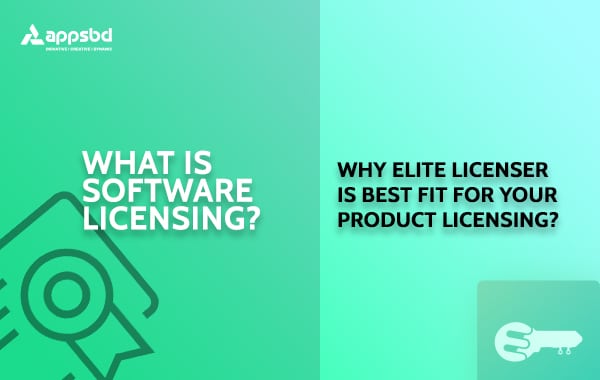 What is Software License? Why, Elite Licenser is Best Fit for Your Product Licensing?
What is software license?
A software license is a document that provides legally binding guidelines for the use and distribution of software.
Software licenses typically provide end users with the right to one or more copies of the software without violating copyrights. The license also defines the responsibilities of the parties entering into the license agreement and may impose restrictions on how the software can be used.
Software licensing terms and conditions usually include fair use of the software, the limitations of liability, warranties and disclaimers. They also specify protections if the software or its use infringes on the intellectual property rights of others.
Software licenses typically are proprietary, free or open source. The distinguishing feature is the terms under which users may redistribute or copy the software for future development or use.
How do software licenses work?
A software license is a document that states the rights of the developer and user of a piece of software. It defines how the software can be used and how it will be paid for. The following are some examples of specifications a license might include:

how many times the software can be downloaded;
what the software will cost; and
what level of access users will have to the source code.
Licenses typically are expressed as an end-user license agreement or an enterprise license agreement. The license is a contract between the user or user organization and the developer. It defines the terms of the license. A user must agree to the terms of the license when acquiring the software.
Software also comes with a license key or product key. The key is used to identify and verify the specific version of the software. It is also used to activate the software on a specific computer or device.
Why software licenses are important
A software license establishes the rights of all parties involved with the software: the author, the provider and the end users. It defines the relationship between the software company and users and explains how they are protected.
How license agreements protect developers
They protect developers' intellectual property and trade secrets based on copyright laws.
They limit what other parties can do with the covered software code.
They limit the liability of the vendor.
How license agreements protect users
They define what users can do with software code they did not write.
They establish how users stay in compliance with software licenses, protect themselves from infringement claims and limit their legal liability.
They help users maintain a positive relationship with software developers and vendors.
They prevent overspending on licenses by establishing clear parameters of how many licenses an organization needs.
What are the different types of software licenses?
There are two general types of software licenses that differ based on how they are viewed under copyright law.
Free and open source software (FOSS) licenses are often referred to as open source. FOSS source code is available to the customer along with the software product. The customer is usually allowed to use the source code to change the software.
Proprietary licenses are often referred to as closed source. They provide customers with operational code. Users cannot freely alter this software. These licenses also usually restrict reverse engineering the software's code to obtain the source code.
A more detailed list includes five types of software licenses. It makes finer distinctions among various types of open source licenses and proprietary licenses. This list includes the following:
Public domain. This software is freely available. Anyone can use and change it or incorporate code from this software into an application. However, businesses should use caution as altered code may not meet enterprise quality and security standards. Companies should be wary of ambiguous licenses that appear to be public domain but do not explicitly say so.
Lesser general public license. Developers can link to open source libraries within their software and use any licensing type for the code.
Permissive. This type of license will establish some requirements for distribution or modification of the software. It also has requirements for preserving license notices, copyrights or trademarks. There are several variations of permissive licenses, including Apache, BSD (Berkeley Source Distribution) and MIT licenses.
Copyleft. Licensed code may be distributed or modified as part of a software application or project if all code involved is distributed under the same license. New products containing old code with a copyleft license must comply with the restrictions laid out in the old code's license.
Proprietary. This is the most restrictive license type. Proprietary software licenses make it illegal to copy, modify or distribute the software. These licenses provide the software owners with the most protection from unauthorized use of the software.
Why Elite licenser is Best Fit for Your Product Licensing?
Plugins such as Elite Licenser are the best WordPress software license management tools to prevent unauthorized use of software, plugins, themes, and apps.
With this plugin, the developer/agency can prevent products/software from being used unofficially, thus generating profits from their products. Here is the live demo of Elite Licenser.
This license manager can be used by developers/companies who create and sell WordPress themes, plugins, or apps to increase their revenue. Up to 70% of revenue can be generated by licensing software.
How does Elite Licenser Works?
The process is quite easy from purchasing to activating the Elite Licenser, a software license manager for WordPress. You just need to know some basic steps and you'll be done and dusted. Well, let's get to the business then.
Upon purchasing a product, a license is generated and sent by email to the client along with the order details.
Upon installation and activation of your product (theme/plugin/software), the license key will be required to verify the purchase and to receive regularly updated versions of it.
Upon adding a license key, your plugin will connect to your server to verify the key. Once successful, you will see the success message. Otherwise, an error message will appear.
Data and reports regarding license activation will be available on your website dashboard.
Depending on your needs, you can edit, deactivate, or delete your license.
Reports on license activations will enable you to discover more about your customer base and make better business decisions.
Its Outstanding Features and Benefits.
To protect any software, Elite Licenser- the software license manager for WordPress, provides several astounding features that make this software license management one of a kind. Below are some undeniable features of this software license plugin.
1. No more Nulled Versions Applications: The Elite License allows you to protect any software. That's all you need to do is generate the license script for your product and include it.
2. Just One License App for Any Product: The license server can be used for any type of application. It is possible to create different WordPress plugins and WordPress themes, PHP applications including Joomla and other content management systems, any .NET applications, and Java or Android applications. This basically means one app to cover all types of applications.
3. Automated Product Updates: It also provides automatic product updates. Using an easy web panel, you just need to add new version details. Then your application will receive an update notification. As an example, if your product is a WordPress plugin or theme, the update will appear as a WordPress core update.
4. 3rd Party App Hook (Instant Notification): This application has a hook system that allows 3rd party apps to receive instant notifications. In other words, when a new client or license is added to this system, this system will notify a third-party app (such as a membership app) with all client and license information.
5. Email Template: Send emails to customers by modifying pre-existing templates. If you see it once in the live preview, you will see how easy it is. We don't want to say too much about it, we just want you to see it.
6. Envato Integration: The software comes with a built-in Envato license verification system. With these tools, you can easily manage your Envato license as well as those of other marketplaces. Furthermore, you can easily add your own integration for any other marketplace using an easy-to-use plugin.
7. Instant Code Generation: We show you how to generate a complete sample WordPress plugin and theme code, which you can install directly on WordPress. You can also generate sample code for other languages.
8. Auto-Host Ban: When the product is repeatedly activated with an incorrect license, the host (domain) will be blocked automatically. In the host's panel, you will receive a list of all the hosts that can't use any of your products.

9. Full API Support: API support for third-party apps is included, and API permission can also be controlled.
10. Small Footstep Server Load with Continuously Licensed Code Protection: The other licenser applications normally check licenses every time they load. This licenser allows you to do that as well. Depending on your needs, you can either set multiple settings or choose to call for the license at each time.
It can be set to check 3 times an hour for the first three times, then 1 time a day for five days, then once a week, etc. However, you can also deactivate that license key at any time. Whenever you change the status of the license key, the license key holder application will check immediately.
11. Removing a License is Easy: It is possible to forcefully remove the license from the client's product. It could be a case of a client stealing your license or still using your product after a refund.
12. Your All-in-one App Handles Everything: The app only needs to be installed once and can be used in your entire app collection. Using another service or application is not necessary. It also supports Envato's licensing system. It is completely hassle-free for both authors and developers.
13. Custom License Type: Various license types can be created, including single licenses, multi-licenses, 1-year licenses, etc. You can set the maximum domain per license type.
It is possible to detect forum sharing as well. Since a verification counter is available.
For example, if you have set up a multi-license with 50 domains and verification is required for the first ten, then you will need to manually verify each domain after the 10th.
14. Limitations based on URL: When someone downloads your app from example.com/app and also installs example.com/app2 or app2.example.com then for each application an individual license key is required if a single license key is purchased. Thus, you can only use one license at a time.
15. Detailed License Information: It also provides details about licensing, as well as where and when the program has been installed.
16. Add-ons: In the future, there will be many features added to add-ons. Also, you can use that add-on.
Pricing - Best Low Budget Licensing Software
The current price is 70% discounted already. You don't need to add any coupon codes anymore. Monthly, Yearly, and Lifetime purchasing options are available. Go with the one you prefer the most. One thing is mentionable, Elite Licenser is far more affordable than the other software license manager for WordPress at the market right now.
Monthly Pricing Plan
Yearly Pricing Plan
Lifetime Pricing Plan
Finally, it can be said that Elite Licenser is the most advanced license software available in terms of features and price. In my opinion, this is a really feature rich WordPress plugin. Which you can't understand without using it. Many may have this confusion, but Elite has a 30-day money back guarantee.
If you feel that it is not suitable for my work then you can surely take money back from them. Again I want to say it's totally up to you, we can only give you direction which is best for your business.
Thanks for being with us. Hope you will like that article. Feel free to share your thought with us. And like, comment, share and subscribe to our youtube channel to get more updates. So what are you waiting for? Check Elite Licenser now. 
---