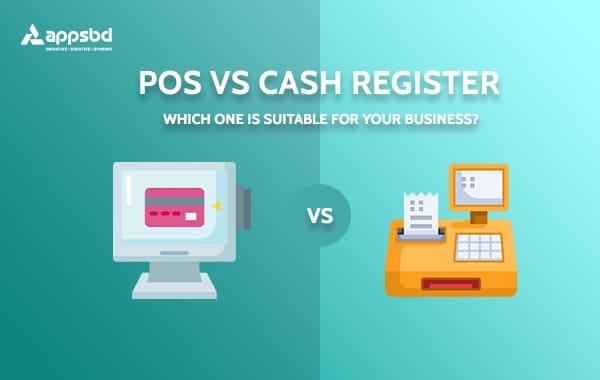 Pos vs Cash Register. Which is Best for Your Business?
Cash registers have a certain nostalgia about them. They can remind us of a family business we grew up with, or perhaps our favorite general store. Point-of-sale (POS) devices, on the other hand, reflect the modern needs of the high-tech world in which we live. They combine the functionality of a cash register with technology and computing power.
You might be wondering which is better for your business – a POS system vs. cash register. The answer depends on how your business runs and what you need. But if you are looking to streamline, expand, or better manage your business, a modern POS system might just be your best solution. We wrote this guide to help you make the decision that's best for your business.
In this guide:
history of cash registers
How cash registers help a business 
What POS systems can do for your business
How do I choose between a cash register and a POS system?
More payments resources
history of cash registers
Cash registers first appeared at the end of the Civil War and began to replace traditional cash boxes or cash drawers. The initial goal was to reduce employee theft by making sure each sale was recorded mechanically before the cash drawer would open to allow the clerk to make change. Managers could hear the ding of the machine when the drawer opened, which created a layer of awareness and security.
Over time, the records generated by a cash register began to help keep businesses honest about reporting sales tax. As technology evolved, new features were developed to streamline business practice and automate record keeping. Soon, registers could create itemized receipts, and eventually, electronic registers were introduced to automate addition and tax calculations.
With the exponential increase in computing power in recent decades, the simple register has evolved into a modern device called a point-of-sale system. Point-of-sale systems utilize modern technology to offer a number of services beyond taking payments and tracking sales, including inventory, human resources and customer relationship management, loyalty programs, gift cards, and much more.
How cash registers help a business 
At first glance, cash registers might seem outdated, but depending on your business structure and goals, something as simple as a cash register might be sufficient.
Basic functions of a cash register
What do cash registers do best? If you're imagining the cash box you used at a school bake sale, you may not be realizing how much a proper register can actually accomplish. A cash register can do all of the following:
Organize cash and coins for easy counting and making change
Provide basic security with locks and keys
Record sales transactions
Calculate sales tax
Store checks to be deposited
Generate receipts for customers
Generate end-of-day reports with total sales and cash in/out
Top business scenarios/use cases for a cash register
Here are a few things to consider when choosing between a cash register and POS system.
Do you only have one location for payments? If you have multiple store locations, or multiple counters within one store, a cash register might not be the optimal tool. You'll need to reconcile and total sales across your various registers manually for proper accounting. However, if you have only one location with a single register to accept payments, and don't need tools to manage other parts of your business, the differences between cash register and POS technology becomes less important. Both solutions can handle the same basic function of accepting payments.
Does your business have limited inventory? If you run a retail establishment and offer hundreds or thousands of items, it may be difficult to track inventory with a traditional cash register. However, if you offer only up to a few dozen items, and tracking inventory is less important, it matters less whether you choose a POS system vs. cash register.
Is your business primarily conducted in cash or checks? Traditional cash registers process cash and checks. If you want to accept credit or debit card payments, you will need to set up a payments processing system and an accompanying merchant account.
When deciding between a POS vs. cash register, the latter is best-suited for single-location businesses with limited inventory and without the need to take credit or debit card payments.
What POS systems can do for your business
If you are looking for high-level payment processing for your business, you might be amazed to know how much a modern point-of-sale system can do. And as with any other kind of computerized device, there are a lot of different options out there. We'll give you the basics here; for more detailed information on POS systems, see our What is a POS system? guide.
On-premises POS vs cloud-based POS
POS systems come in two basic categories. On-premises POS systems bridge the gap between traditional cash registers and modern POS devices. They usually feature custom software to help your business run smoothly and store all data on a hard drive at your location. While most on-premises POS systems can take credit cards with ease, businesses have to comply with and adhere to PCI compliance standards take great care to help ensure privacy and security for their customers.
Cloud-based POS systems function differently. Instead of storing data on a hard drive located in your store, all information is stored off site, transmitted to your terminals via the internet, and is managed by your POS provider. Be sure to check the security specifications of any POS you are considering; ideally, cloud-based POS systems should encrypt all customer and credit card data.
If you aren't familiar with Payment Card Industry (PCI) compliance regulations, take a few minutes to search on google. It should help demystify issues of liability and data security. It's important to understand what level of security each system offers, along with your specific requirements and liabilities.
There, you'll find hundreds of apps that can help you run your business better: run payroll, coordinate with delivery drivers, handle scheduling with your staff, and much more. Additionally, since the software is cloud-based, you'll have easy access to updates. As new features and functionalities become available, cloud-based POS systems are usually the first to roll them out. Instead of having to purchase new hardware or software, you can update your system with just a few clicks. Often, critical updates are made automatically by the POS company, freeing you from the burden of maintaining your core system software.
Top use cases for a POS (vs. cash register technology)
Not sure which payment technology is best suited for your business – a POS vs. cash register? Here are a few things to consider.
Do you take, or are you looking to take, credit card or debit card payments? Most POS systems have integrated credit and debit card payment functionality. And depending on your selection, many POS systems take the lion's share of the responsibility for your data security.
Do you want access to software to streamline your business practice? If your business has inventory management needs, a desire to appeal to loyal customers with rewards, or the need for marketing campaigns, you may be best served with a modern POS. Think about the kinds of tasks you perform to keep your business running smoothly, and explore what options each POS solution offers to address your needs.
Do you want to be prepared for change and growth over time? It's always challenging to predict the growth of a business. If you are working to expand and grow, it's important to select a system that can grow with you. Think you might need two payment terminals? Considering a second location? Cloud-based POS systems aggregate and sync data across all of your terminals instantly. That means that as you grow—whether in terms of locations, devices, or both—your financial information, reports, and processing will always be as easy to access as your initial setup.
The best use cases for POS systems are businesses that want to accept credit or debit card payments, run their operations more productively and efficiently, and grow and expand in the future.
How do I choose between a cash register and a POS system?
If you run a cash-only business, using a traditional register or till should be sufficient for most cases. Cash register setup is the least expensive of all payment systems, and you can typically start using it right away.
However, relying on a traditional register may limit your growth potential if customers choose to pay using any number of alternative methods – including credit cards, debit cards, gift cards, rewards cards, mobile wallets, wearable technologies, or eChecks. Additionally, cash registers aren't really portable – meaning you're tied to a single location.
By contrast, POS solutions can accept the full spectrum of payment options (including cash). They come in a wide range of sizes – from standalone countertop systems to ultraportable, handheld devices that you can use in the field. With data integration, you won't have to manually balance your books by hand. Instead, every transaction is automatically captured in the accounting and CRM tools you already use.
So what do you understand from the description above? Which is convenient for you? Your business is your opinion. We can only help you in any way that helps your business. But the choice is yours. We cannot impose anything on you. I can only show that what you do will improve your business.
So share your opinion directly with us. Or if you want you can comment on our post and know something.
Thank you so much for staying with us. Like, Comment, Share & Subscribe to our youtube channel, to get more updates.
---