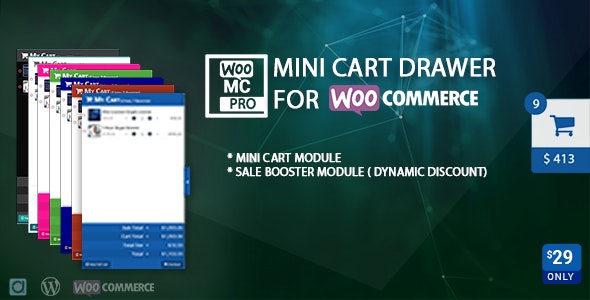 Woocommerce Mini Cart – Why good for your new eCommerce Business?
WooCommerce is an eCommerce plugin for WordPress. It makes creating and managing an online store simple, with reasonable levels of flexibility and several vital features such as inventory and tax management, secure payments and shipping integration.
It is the most popular and arguably best eCommerce plugin for WordPress, and its integration allows for you to include both great SEO value and eCommerce ability.
Thousands of new eCommerce businesses are launched every year and new online retailers have no shortage of options when it comes to picking a platform. Should you choose a hosted platform like Shopify or a self-hosted application like Magento or WooCommerce? Should you choose the simplest possible solution or one capable of growing with your business?
Used on about 2.3 million eCommerce stores around the world, It is particularly friendly to new eCommerce merchants because it combines ease of use with incredible power, flexibility, and features.
Who should use this WooCommerce Mini Cart? What is WooCommerce Mini Cart?
WooCommerce platform is a huge eCommerce Business platform, for every shop need a nice Cart to sale their products. Sometimes they need to give discounts on products. Cart maintainism is very hard things for a online shop owner. So we recommended WooCommerce Mini Cart.

WooCommerce Mini Cart is a plugin for WooCommerce, you can add it into your WooCommerce site, your buyer will get a nice look & feel by it. Also you can boost your sales by offering many dynamic discount, when your customer will see progress bar where a text is displaying spend more 5 USD then you will get 3 USD discount then your buyer will try to buy another product. It will increase your sales.
Mini cart is a nice mini cart into your eShop.
It can also shows tax info and coupon into mini cart
You can choose your suitable color
WooCommerce mini cart has easy control panel
You can configure it by WP Customizer
You can offer dynamic discount from mini cart
You can add multiple discount rule
Dynamic discount can be applied on shipping as well
WooCommerce Mini Cart Config Video
We suggest, who are using this plugin please follow the video first. Because for this plugin you don't need to do any coding, or need to have any programming knowledge. Just install it and active it. Its have finest Cart settings panel. Which is very user friendly with good user experience.  
Follow this video and setup it your own style.
If you compare this Mini Cart plugin with rival companies you will find it much cheaper with so many key features. You can check woocommerce mini cart's pricing. It isn't expensive at all
Mini Cart has passed all the tests above mentioned. It is user friendly with so many key features and the price is worthy when it takes only $29 to get a Mini Cart plugin with these many features. We are recommending you for getting the best experience
---