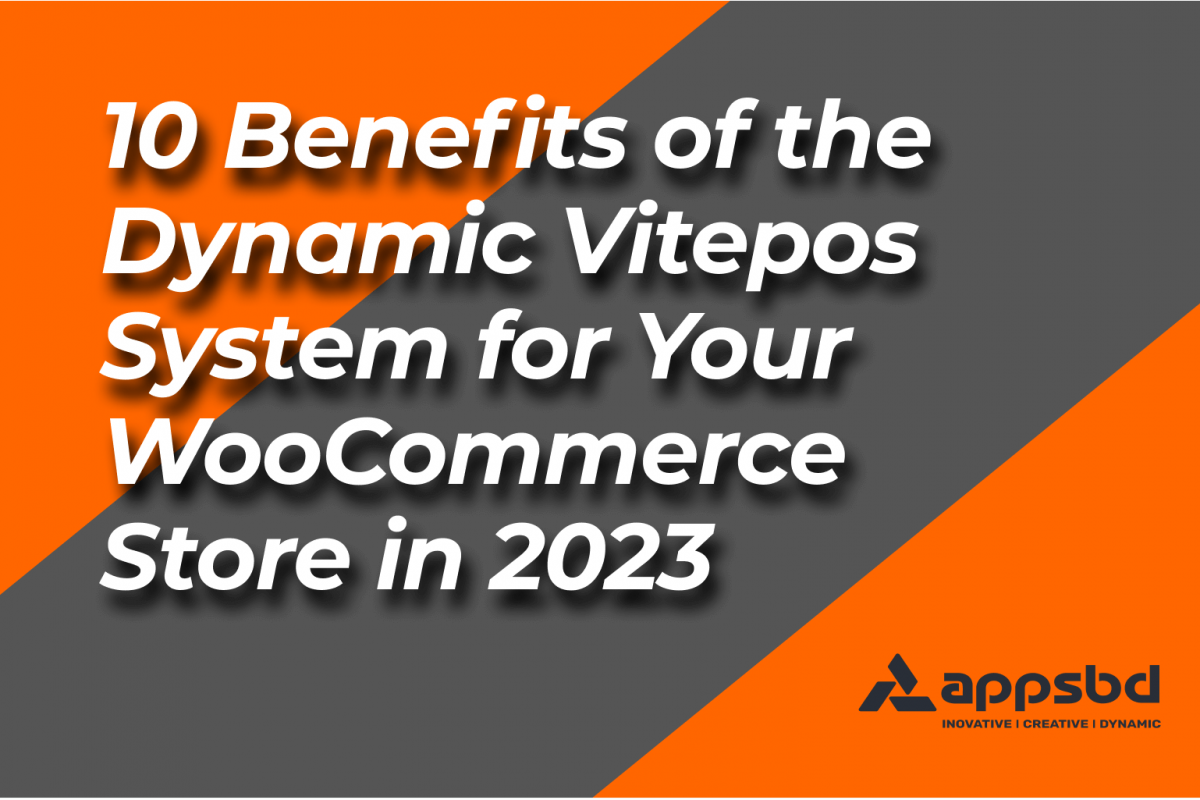 10 Benefits of the Dynamic Vitepos System for Your WooCommerce Store in 2023
Are you tired of managing your WooCommerce store manually? Do you wish to optimize your sales and inventory operations and increase your profits?
As the world of e-commerce continues to expand, having a reliable point-of-sale (POS) system is essential for any business. With so many options available, it can be overwhelming to choose the right one for your specific needs. However, you don't need to worry at all. Because VitePos is here for you.
VitePos stands out as the ultimate WordPress plugin and POS system for your WooCommerce store in 2023.
In this blog, we'll explore the top 10 reasons why VitePos is the best option for your WooCommerce store.
What is Vitepos?
Vitepos is a cutting-edge point-of-sale (POS) technology that has been developed to provide fast and reliable service. It is a cloud POS system. This plugin is designed to be fully responsive, seamlessly integrating with mobile, tablet, laptop, desktop, and large-screen devices. Utilizing the latest technology, Vitepos is a WooCommerce POS that follows the WooCommerce development code standard, ensuring optimal performance and compatibility.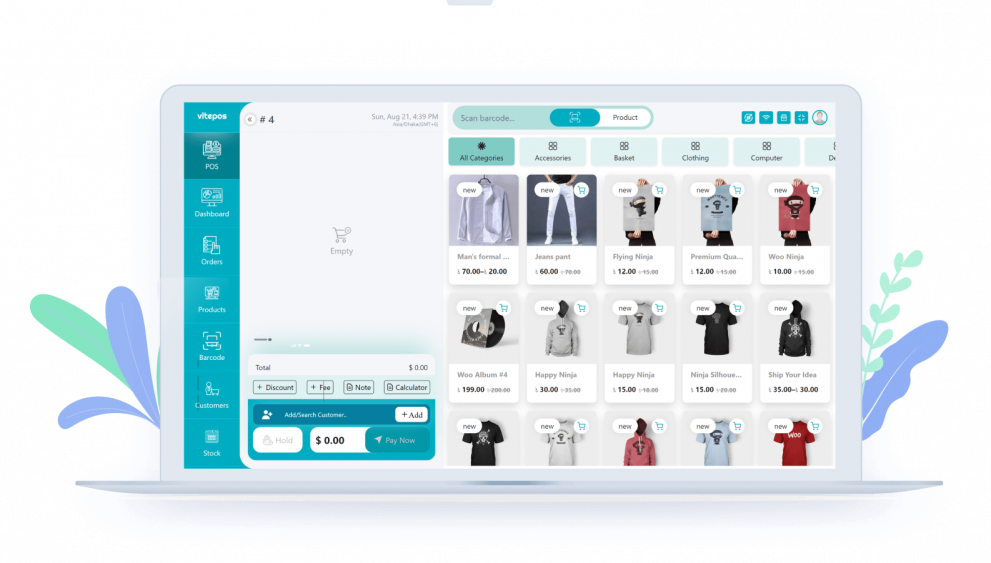 10 Reasons Why VitePos is the best option for Your WooCommerce Store
1. Robust Inventory Management
VitePos offers a robust inventory management system that is designed to streamline your business operations. With real-time tracking of your stock, you can easily keep track of your inventory levels, sales trends, and reorder points. The system's automation features allow you to create purchase orders and manage vendor relationships with ease.
For example, you can set up automated notifications to alert you when inventory levels reach a specific threshold or when a product is running low. This enables you to order new stock in time to avoid running out of inventory. You can also use VitePos to generate comprehensive inventory reports, giving you an overview of your current stock levels, sales trends, and more.
Another benefit of VitePos's inventory management system is that it can help you optimize your ordering and stocking process. For instance, the system can identify products that are selling quickly and allow you to reorder them in advance to ensure you never run out of stock. This helps you avoid stockouts, which can lead to lost sales and dissatisfied customers.
VitePos's inventory management system also offers features such as bulk product imports and exports, making it easy to manage large inventories. You can import your entire inventory from a CSV file or export your product information in various formats for use in other applications.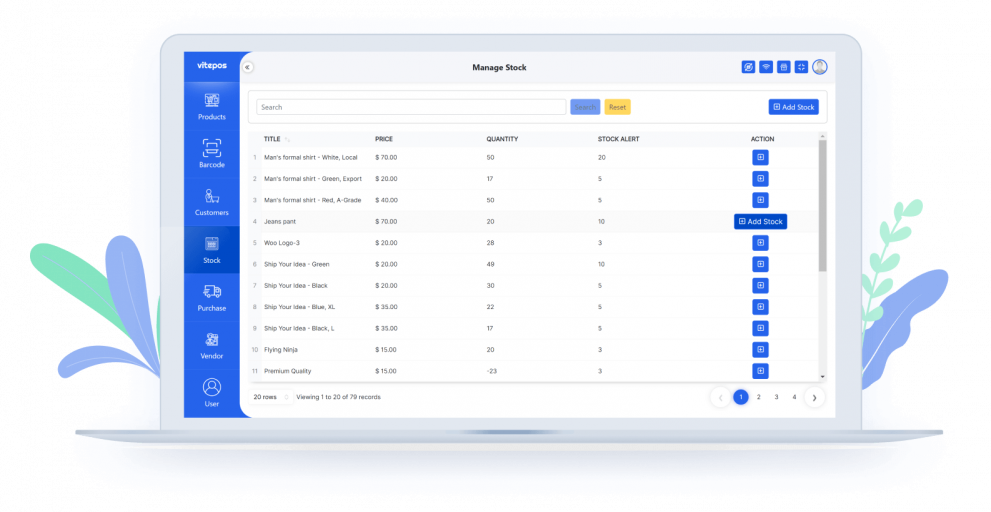 2. Fast and Reliable Transactions
VitePos is a powerful point-of-sale (POS) solution that prides itself on its ability to provide fast and reliable transactions. This feature is particularly important in retail environments where time is of the essence, and customers expect speedy service. With VitePos, you can process transactions quickly and efficiently, thanks to its streamlined interface and optimized workflows.
One of the key benefits of VitePos is its ability to handle large transaction volumes, making it ideal for busy retail environments. Whether you're running a high-traffic store or processing a large number of transactions during peak hours, VitePos can handle the load with ease. This ensures that customers don't have to wait in long lines, reducing the risk of frustration and cart abandonment.
To put this into perspective, imagine you're running a popular coffee shop in a busy downtown area. During the morning rush, customers are lined up out the door, and you need to process transactions quickly to keep the line moving. With VitePos, you can quickly ring up orders, process payments, and print receipts, all while keeping the line moving smoothly. This ensures that customers receive their orders promptly and can continue with their day without delays.
3. Seamless Integration with WooCommerce
It is designed to integrate seamlessly with WooCommerce, which makes it easier to manage both your physical and online store inventory in one place. This integration ensures that you can manage your products, orders, and customer data across all channels in a streamlined and organized manner. For example, when you receive an order online, VitePos automatically updates your in-store inventory to reflect the new sale. This reduces the chances of errors or oversights, ensuring that your inventory is always up-to-date and accurate.
Moreover, VitePos offers an intuitive and user-friendly interface that makes it easy to manage your WooCommerce store. With just a few clicks, you can access all of your store's products, customer data, and order history. This ensures that you have all the information you need to make informed decisions about your business. Additionally, VitePos provides detailed sales reports and analytics, allowing you to track your store's performance and identify areas for improvement.
For instance, if you notice that a particular product is selling well online but not in-store, you can use VitePos to make informed decisions about your inventory and marketing strategy. You can also use the data to identify which products are popular among your customers, allowing you to adjust your product mix and pricing strategy accordingly.
4. Multiple Payment Options
VitePos supports multiple payment options, including credit and debit cards, cash, and mobile payments, allowing customers to choose their preferred method of payment. This flexibility can increase customer satisfaction and improve their overall shopping experience, leading to repeat business.
5. Cloud-Based System
VitePos is a cloud-based POS system, which means all data is stored on secure servers and can be accessed from anywhere with an internet connection. This feature enables you to manage your store from anywhere in the world and also ensures your data is safe and protected.
6. Customizable User Interface
The VitePos user interface is fully customizable, allowing you to design your own interface that suits your business needs. This feature allows you to create a unique and personalized customer experience that aligns with your brand.
7. Multi-Store Management
If you have multiple physical stores, VitePos can help you manage them from one central location. The system provides real-time inventory tracking across all locations, making it easier to transfer stock between stores and manage customer data.
8. Easy to Use
VitePos is designed to be user-friendly and easy to use, making it accessible to all levels of staff. The system's intuitive interface allows staff to quickly learn and use the system, reducing the chances of errors and speeding up transaction times.
9. Enhanced Security
VitePos takes security very seriously and offers several features to ensure that your customers' sensitive information is protected. The system is PCI compliant, which means it adheres to the Payment Card Industry Data Security Standards. This ensures that all transactions are handled securely and that customer information is encrypted and protected at all times.
The system also offers real-time monitoring and reporting of any suspicious activity, reducing the chances of fraudulent transactions.
10. Responsive Customer Support
One of the critical aspects of any software system is the quality of customer support it offers. VitePos recognizes this and has established a team of dedicated support professionals who are available around the clock to assist you. The support team can be reached via phone, email, or live chat, ensuring that you can get the help you need in the most convenient way possible.
VitePos's customer support team is known for being responsive and knowledgeable. The support team is available 24/7. Whether you have a technical issue that needs to be resolved or simply have questions about how to use the software, the support team is ready to assist you promptly.
This level of customer support is essential, particularly for businesses that rely on the VitePos system to manage their daily operations. With VitePos's responsive customer support, you can be confident that any problems will be resolved quickly, and you can get back to running your business smoothly.
Conclusion
By now, you can see why VitePos is the ultimate WordPress plugin and POS system for your WooCommerce store in 2023. From its fast and reliable transactions, seamless integration with WooCommerce, responsive customer support, enhanced security, robust inventory management, to its ease of use and flexibility, VitePos provides everything you need to manage your physical and online store efficiently. VitePos is a solution that can take your WooCommerce store to the next level.
So, what are you waiting for? Start using VitePos today and experience the benefits of having the ultimate POS system for your WooCommerce store.
---