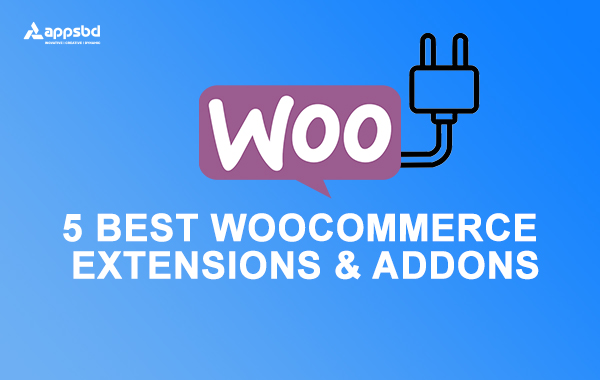 5 Best WooCommerce Extensions & Addons 2022
WooCommerce is one of the most well know and used e-commerce WordPress plugins. Not only is it a completely free e-commerce solution for WordPress but it is also easy to use, includes support for many product formats, has options for currencies and taxes, offers the ability to integrate multiple shipping methods, and has built-in support for PayPal, check, bank transfer and cash on delivery. It's pretty awesome but what if you want more?
WooCommerce is perfectly great on its one, but what really makes it one cut above other e-commerce plugins is the wide variety of free and premium extensions available. Today Appsbd sharing some of the absolute best WooCommerce extensions for WordPress. These plugins add extra features like WPML translations, advanced shipping, easy style customizations and more to WooCommerce so you can build the store your website needs.
1. WooCustomizer (Free)
Customize your WooCommerce pages with WooCustomizer. This free plugin is full of features to make your store even better. Use the built-in styling options in the live Customizer, edit/remove tabs on product pages, create sale banners, customize your "Add to Cart" button, edit/remove standard WooCommerce product settings (ex: SKU, title, etc) and more to design even better pages. And WooCustomizer also offers options to edit your cart page, checkout fields and even frontend Admin sales stats.
But for more features you'll want to upgrade to a WooCustomizer pro license. This way you'll have access to a catalogue mode for easy browsing, nearly instant ajax product search, conversion boosting product quick views, a WooCommerce menu cart and even a customizable thank you page. Plus all pro licenses include a year of premium support and updates.

2. Affiliate Disclosure for WooCommerce (Free)
Using WooCommerce to power your affiliate store? That's awesome! Since WooCommerce supports external products, it's a great way to add and promote products from affiliate programs you participate in. But what's not awesome is that WooCommerce doesn't offer any way for you to disclose your affiliate relationships by default – and that's where this free plugin comes in. Affiliate Disclosure for WooCommerce makes it easy for you to follow FTC rules and add a notice to all of your external (affiliate) goods. The plugin even adds a new section to your WooCommerce live Customizer settings – so you can edit the text or placement of your notice and see how it looks before publishing the changes to your site.
3. WooCommerce Product Carousel, Slider & Grid Ultimate
WooCommerce Product Carousel, Slider & Grid Ultimate has built with amazing features and functionalities keeping in mind the usability. This freemium plugin is a solid solution for creating dynamic slides with 3 in free and 15 different themes for Grid, Carousel & Slider in the pro version. You can display unlimited products with advanced shortcode facilities. Having an advanced settings panel and customized ribbon/badge for making things easier is another cool feature.
Moreover, this lightweight plugin supports custom navigation option, auto image resize, and cropping option. Display On sale, Best Selling, Top Rated, and Featured products with Display by ID, SKU, tags, category, month, and year. Most importantly, it's a progressive WordPress slider plugin that has been updated actively and you will have quality support with documentation facility. Overall, it is not just a slider – it's a new way to craft your eCommerce store with great efficiency.
4. Elite Notification for WooCommerce (Free)

If you want to instantly boost and grow your business's credibility and immediately interaction with your client to your site with huge conversion rate, then ELITE NOTIFICATION is the solution. More than 80% of visitors to your woocommerce website do not purchase the product due to a lack of trust and credibility. Elite Notification will grab your clients trust & attention by viewing real and authentic pop-up notification in your site.
OH! FOMO?
FOMO means "Fear Of Missing Out"! It is a popular marketing technique that makes your visitors eager to shop on your site taking advantage of the sense of urgency.
INCREASE YOUR LEADS, SALES & ENGAGEMENTS
Elite notification helps you capture the attention of your e-Commerce visitors and gain your trust instantly by displaying pop-up sales and real-time engagement notifications. Create urgency among your visitors to buy your products right now. After all, no one wants to stay out.
WHAT YOU WILL GET:
Attractive user interface and easy way to set up the notifications pop-up
Attached with Elite Licenser, WooCommerce, Easy Digital Download, FastSpring, Envato, WP Review, ReviewX, WP Comment, WP Download Stats, GIVE, Tutor LMS
Customization option to the display across the site with lots of entrance animation, and good functionality
Familiar 11+ integrations to power up your social proof marketing strategies
Connect ELITE NOTIFICATION with FastSpring and ELITE LICENSER to build absolutely marketing
You can check the results from Analytics dashboard and see how many times a certain notification popup has been viewed, clicked, or even its Click-through Rate
There are source disable options to keep your client's mind holds on one side
Review Popup will increase your commitment and credibility.
5. Vitepos - A Point of Sale for WooCommerce
Vitepos – A Point of Sale for WooCommerce provides store owners with the ability to manage their online and physical stores with ease.
The physical stores will have a POS front-end management system for which the admin can assign a store agent who can easily manage the sales and customers at that particular store.
Vitepos can work both online and offline with the feature to synchronize all the sales and customer data of the offline store with the online store whenever going online. The module plays a vital role in increasing day-to-day sales by having a management system to manage online stores along with physical stores.
Key – Appsbd provides the production version of the plugin because the production version is much faster and more efficient to use in the live version.
Vitepos is now in developing mode, hope in the end of the month Vitepos will release, so stay with us…..
Hopefully you've found at least one or two add-ons that you can use to make your WooCommerce store even more powerful. We've listed the best free and premium plugins we could find, but if you think we missed one just leave a comment. And if you do give one of these plugins a try let us know how it works out and share your experience with our other readers!
Feel free to contact us for your personal issues –  SUPPORT
---