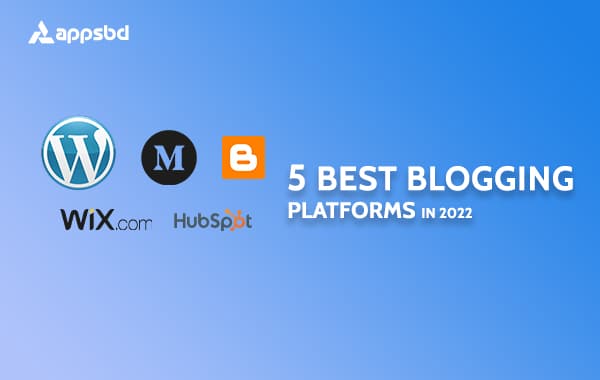 Best Hosted Blogging Platforms in 2022
Best Hosted Blogging Platforms
Below we've compiled a list of the best hosted blogging platform. With a hosted alternative, you don't need to invest in a domain name and a web server; the service includes hosting and a sub-domain or full domain name.
You just need to know how to write a blog, and how to post a blog on the platform below. So don't worry we are here to give you direction which blog medium can be best fit for you?
Top 5 Best Blogging Platforms
WordPress
Medium 
Wix
Blogger
Hubspot CMS
1. WordPress.com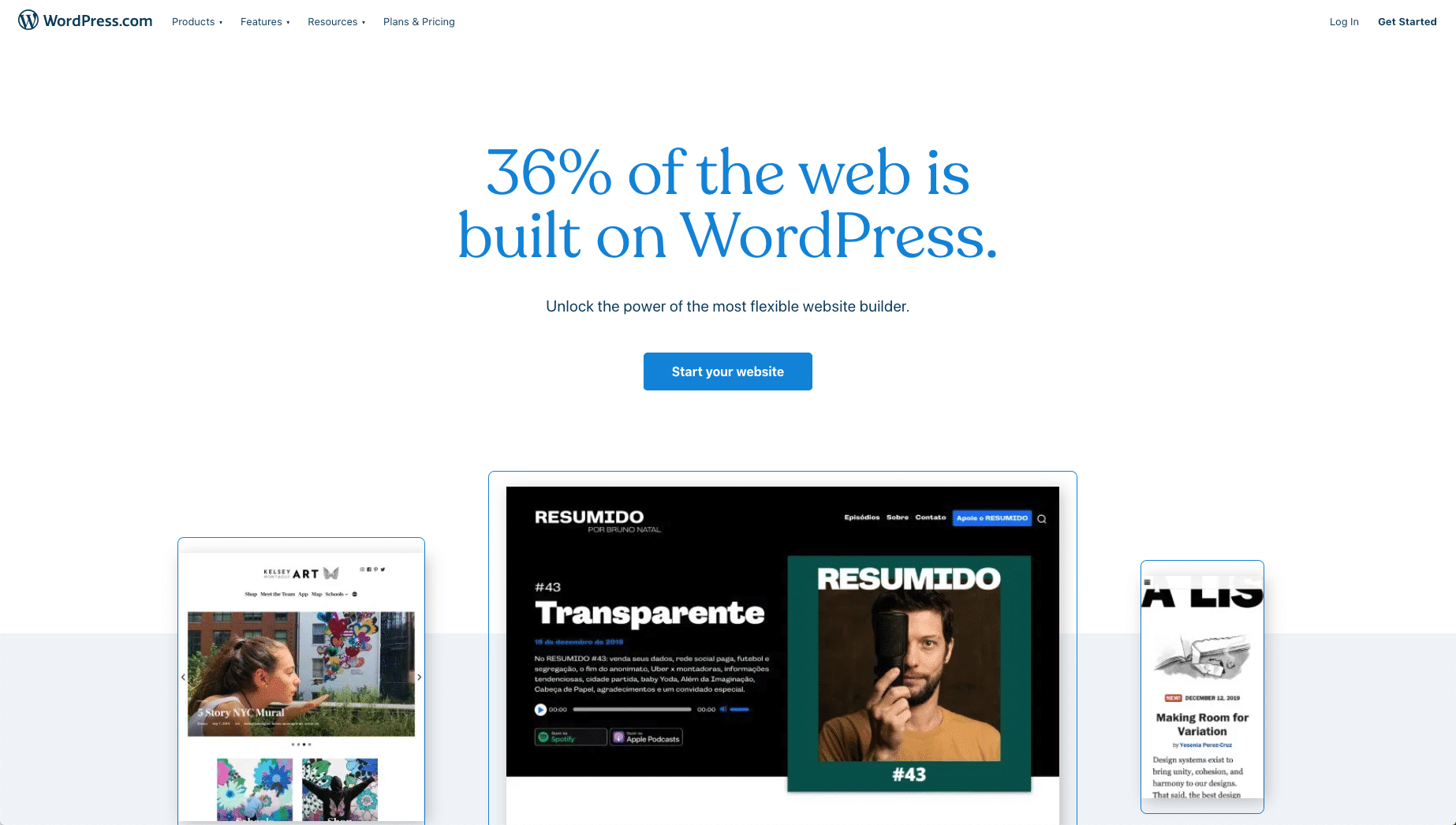 On the .com domain, WordPress is a hosted blogging/website platform. You don't need a domain name or hosting to get started: all you have to do is sign up.
It's hard to argue against getting the technology that powers 36% of the web, for free.
Features
WYSIWYG Editor.
Unlimited Visits/Bandwidth.
Password Protection.
Global Navigation.
Limited Customizability.
Content Scheduling.
SEO-Friendly Content Structure.
Interface and Ease of Use
Since you don't need separate web hosting or domain name, getting started is as easy as signing up and choosing your blog's name.

The WordPress.com interface is a JavaScript-based web app and might remind you more of the Ghost experience.
Most beginners will be able to change the theme and add new content without needing a tutorial. Also, the editor powering WordPress.com is what is usually referred to as the Block editor (aka Gutenberg), which provides a good writing experience: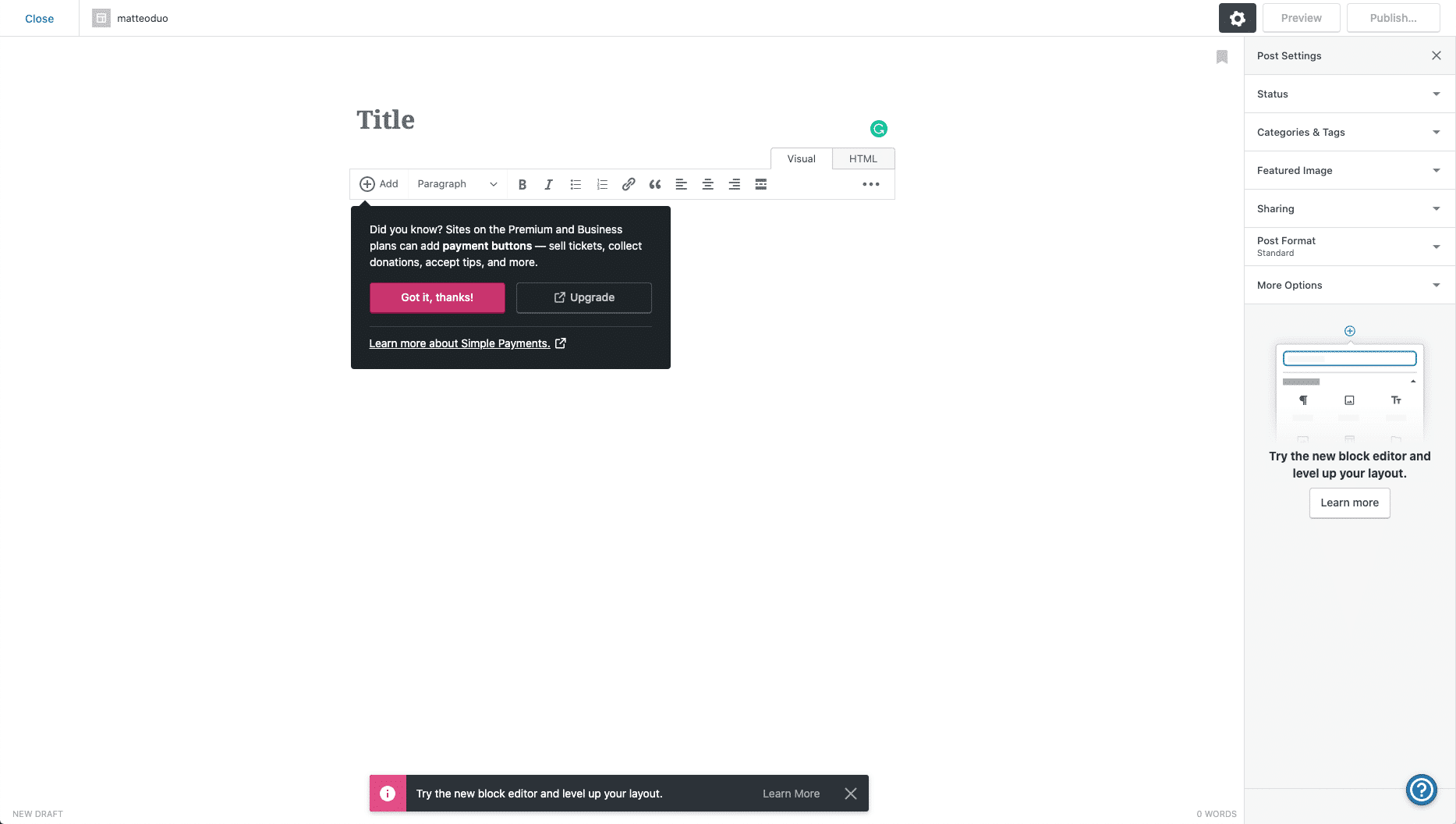 Pricing
The basic plan is 100% free. You can sign up for a free blog/website that will be hosted on a WordPress subdomain. There will be WordPress.com ads on your blog.
If you want your own .com domain, more customizability, and no ads, the Personal plan costs $4 per month. With the basic plan, your blog will be hosted at a subdomain such as yourblog.wordpress.com.
WordPress.com vs WordPress.org
Same package, but very different contents. Instead of thousands of themes to choose from, WordPress.com limits you to a few dozen.
If you just want to create a simple website or blog, and you have little technical skills and no plans to expand or monetize your website, hosted WordPress (.com) is the way to go.
If you want more control over the design and have the opportunity to expand your blog as you go along, self-hosted WordPress is the best choice.
Learn more about the WordPress.com vs WordPress.org differences.
2. Medium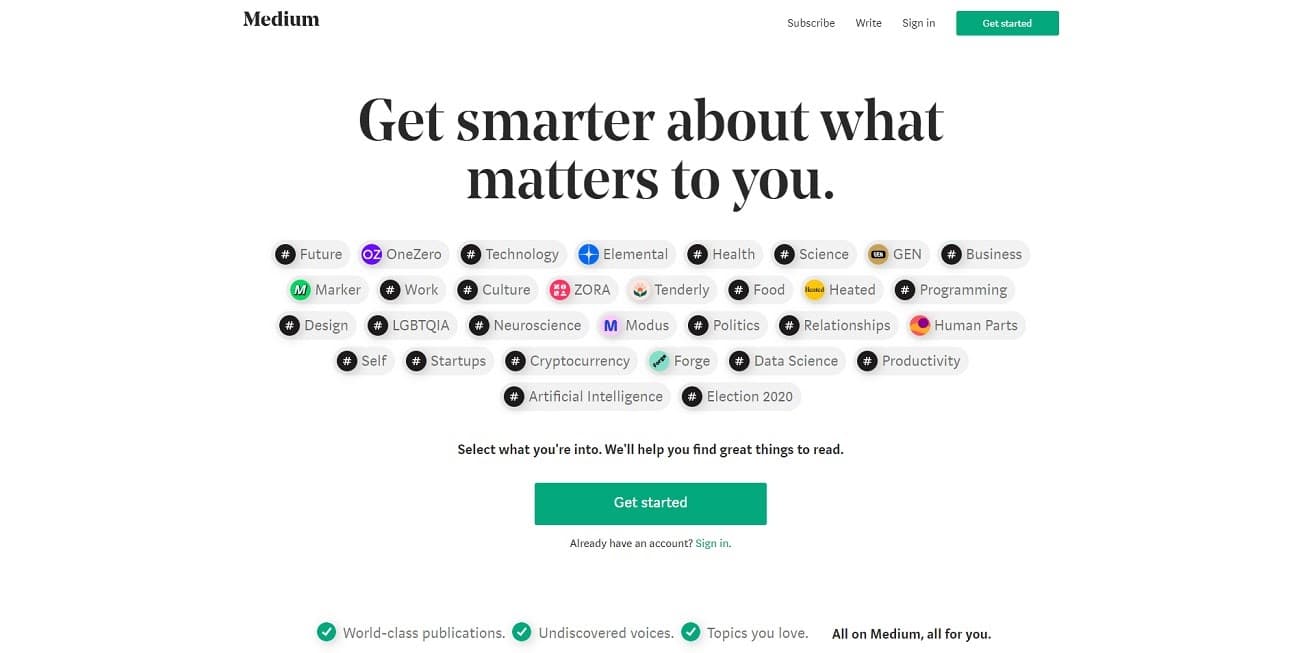 Medium is more of a social platform for sharing your writing and getting it to read than a strict blogging platform.
The design is sleek and intuitive, and you don't get distracted by themes, logos, or layouts. All you have to think about is creating content.
Features
Interface and Ease of Use
Getting started with Medium is extremely simple. Just sign up with your Twitter, Google, or Facebook account, and start writing your first post.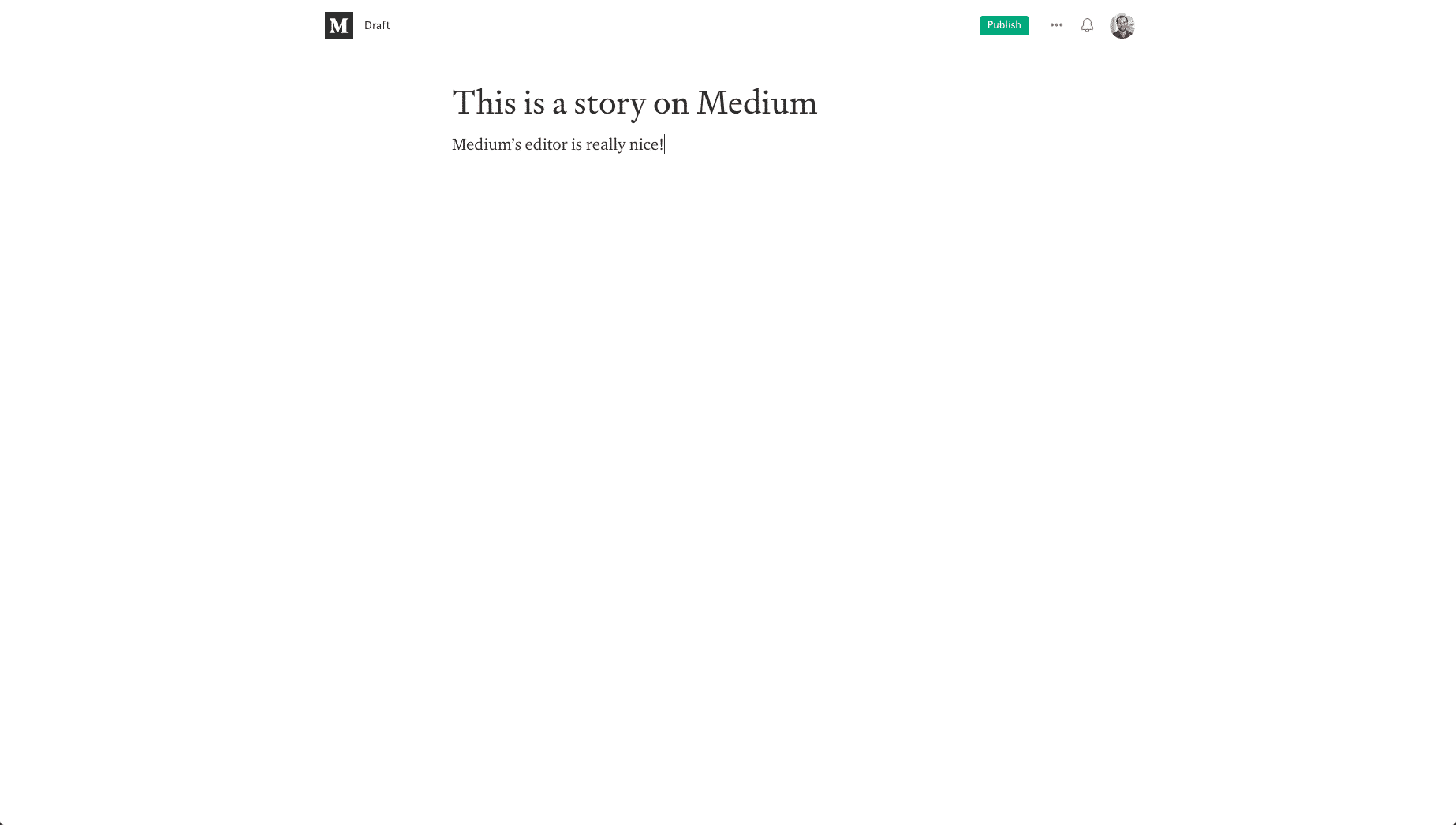 You have zero design options and can focus 100% on creating and sharing content.
The editor is sleek and the published posts look identical to the editor. The limited options make it very easy to use, but it also creates a narrow playing field.
Pricing
Medium offers limited access to articles and Medium membership for $50/year for full access. As from the content creator's pov, you can host unlimited content for free.
Medium vs WordPress
Medium is an excellent option for writers that just want their blog posts to get read. If you want a domain name and a customizable blog and site, WordPress is the way to go. You can still share your articles on Medium even if you have a dedicated blog.
Read more about the pros and cons of Medium vs WordPress in our guide.
3. Wix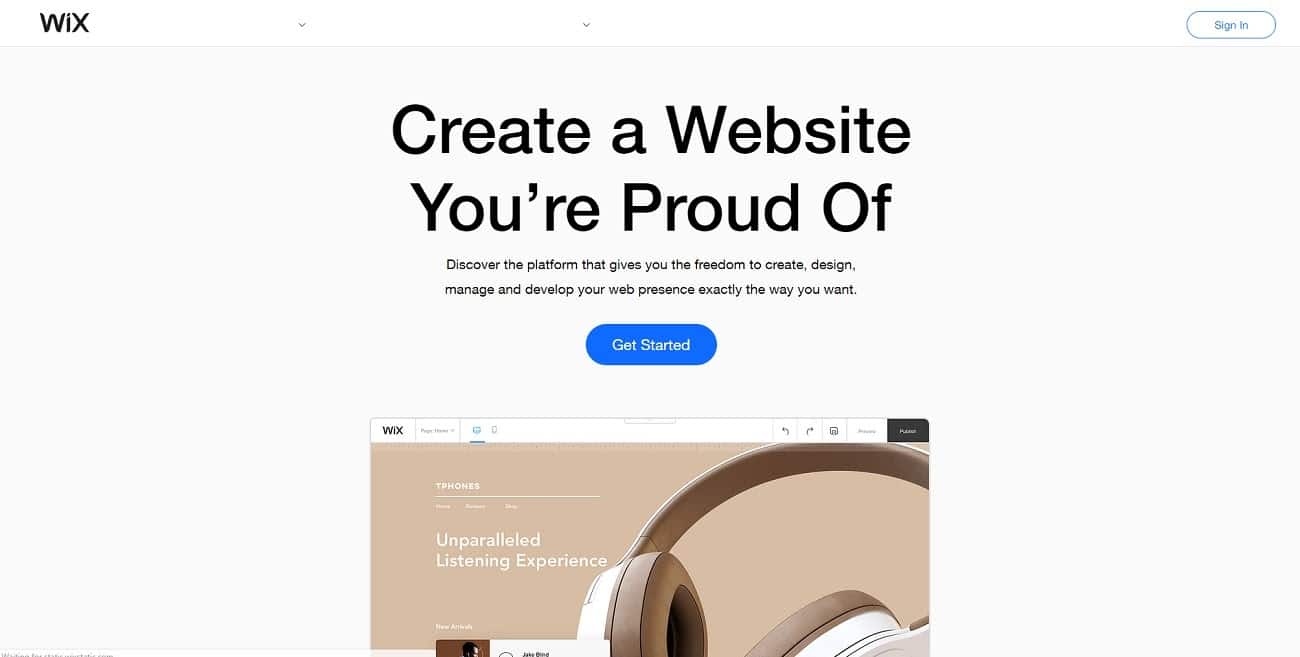 Wix is a drag-and-drop website builder, but it's also a decent blogging platform for creative individuals.
If you are an aspiring designer or a creative soul but don't want to deal with any code or anything technical, you might want to give Wix a try.
Features
Drag-and-Drop Website Builder (similar to those available for WordPress).
Wix ADI (AI-powered Design).
Monetization (Paid Plans Only).
Up to 500 MB Data/Bandwidth (with Free Plan).
Ads (Free and $4.50/month plan show Wix ads on your website).
Monetization (With premium plans).
Interface and Ease of Use
You can sign up by logging in with Facebook or Google or creating an account with your email address. Once you sign up, the Wix tutorial will start and will ask you a couple of questions.
If you answer that you don't have a lot of experience, it will suggest that you let the ADI create your website for you.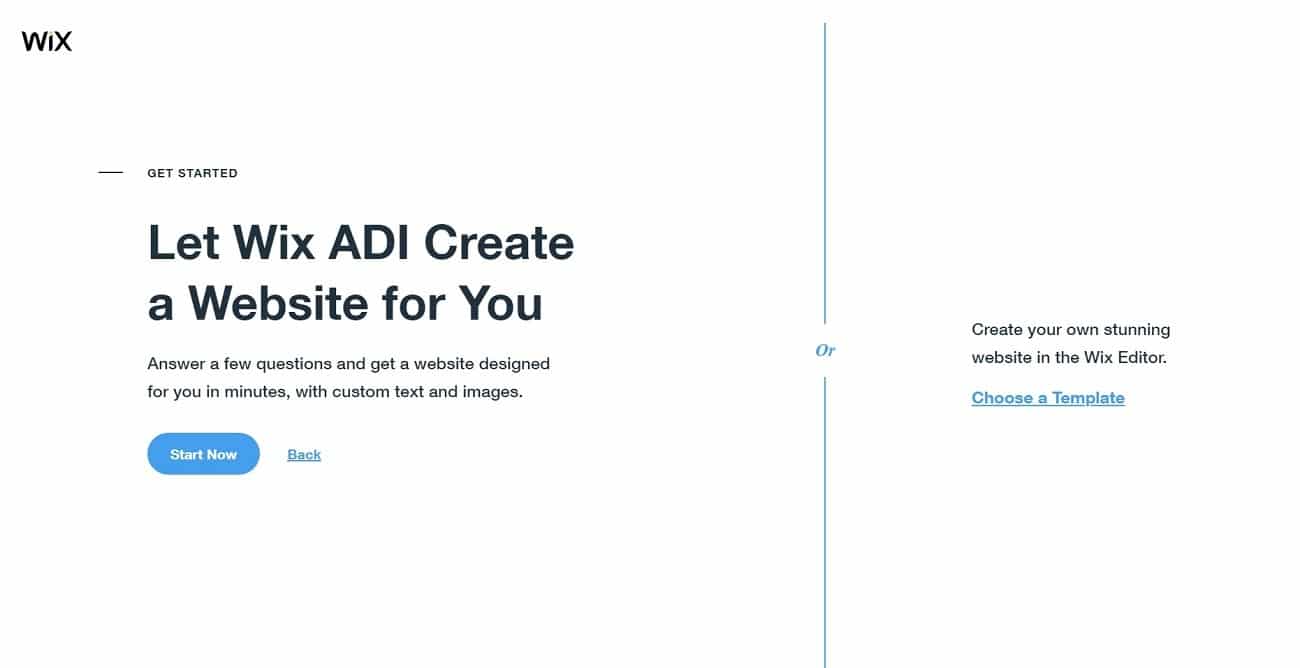 The ADI uses artificial intelligence to design your website based on a few questions.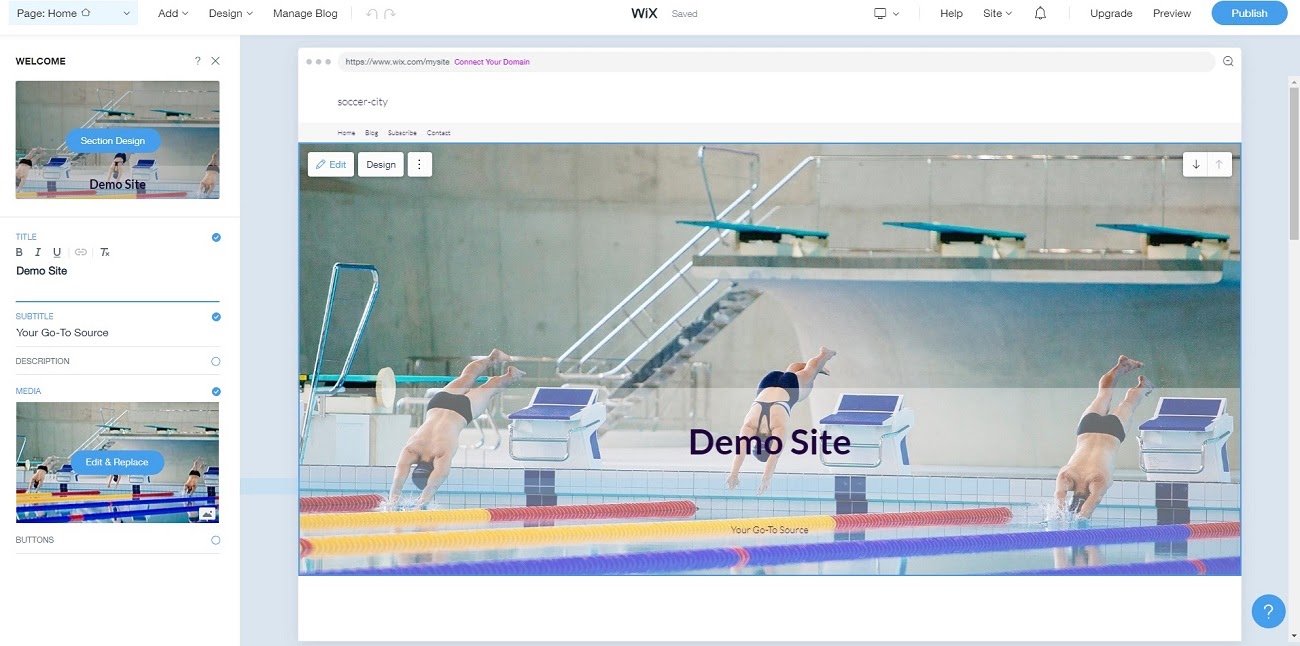 The standard dashboard is centered around their drag-and-drop website builder. You can edit elements by clicking them and rearrange them by clicking the arrows in the top-right corner.

It's reasonably intuitive and easy to use, but it's easy to waste time nitpicking the design instead of focusing on creating content for your blog.
Full control over the design, no coding skills required.
Pricing
The free plan comes with ads, a Wix subdomain, and bandwidth limited to 500 megabytes. Plans with monetization and eCommerce functionality start at $17/month.
Wix vs WordPress
While Wix helps you get up and running in minutes, it's almost designed to help you focus on the wrong thing as a blogger. It's easy to spend hours nitpicking the design and resizing individual elements. Advanced features are also locked behind some fairly pricey plans.
Not ideal for bloggers, but Wix could be a good option for portfolio sites for creative professionals (here's how to create your portfolio in WordPress).
Read more about the pros and cons of Wix vs WordPress in our comparison guide.
4. Blogger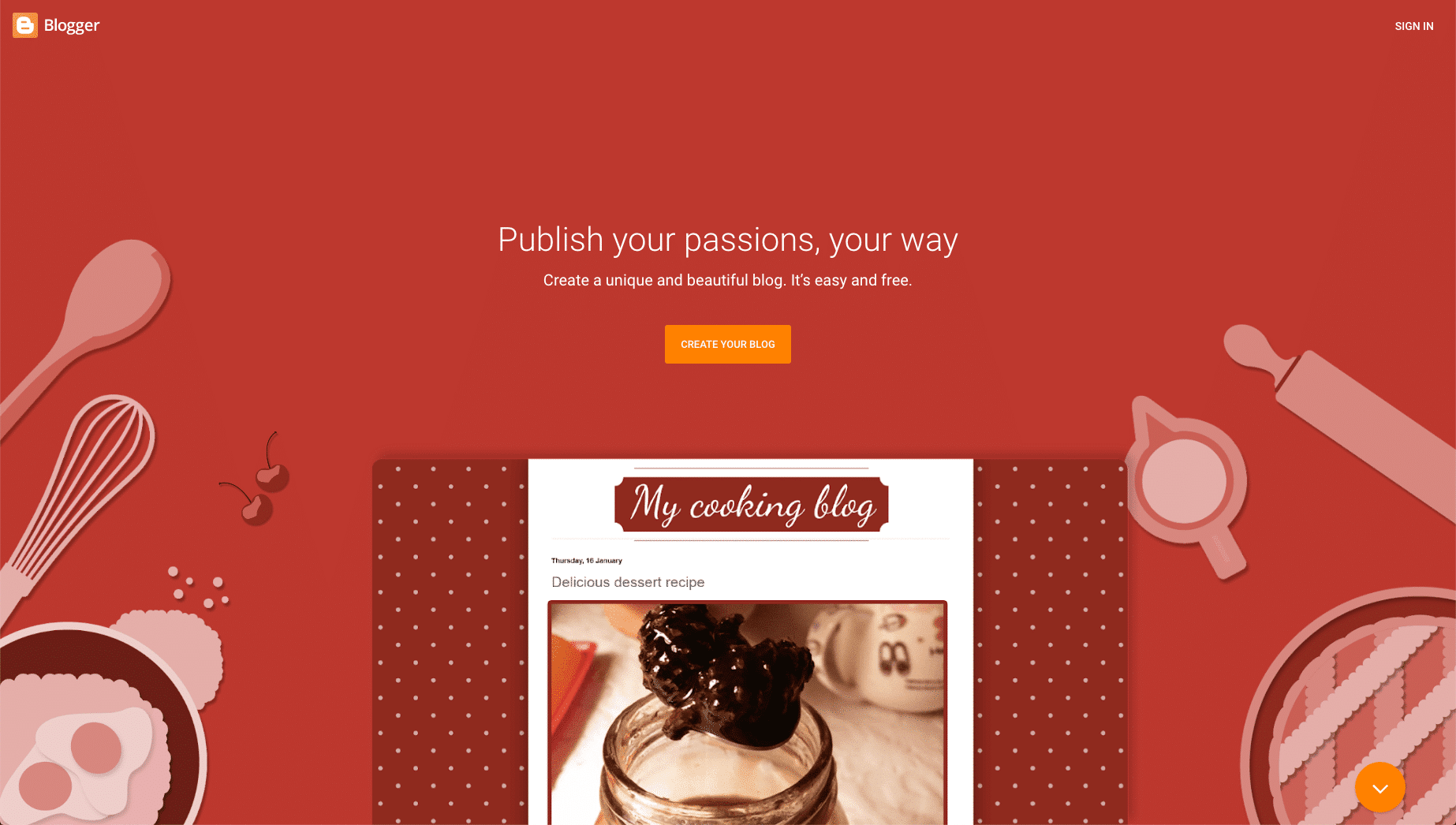 Blogger is Google's hosted blogging platform. It's free, more customizable than most other hosted options (for example, you can edit your themes), and there's a decent amount of available themes out there.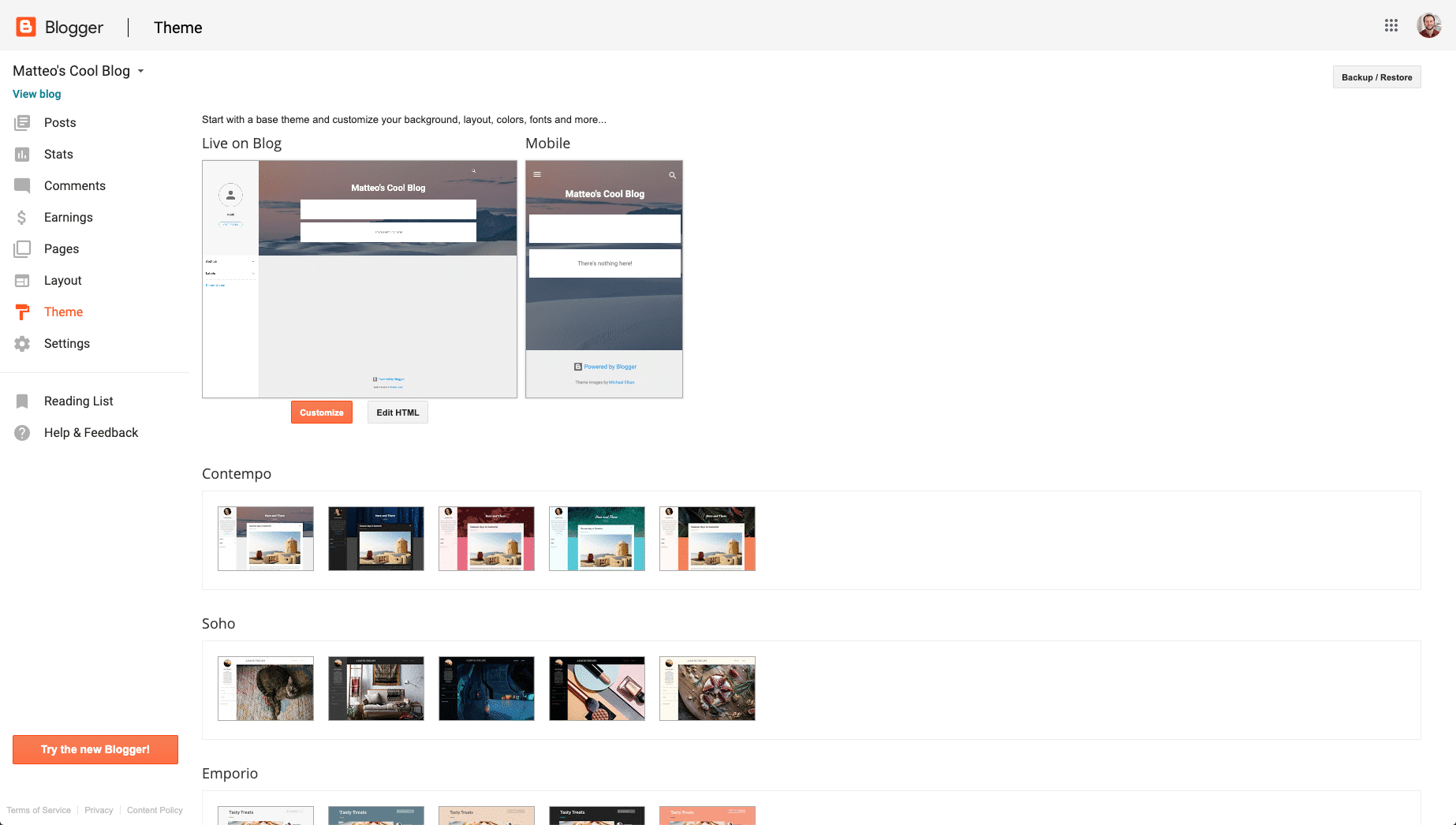 With a free account, your blog will be hosted on the Blogger subdomain and be reachable at a URL like yourblog.blogspot.com.
Features
Basic Editor.
Unlimited Visits/Bandwidth.
Monetization.
Limited Customizability.
Interface and Ease of Use
Signing up is the only necessary step to getting your blog up and running. Once logged in, you can easily create new content or change the theme of your new blog.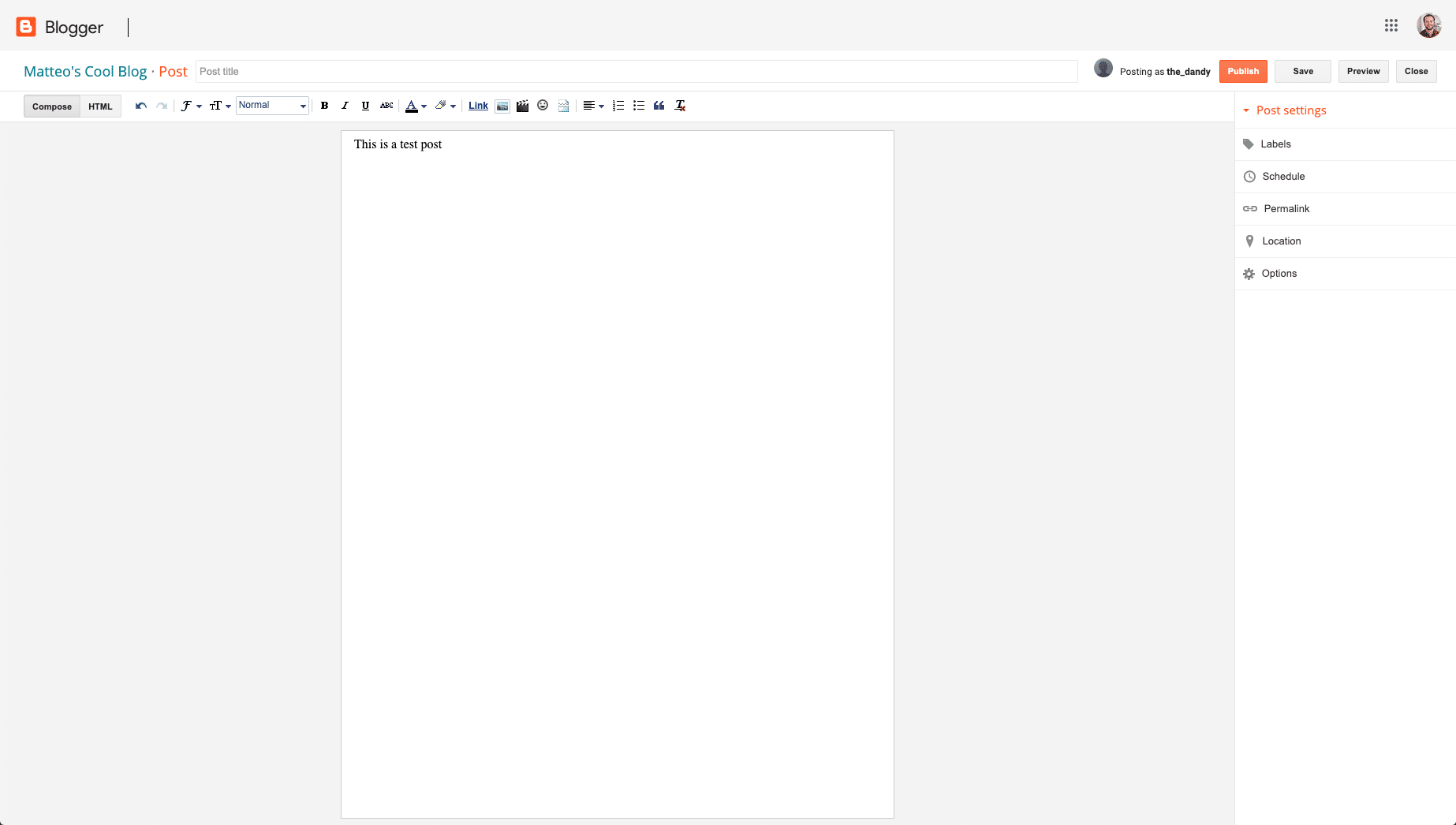 The interface is simple and easy to use. There are no unnecessary sections in the dashboard. Complete beginners will easily be able to get started with no extra guidance as this is a simple rich-text editor.
Pricing
Free (with subdomain and ads).
Blogger vs WordPress
Blogger is meant as a simple solution to help complete beginners create a blog. And if you just want to create a simple personal blog or journal, it's not a horrible choice.
5. HubSpot CMS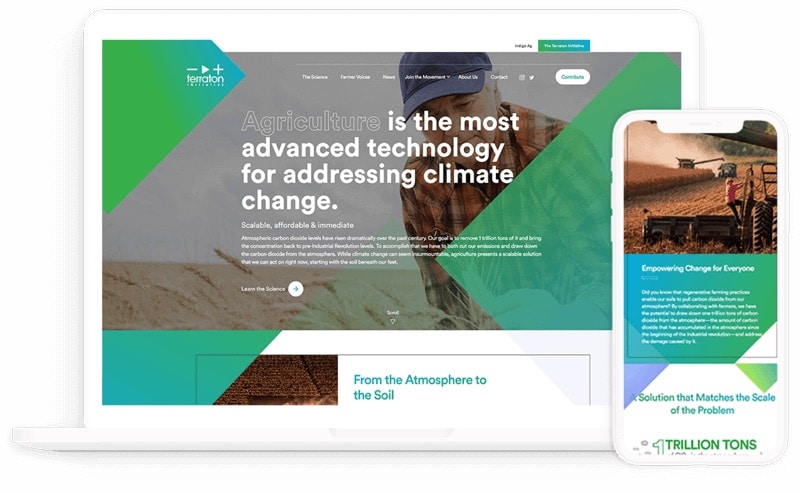 HubSpot CMS is a blogging platform and website builder powered by an easy-to-use drag and drop editor. The blogging editor provides both a WYSIWYG editor or the source code view if you need to edit the code. Of course, the easy native integrations with HubSpot's marketing tools — including features like email marketing, landing pages, forms, pop-ups, etc. — give you the ability to drive traffic and convert that into subscribers or customers.
HubSpot CMS has a built-in integration with the free HubSpot CRM. This is valuable for bloggers because you can automatically collect and store leads from your blog posts into the CRM. Additionally, you can use this CRM data to do cool things like personalizing your content and CTAs, which helps you drive higher conversion rates.
Developers can customize the site and build out templates, custom objects, and more, while non-technical users easily write, edit, and publish with very little red tape.
Features
Multiple users with governance and partitioning
Built-in A/B/n testing to optimize your content
SEO recommendations
Content scheduling
Version control to manage and view updates over time
Contact attribution to analyze where your leads and sales come from
24/7 security monitoring
24/7 support
Interface and Ease of Use
The interface is slick. Marketers and bloggers will have to spend very little time learning the interface and how to get started.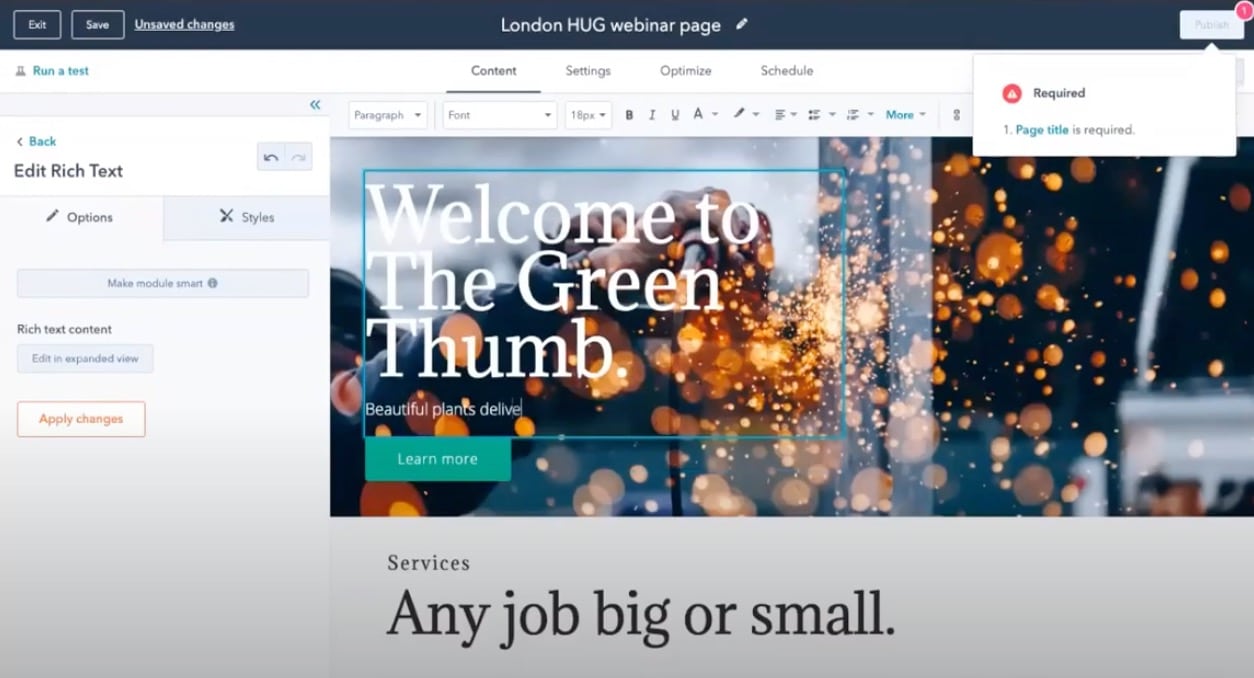 If you want to do more technical customizations, however, that's available, too (though with the help of a HubSpot developer).
Pricing
Plans start at $300/month for HubSpot CMS Professional and the Enterprise plan begins at $900/month.
HubSpot vs WordPress
HubSpot competes favorably on both usability as well as convenience, though its price might be intimidating for single or amateur bloggers (check out how to monetize your blog). When compared with other blogging platforms, its key advantages are how smoothly integrates with the HubPost ecosystem (of course) and the freedom you'd gain from not worrying about updates, security, and patching together dozens of plugins to get the functionality you need.
Conclusion
The best blogging platforms supply the blogger not only with a place to write their thoughts but all the tools they need to grow a following and even business.
That's what separates self-hosted solutions like WordPress from the rest on this list.
If all you want is a personal blog, or to share and get feedback on your writing, hosted solution like Medium or WordPress.com might be better for you.
Ultimately, the best blogging platform depends on your goals and your current situation. For us — obviously — nothing compares to WordPress.
What about you? What's your preferred blogging platform?
---