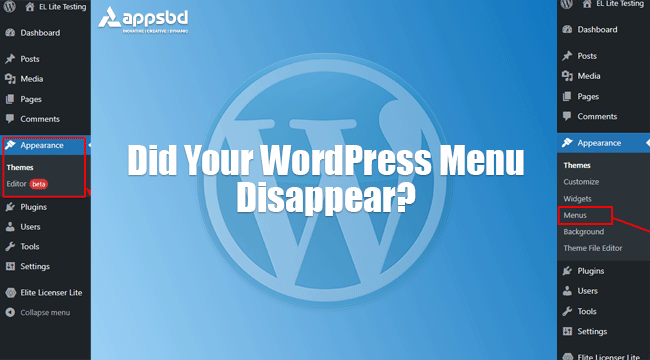 Did Your WordPress Menu Disappear From Admin Panel? Here's Why! & Best Way to Solve it in a Second
WordPress Menu Disappear?
In the last few days, most searches have been done on the internet for WordPress menu problems. Recently WordPress has released their new version 5.9. Where WordPress has used the twenty twenty-two theme as their default theme, And when this theme is active, the WordPress menus option disappears from the appearance list.
As a result, customers around the world have been disturbed in many ways. Many people are blaming many plugins for this.
Of course, it is not possible to say exactly whether it is a bug or not. WordPress has disabled this in its default theme. Due to this many customers have suffered. So today I will describe in this article how to solve the WordPress menu if the menu option disappears or if the menu option is not in Appearance, after updating WordPress.
How to Get The Menu Option
When Twenty Twenty-Two is active that time in the newer version of WordPress disappears the Menus option from the appearance list.
Maybe it's a bug of WordPress 5.9 or they have some new strategies there.

Our main topic is not detecting the bug of WordPress. We are here to solve how to get the menus option in the appearance list. Now please check the below image.

When we active the Twenty Twenty-One theme, that time we can see the Menus option on the left. From that, we can ensure that if the menu option is invisible then try another theme and active the theme.
For better understanding, you can watch this video below.   
All in all, this is not a big issue for WordPress. But it is also very confusing which puts WordPress users in trouble.
I find myself having trouble finding this solution. Many people may give solutions in many ways but I have described the way I have been able to solve.
---