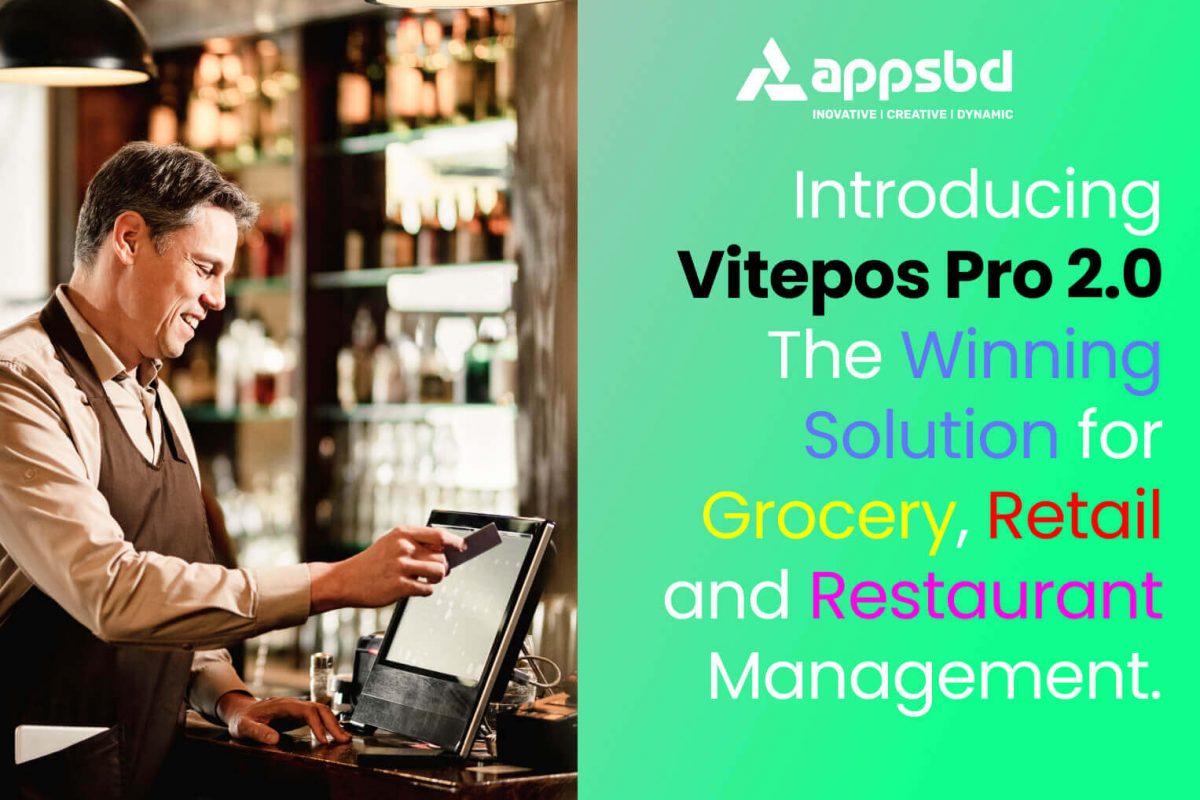 Introducing Vitepos Pro 2.0: The Winning Solution for Grocery, Retail and Restaurant Management
By using an efficient Point of Sale (POS) system, you can transform your computer, mobile device, iPad, or Android tablet into a cash register, enabling you to run your business from any corner of the world. With WordPress, creating an eCommerce site and carrying out seamless transactions to sell your products has become extremely easy.
"We are excited to announce the launch of Vitepos Pro 2.0, which includes a variety of exclusive features to enhance your eCommerce experience. With Vitepos Pro 2.0, your eCommerce journey will become more convenient and efficient than ever before!"
Vitepos is a fast and reliable web-based Point-of-Sales (POS) system that is ideal for grocery, retailers and restaurant . It is a promising WordPress plugin that comes with a simple interface to help you track your inventory in real-time and manage your orders effectively.
This plugin is specifically designed to work seamlessly with WooCommerce. You can easily connect it to your store using the official WooCommerce and Vitepos API.
Additionally, you can connect Vitepos directly to your WooCommerce database without the need for any third-party bridging software or middleware. This eliminates the possibility of syncing issues, extra costs, or complexity.

Discover the Interactive and User-Friendly Features of wePOS Pro on below:
POS Mode
Grocery Mode
Restaurant ( Pay first )
Restaurant ( Traditional )
Waiter Panel
Kitchen Panel
Cashier Panel
Messaging & Cheating
Shortcut Message
Deny Reason Message
Pusher
Addon Management
Table Management
Full Stock Management
Online Stock Link With Outlet
Stock Transfer
Stock Recieve
Price Update List
Payment Setting
Stripe Payment Method
Product Status
Multiple Tax Calculation Method
Send Email To Customer
Custom Fields
Add Custom Page On Barcode Generator
You can also see the video about all feature about Vitepos Pro 2.0 on below:
The POS Mode Settings offer a selection of three distinct options, with the ability to choose only one at a time. These options include Grocery, Restaurant (Pay First), and Restaurant (Traditional), each possessing unique characteristics and functionalities.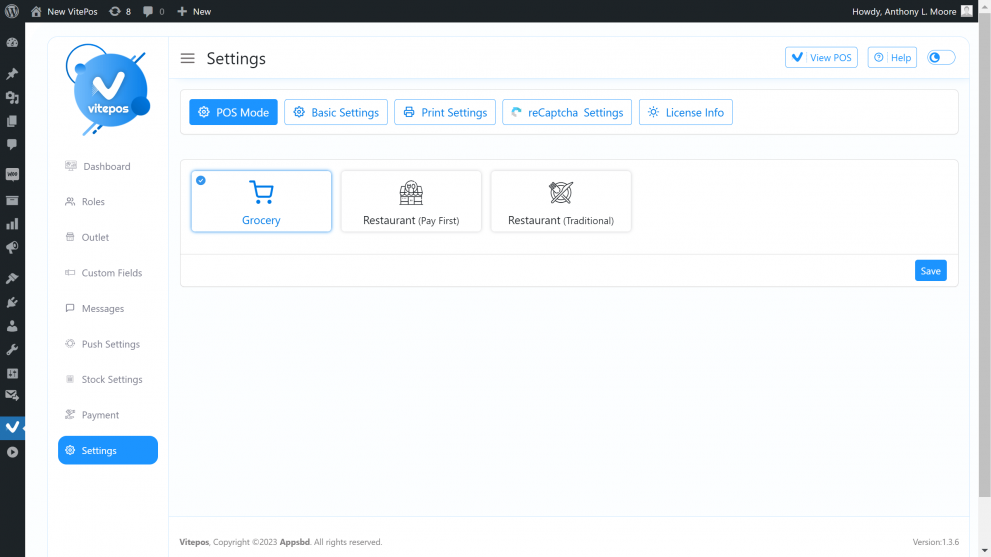 Grocery store is a retail establishment that specializes in selling food and household goods. These shops typically stock a wide variety of products, including fresh produce, dairy products, canned and packaged foods, snacks, beverages, and personal care items such as soap and shampoo. If you have a this type of shop then you have to select Grocery store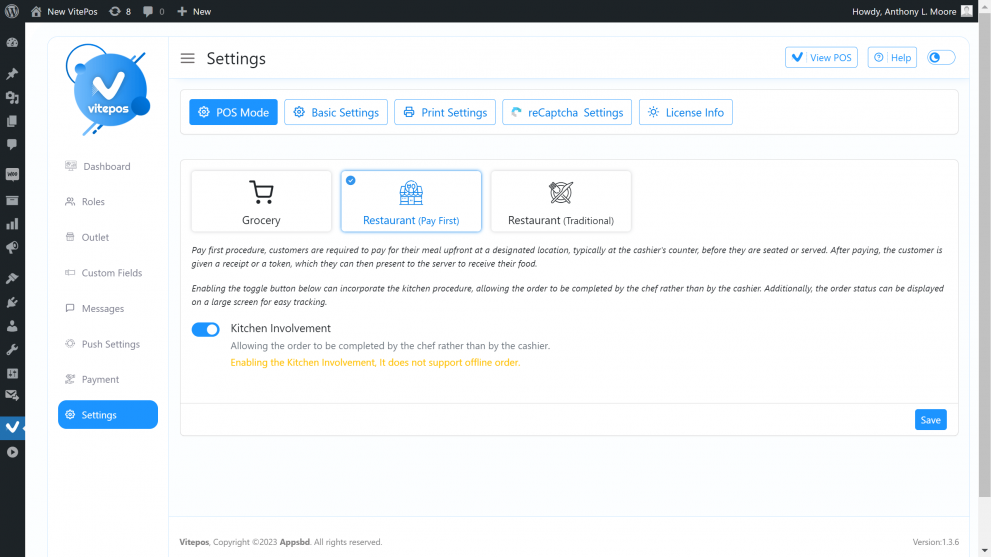 Typically, customers are expected to settle the payment for their meal beforehand, usually at a specific location such as the cashier's counter, prior to being seated or served.
Restaurant ( Traditional )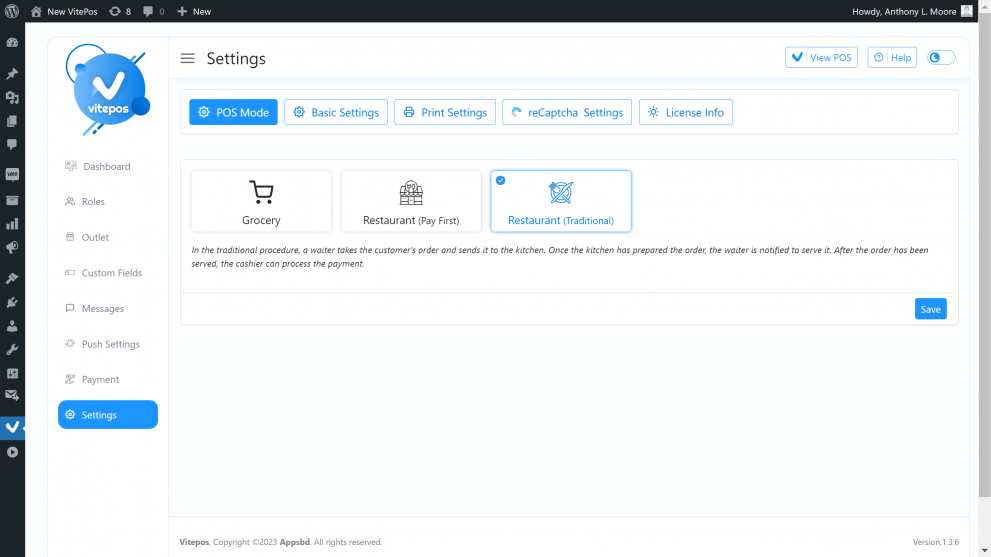 Under the conventional restaurant protocol, a waiter takes the customer's order and forwards it to the kitchen. Once the kitchen has finished preparing the order, the waiter is informed to serve it. Subsequently, payment can be made at the cashier after the order has been served.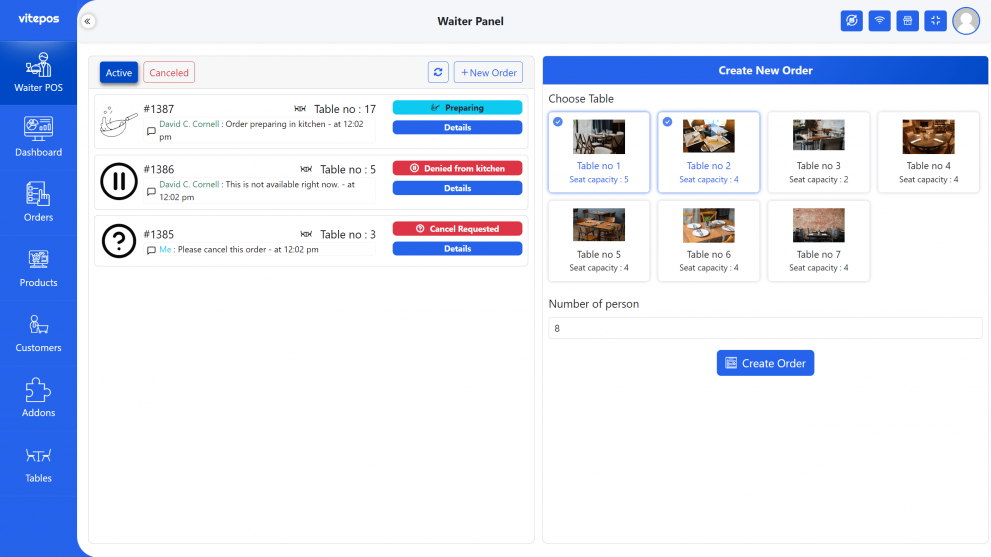 The waiter is capable of initiating a new order, reserving a table, and dispatching the order items to the kitchen. Additionally, the waiter can cancel the order and transmit a message to the kitchen. Once the order is prepared and ready to be served, the waiter is responsible for serving it to the customers.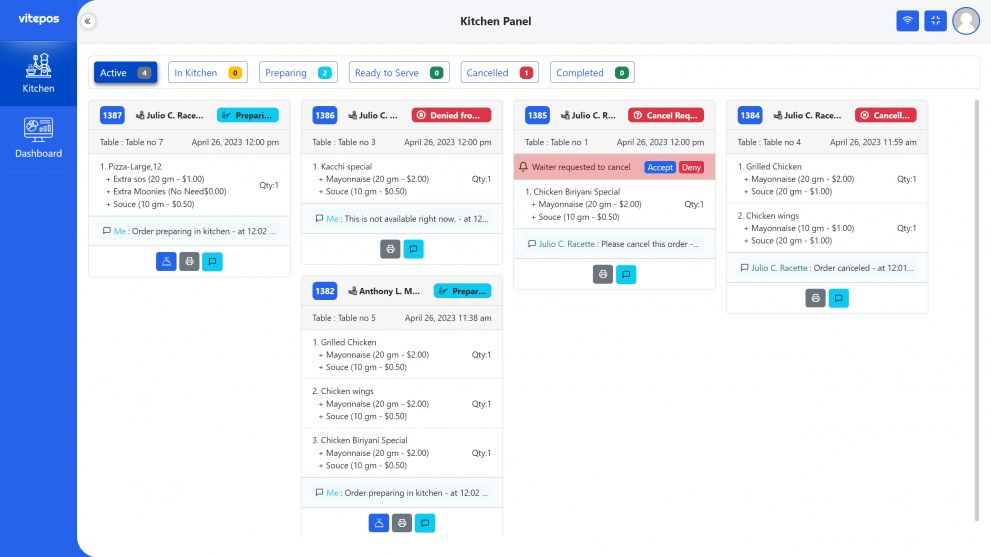 Within the kitchen area, the chef possesses the ability to either commence preparation of an order or reject it entirely. If the chef opts to decline the order, its status will be modified to "Denied from Kitchen". Alternatively, if the chef selects "Start Preparing", the status of the order will be altered to "Preparing". Once the order has been readied, the chef can mark it as "Ready to Serve". Moreover, the chefs operating the Kitchen Panel have the option of transmitting messages to waiters or providing reasons for order denials.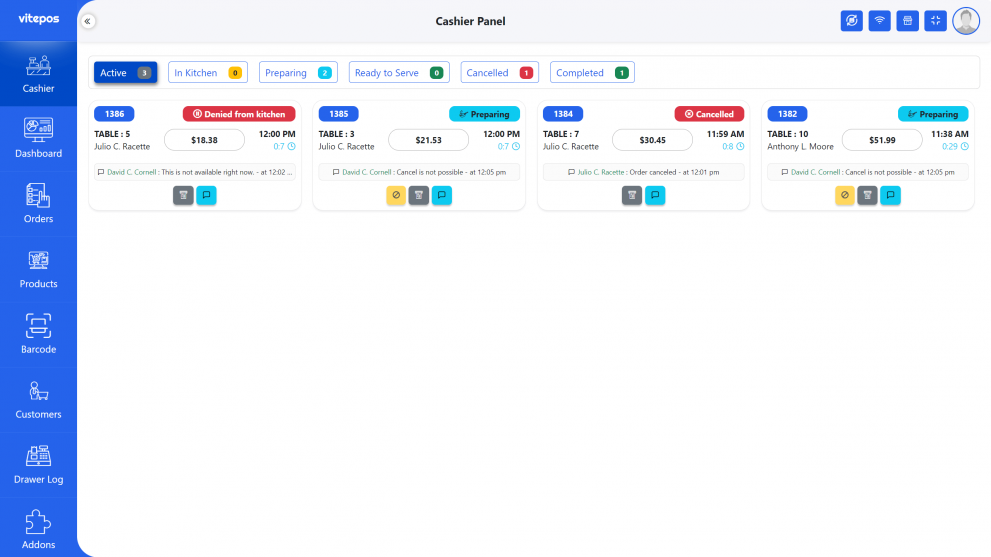 Cashiers have access to their dashboard and order list, which can be sorted based on various statuses. Waiters, via the waiter panel, transmit orders to cashiers with the "Served" status. The cashier then proceeds to the checkout, collects payment for the order, and updates the order status to "Completed".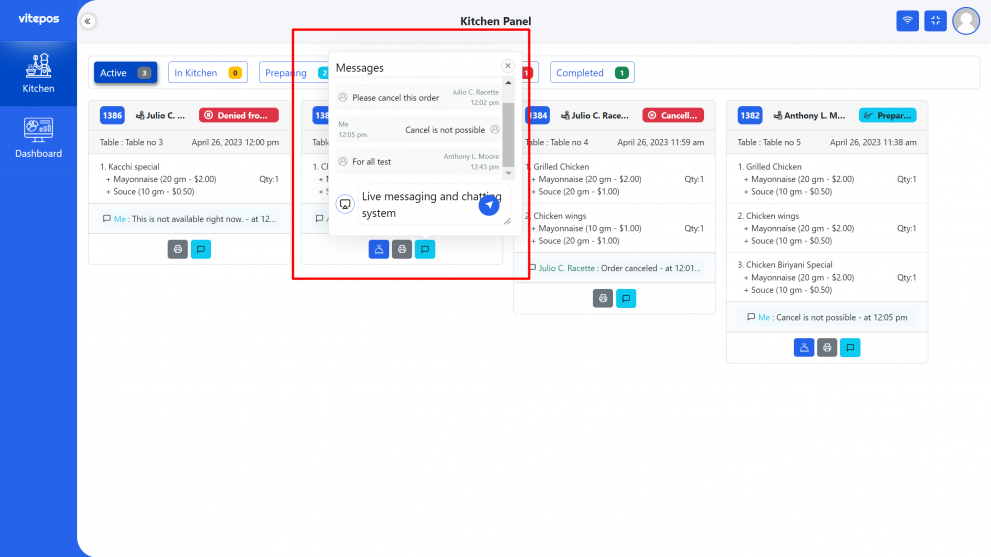 This feature provides users with the means to interact and exchange messages amongst themselves, enabling waiters, chefs, cashiers, and admins to communicate with one another freely and instantaneously.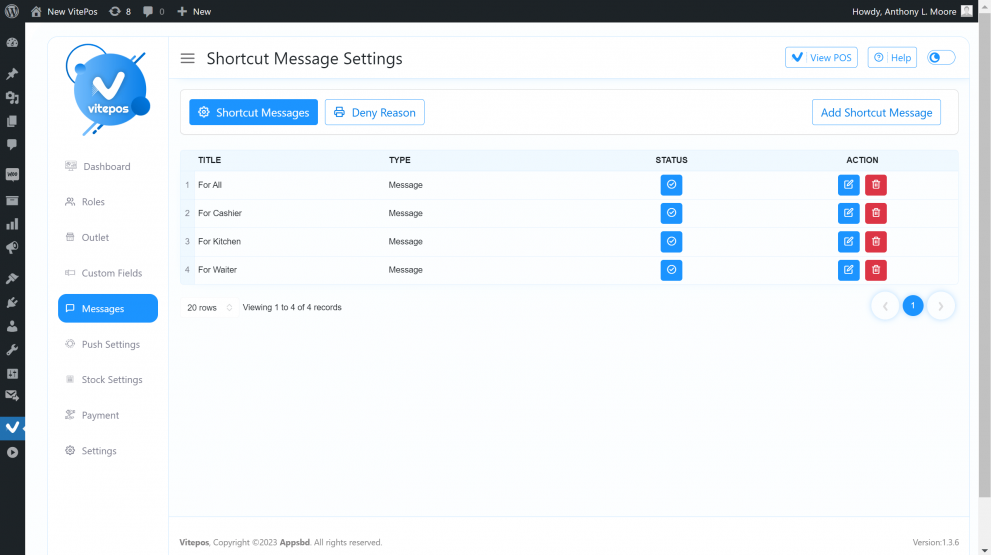 The Admin is authorized to generate, peruse, modify, and delete numerous predefined messages, which can be utilized by waiters, chefs, cashiers, and admins during their communication. These messages are stored as shortcuts for convenience.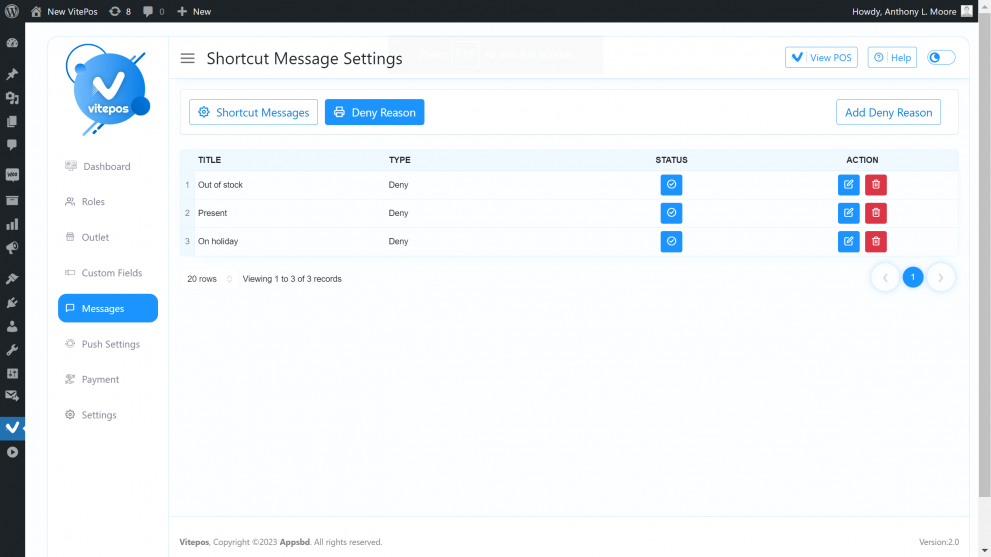 The Admin has the option to append a "Deny Reason Message" intended for the chef stationed within the kitchen. In the event that a waiter places an order, which the chef rejects, the chef is required to specify the reason for doing so. This is achieved by choosing from a list of reasons pre-established by the admin on the admin panel.
Add-ons allow users to extend the functionalities of a primary program by incorporating new components or expanding its capabilities beyond its original scope. To add these add-ons, the product presents additional options, enabling customers to select more desired items from your restaurant's menu.
In this section, it is possible to generate, modify, and remove tables. Additionally, the maximum seating capacity of each table can be specified. Furthermore, there is an option to indicate whether the table is intended for dine-in or takeout (parcel).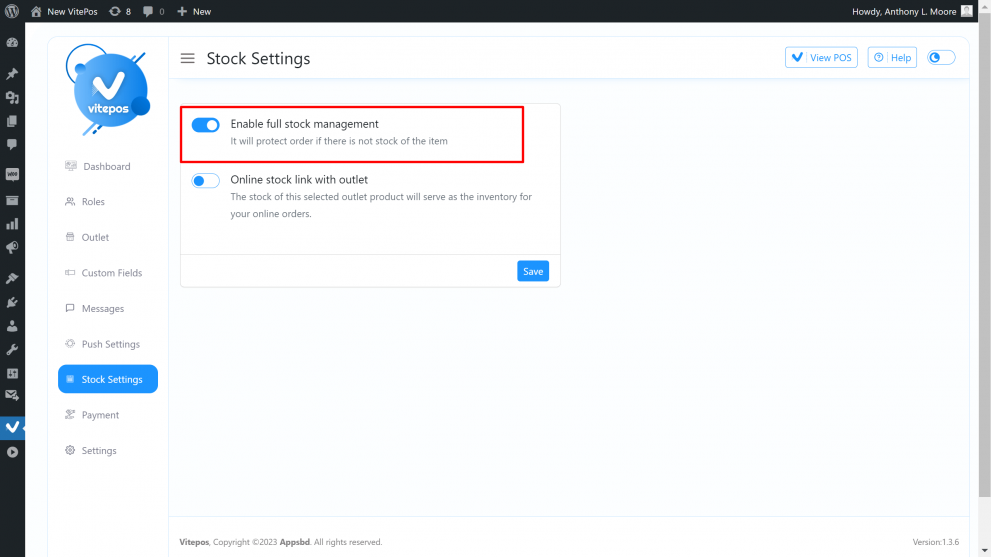 Within this section, the Admin has the authority to oversee product inventory, procure new merchandise from vendors, facilitate product transfers between outlets, and either accept or reject products from another outlet. Activating this feature can help safeguard against order cancellations due to stock unavailability.
Online Stock Link With Outlet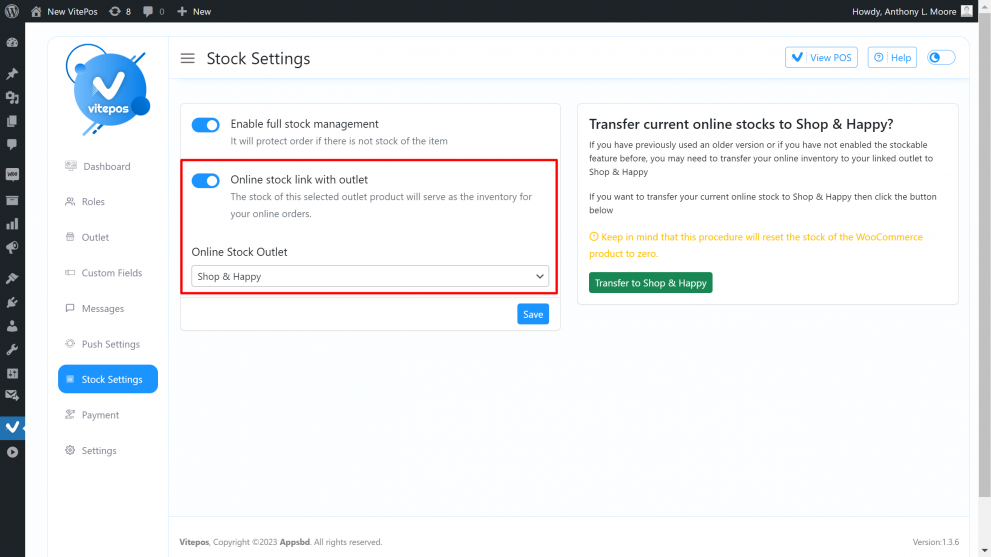 The inventory of the chosen outlet's products will be utilized as the primary stock for fulfilling online orders. Through this functionality, you can designate any outlet for managing the online inventory.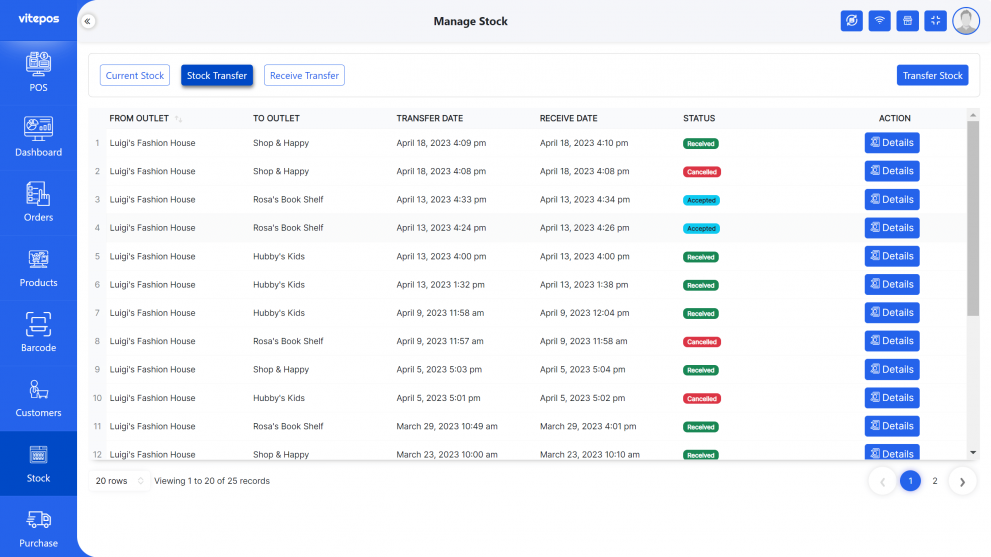 We can transfer stock from one outlet to another outlet, also we can request for a stock, also accept stock requests,decline stock requests.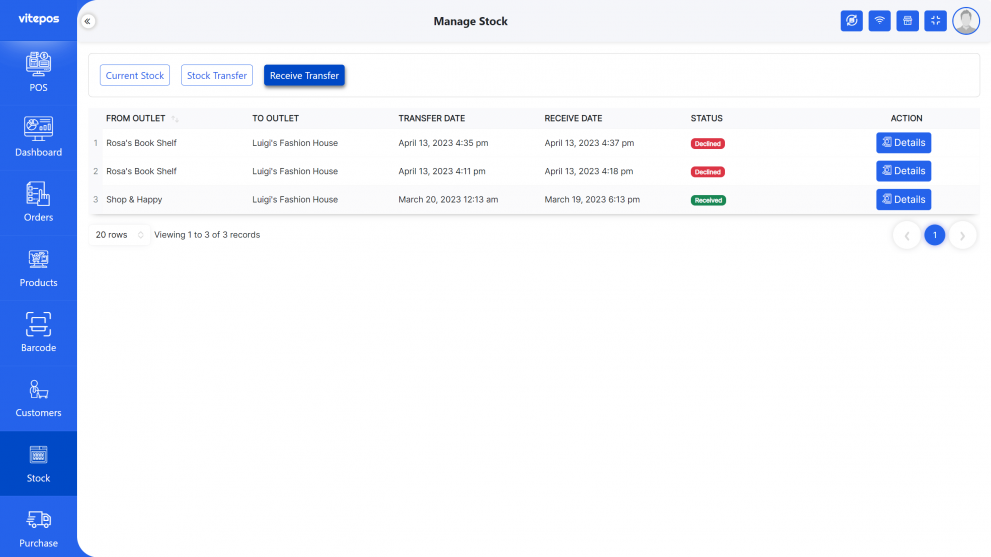 The stock receive section displays all products that have been transferred from a different outlet to the current one. In this section, you may choose to either accept or reject the received product. Accepting the product will change its status to 'complete,' while rejecting it will change the status to 'cancelled.'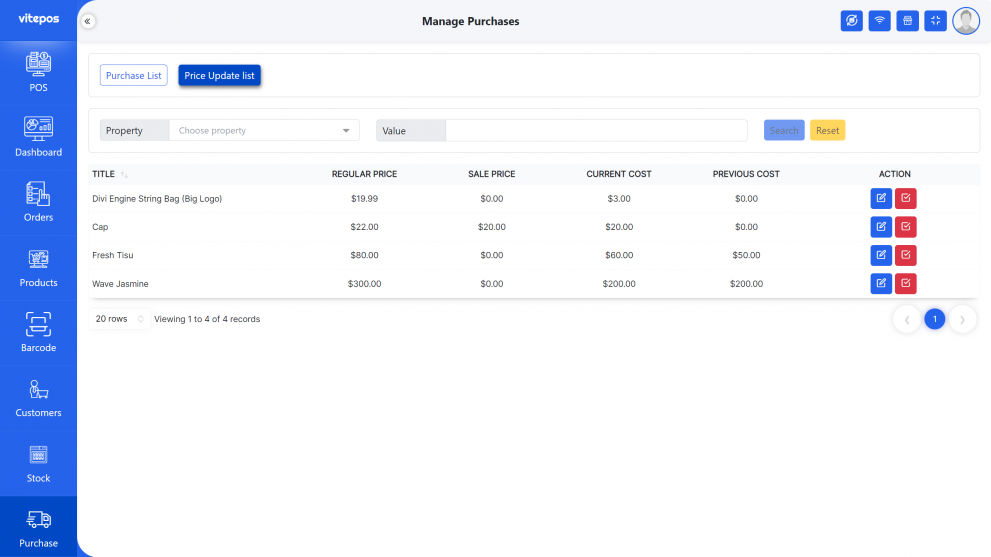 In the event that the purchase price changes during the procurement process, adjustments can be made to the sale price accordingly. By selecting the checkbox for the sale price, the product will be added to the update price list. Within this section, you can also modify the product price as needed.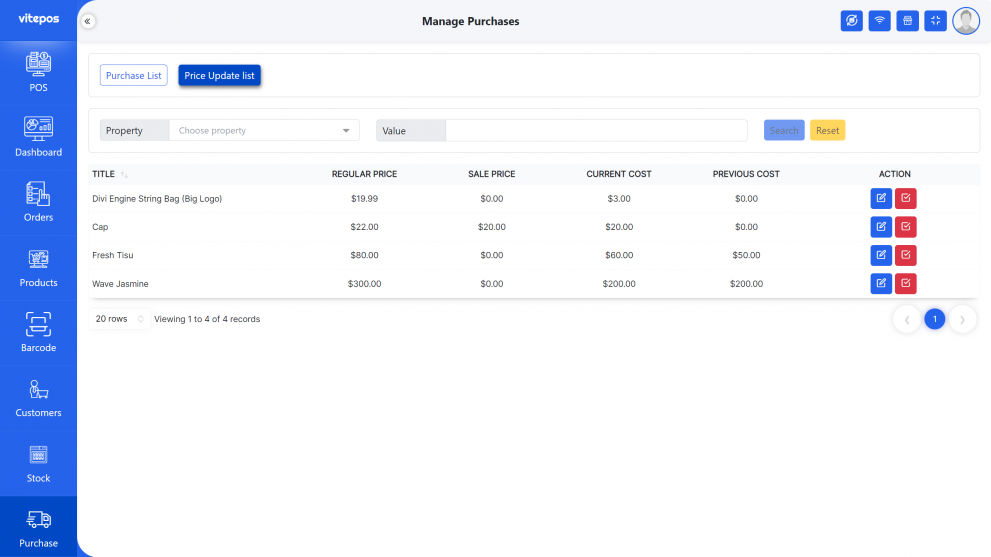 This feature allows you to deactivate payment gateways. Disabling the swipe machine will remove it from the checkout page, and you can also disable other payment methods such as Stripe using this method.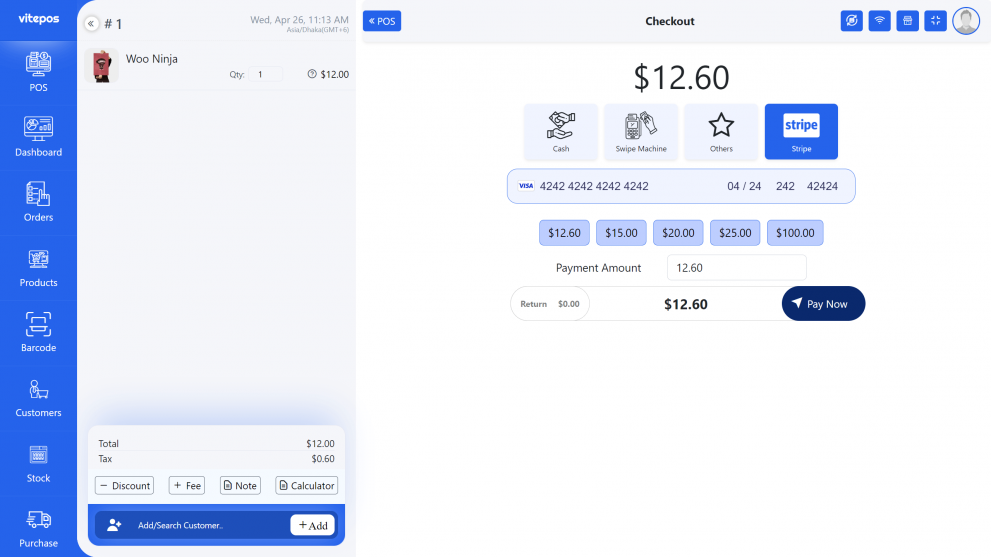 To use the Stripe payment method, you need to configure the Stripe settings. Navigate to the Stripe settings tab and enter your Publishable and Secret keys, which you can obtain from the Stripe website.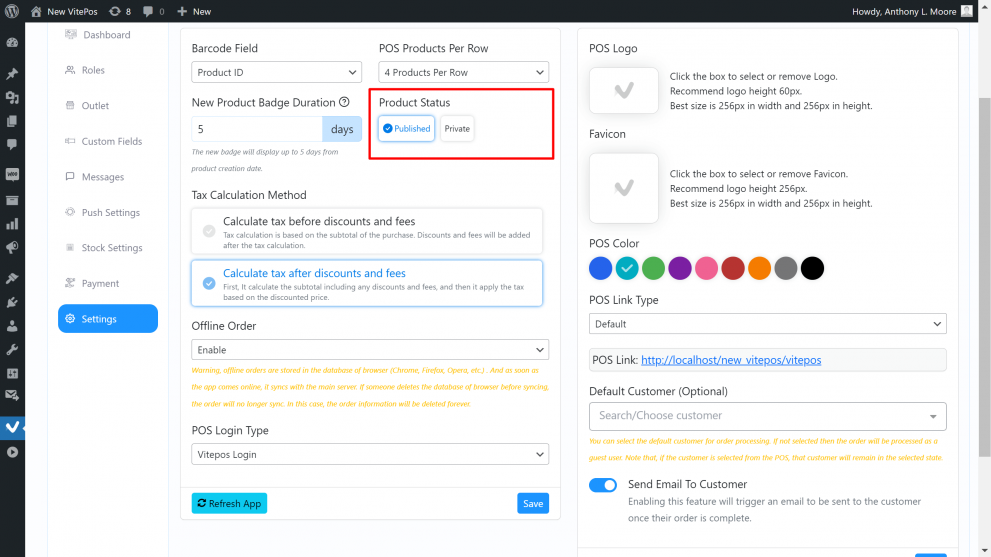 To view products based on their status, you can choose to display only the published products or only the private products. Alternatively, you can select both options to view all products regardless of their status.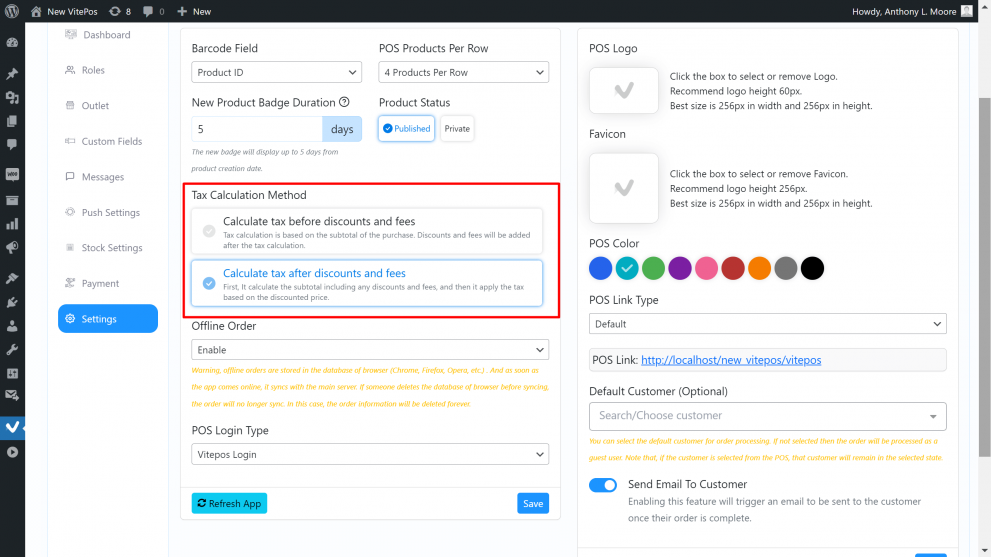 Here, you have the option to choose between two methods of tax calculation. The first one is to calculate tax before any discounts or fees are applied, which will be based on the purchase subtotal. The second method is to calculate tax after discounts and fees are applied. In this case, the subtotal including any discounts and fees will be calculated first, and then the tax will be applied based on the discounted price.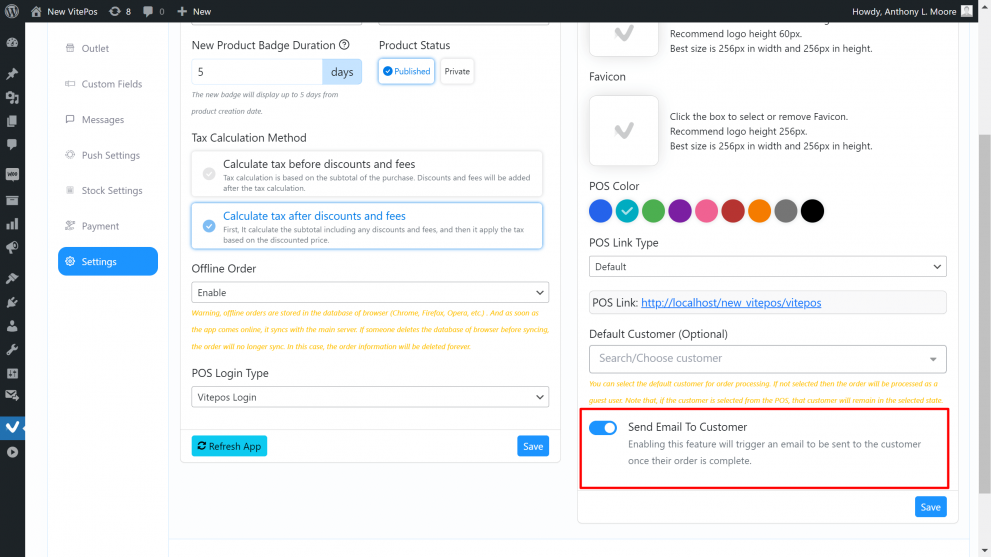 By enabling this feature, customers will receive an email confirmation upon completing their order. In addition, new customers who register for the POS will receive a welcome email. If a temporary password is set for a staff/user, an email notification will also be sent to them.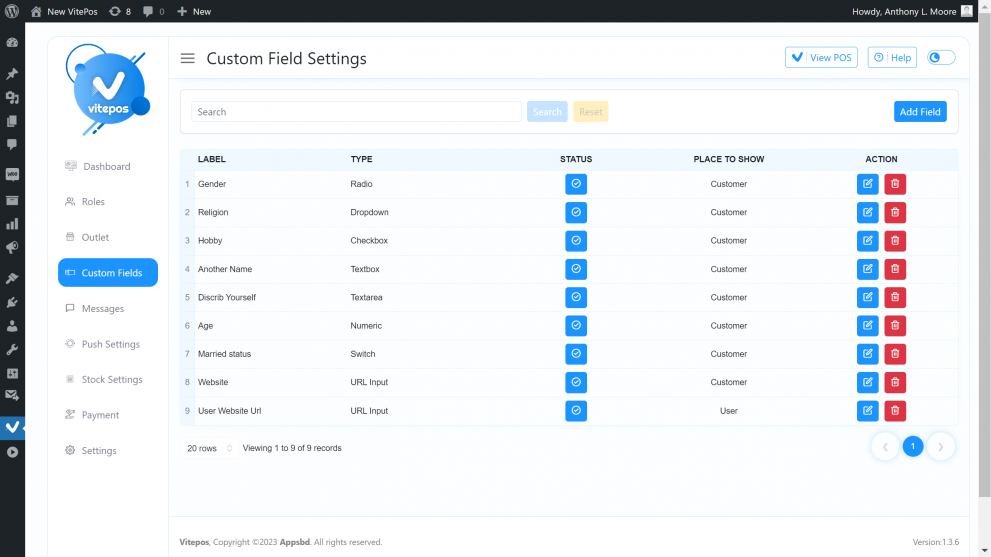 Custom fields are a crucial feature as they allow you to gather specific information from customers or users when taking payments or performing other tasks. Vitepos recognizes this importance and has included a custom field option, enabling you to add any type of field to the customer or user profile.
Add Custom Page On Barcode
You have the ability to customize your barcode page according to your preferences. This feature offers convenient options such as selecting barcode or QR code, setting the page title, adjusting the page height and width, margin and padding, font size, barcode container size, barcode width and height, and page breaks.
In conclusion, the features and capabilities of Vitepos can greatly benefit any grocery, retails shop and restaurant or business looking to streamline their operations and improve their customer experience. From inventory management to custom fields and barcode customization, Vitepos offers a wide range of tools to help businesses run more efficiently. By utilizing these features, businesses can save time and money while also enhancing their customers' satisfaction.
Vitepos provides a comprehensive solution to streamline your operations and improve your customer experience. Whether you're a small or large business owner or managing a small or large restaurant chain, Vitepos can help take your Grocery, Retails shop or restaurant business to the next level. 
---