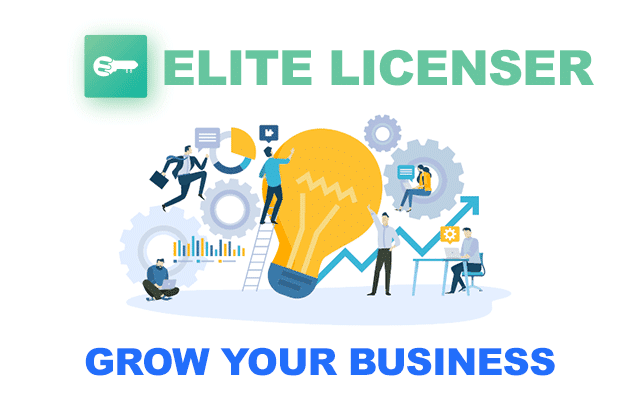 How Elite Licenser Is Going To Change Your Business Strategies.
Elite Licenser for Your Business
Wasted time, money, and resources are the enemy of success in your small business. One hidden cost that can add up to hundreds or thousands of dollars a year is unnecessary and improperly used software licenses.
A software license management (SLM) plan helps you avoid these costs. We'll go over the multiple SLM benefits, best practices, and different software licenses to demonstrate why you need SLM in your small business.
So today we are going to tell you about the Elite Licenser. It's a Software License Manager(SLM) WordPress plugin which is responsible for licensing your app, plugin, theme, PHP app, android app, .net app, etc. Elite Licenser knows how to increase sales and protect your company's products by binding them with secure license protection. 
Overview: What is Elite Licenser?
Elite Licenser is a software license manager WordPress plugin that tracks and maintains your company's software licenses. You almost never "buy" a piece of software; instead, you buy a license to use it under defined conditions and/or time periods. This includes web-based applications and digital device applications.
Elite Licenser helps determine how many licenses are needed from each software vendor and distributes licenses throughout the company where they will have maximum impact. Elite Licenser is a subset of software asset management (SAM).

Elite Licenser is one of the best WordPress license manager plugins that you may experience. This license manager allows you to control the use and activation of the software, plugins, themes, apps, etc. One of the premium features of this license is to protect the unofficial usage of software and products. 
How it is Good for Your Business
Elite Licenser will make your business easier. The license management software can seal your app or software from piracy and any kind of crack leakage. Proper monitoring and a well analytical dashboard never missed any data from the admin. Why Elite Licenser is good for your business?
Low Cost
Understanding UI
Low Maintenance 
Easy Tracking
Money-Back Guarantee
In my opinion, Elite Licenser is the cheapest authentic secured, and user-friendly plugin. Its quality is unique compared to its price. You can easily find the difference when you check the price. So if you don't believe me and check yourself, you will understand why it is very good if it has a chip rate.
So I want to tell you that Elite Licenser is a very cheap rate or low budget and the best software license manager plugin. Check its pricing – Price
Unless you use the Elite Licenser UI, you won't realize how easy it is to license a product. All the functions are compact and clustered. Which will make it easily accessible to all users.
So that the user will never lose concentration and it will increase productivity. Which plays a big role in moving a business forward.
No complicated setup is required to run Elite Licenser. Only if you have WordPress hosted there you can easily install Elite Licenser, which is very easy and low maintenance. Easy to use Elite License just like other plugins. 
Have no any hidden charge or vat. Also, have no third-party integration charge. You can handle it easily by yourself without recruiting any agents for that. 
Software License Management Best Practices
In order to get the most out of your licensing software, we've gathered some of the license management best practices.
Get your licenses in order. The best place to start when getting your software license management system in place is to organize which software programs you're using and their license information. It's best to store this information in a central and accessible location so you'll know exactly what you already own and what is available to assign to employees. Include as much information as possible here, such as prices, expiration dates, contracts, etc. Don't forget to include your cloud software here as well. This will help you get started with your software with everything organized.
Compliance check. Once you've understood which programs and licenses you (believe) you own, it's time to make sure that you are compliant with all of them. As discussed, this is critical in order to avoid fines as well as potentially ruining your reputation. Contracts, license agreements, purchase receipts, etc. should be stored in a central software licensing management tool for easy reference if necessary.
Keep up the work overtime. It is critical to continually keep tracking your software licenses as things change over time and systems can always be improved. By continuously tracking your spending, license use, future needs, etc., with your software licensing management tool, you'll be able to optimize spending and minimize waste.
Set up a system for renewals. You don't want to be in a situation where a license expires and you forget to renew it. An essential part of enterprise software license management best practices is to schedule renewals, maintenance, approvals, and any other activities related to your licensing needs. You certainly won't remember all of these important dates on your own.
How Does Elite Licenser Software Help?
Elite Licenser helps manage software licenses in the following ways:
Improved Compliance

It ensures that your organization complies with license agreements laid down by software developers. The software will save you from potential fines, penalties, and legal proceedings with its compliance manager feature. It ensures that you do not inadvertently violate any clause while using software licenses.

Complete Visibility

You get complete visibility about who uses licensed programs, how they are using them, and when. It helps businesses save costs and eliminates any unauthorized usage of the software.

Improved Productivity

Elite Licenser ensures that you deploy all your software effectively across the workforce and track any underutilized software. It also checks for updates and ensures you always have the latest version of applications.

Reduced Costs

Software license management applications can help reduce your software costs. It provides insights into how your existing software is used and how many licenses you need to purchase.

Integration

Elite Licenser can be easily integrated with your business applications to streamline the entire IT Asset Management process. The software eliminates manual data entry, which in turn reduces errors and omissions.
Software license management has helped several thousand companies to run their business efficiently with improved compliance and productivity. It is time you follow these practices and make your organization invulnerable to legal proceedings.
Ultimately, effective software license management frees up your time. You can focus on real business opportunities than managing compliances.
You can follow our all products by visiting this link – appsbd.com
---